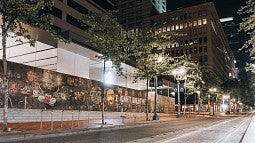 Protest art in Portland, Oregon, after the police killing of George Floyd. PPPM Assistant John Arroyo is the director of the new Just Futures Institute, which will investigate racial and climate justice in the Pacific Northwest 
In January, the UO launched the Pacific Northwest Just Futures Institute for Racial and Climate Justice. PPPM Assistant Professor John Arroyo is the director of the Institute; his wide-ranging research includes topics of migration, globalization, Latinx studies, urban design, and public space.
Arroyo recently spoke to John Notarianni, host of "Weekend Edition" on OPB, about the extreme toll climate change has on marginalized groups.
"When we think about climate change, I think we really need to look beyond recent pressing headlines to consider how slavery and colonialism and land tenure were all shaped by the pervasive history of capitalism and all the traditions of extraction. These are all the same traditions that exacerbate climate change issues today. We look at things like hotter neighborhoods and climate hazards, hurricanes, wildfires. We look at community pollution in public health and the economic toll that has," Arroyo said.
He continued: "I think it's interesting here in the Northwest because we look at this narrative of environmentalism, and much of that is centered on conservation issues: preserving trees and wildlife and open space. And while that's important, it's also really important to center all the people that have not traditionally been a part of that environmentalism debate, which mostly are low-income communities of color. They're the most vulnerable, and they suffer the most."
Listen to or read the entire interview in OPB's article, "UO's new institute fighting the common roots of racial and environmental injustice."
In addition to Arroyo, the Just Futures Institute includes participation by other faculty members in the College of Design including Director of Historic Preservation James Buckley; Architecture Professor of Practice Jerolim Mladinov; and Planning, Public Policy and Management Associate Professor and Equity and Justice Faculty Fellow Gerard Sandoval.