The State of Oregon's Higher Education Coordinating Commission gave its final program approval in May to launch a new arts management undergraduate major in the Arts and Administration Program, which is housed in the School of Architecture and Allied Arts.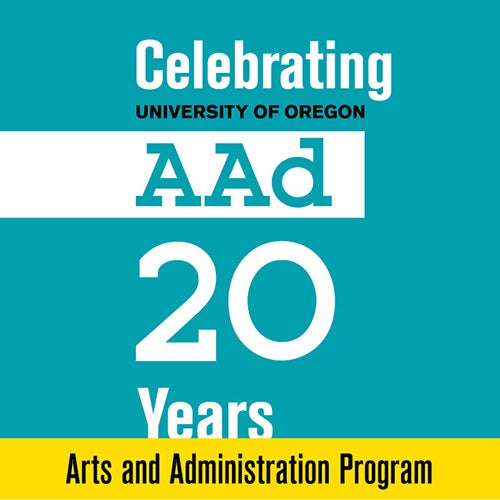 The BA and BS degree program in arts management will offer students in-depth studies in the arts and humanities and develop skills for work in the creative sector.
Both the new bachelor degrees and the longstanding minor and graduate degree in arts management are designed for students with an interest in leading, participating in, and managing arts organizations and activities across the arts sector.
"The UO Arts and Administration Program is already the largest and strongest program of its kind in the western United States," said Associate Professor Patricia Lambert, program director. "The new arts management major builds on our excellent master's degree and minor degree programs that we've offered for decades. By launching the major this coming fall, we are thrilled to now be able to meet the educational needs of undergraduate students across campus."
Recruitment for the BA/BS in arts management is particularly focused on students interested in double majors or various major-minor configurations. 
"The new arts management major will offer students the opportunity to pursue professional studies in the arts, in the framework of a liberal arts education, and to develop the skills required for creating professional development opportunities that address the needs of current and future leaders in a broadly defined creative sector," said Assistant Professor Eleonora Redaelli, associate director for undergraduate studies for the Arts and Administration Program.
In addition, Redaelli noted, "we expect that some of the undergraduate courses required for the minor will be converted to an online format in several years' time, allowing for hybrid and distance-education opportunities."
Over the past twenty years, the UO's Arts and Administration Program has cultivated partnerships with arts and cultural organizations locally, regionally and nationally. A key requirement of the program is the practicum, which offers students short-term, exploratory, learning experiences in the creative culture sector. Students are empowered to seek out organizations and establish learning objectives with a community partner.
"I have had so many enriching practicum experiences," said Chanin Santiago, who graduated from UO with an arts management minor in 2015, "from event management and coordination at Watershed Arts and the Cuthbert Amphitheater to more intimate settings in the classroom environment providing mentorship and guidance. The practicums deepened my interest in craft-based art, community participation, and exhibition planning."
Arts managers are typically hired by organizations including museums, arts councils, film companies, dance and theater companies, public television and radio, symphonies, historical organizations, galleries and art centers, arts advocacy groups, event promoters, festivals, and more.
Job duties can include artistic programming, fundraising and development, grant writing, marketing, outreach, arts education, audience development, community engagement, box office and membership management, and event or performance production management.
"The AAD program gave me the skills and knowledge it takes to work in arts administration," said Rebecca Black, MA '11, now events coordinator at Lied Center at the University of Kansas. "But most importantly it challenged me to be a leader in my community, to think creatively about solutions to the problems we face, to seek out ways to engage people in difficult but necessary conversations, and to always think about the ways that my work in the arts can make my community stronger and more vibrant."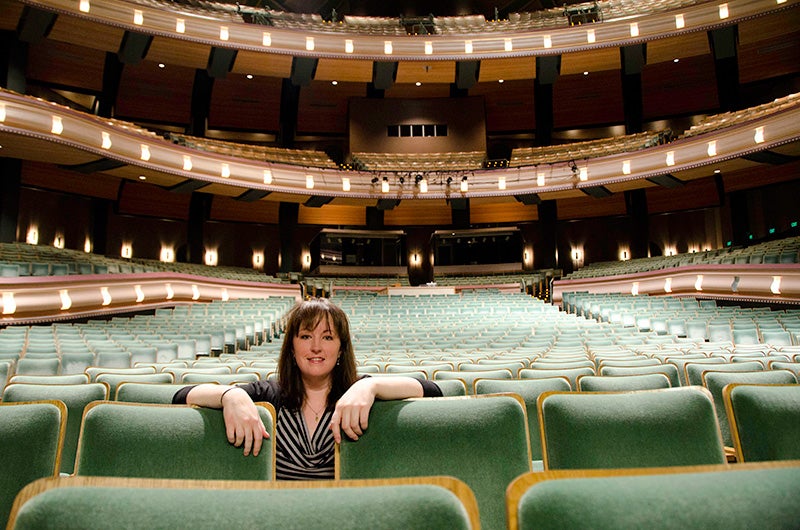 Above: Rebecca Black, MA '11, poses in the Hult Center for the Performing Arts' Silva Concert Hall. Black served as director of the Arts and Business Alliance of Eugene after graduating from UO with a graduate degree in arts administration. She has worked as events coordinator at the Lied Center of Kansas since 2013. Photo: Marshall Reynolds Stein
The UO bachelor's degree in arts management requires sixty-four credits, including thirty-six required arts management-focused credits. The arts management minor requires twenty-eight credits. Visit the Arts and Administration website for details on both programs.
Students wishing to major in arts management can declare their intention at any time. Visit the Arts and Administration Program website or come to Room 254 Lawrence to complete a form to declare the major.
The first cohort of undergraduate BS and BA students will begin in fall 2016.