A standing room only crowd gathered in the Ford Alumni center October 9 to celebrate the start of a year-long partnership between the City of Medford and the UO's Sustainable City Year Program (SCYP). The SCYP staff and faculty described their upcoming projects with Medford, detailing a bevy of concepts that ranged from emergency preparedness to drafting plans for a new fire station.
The SCYP is part of the Sustainable Cities Initiative (SCI), a cross-disciplinary organization at UO that seeks to promote education, service, public outreach, and research on the design and development of sustainable cities. SCYP faculty and students work with a community partner through a variety of studio projects and applied learning programs to provide students with a real world project to investigate, apply their training, and provide real service and movement to a local entity ready to transition to a more sustainable and accessible future.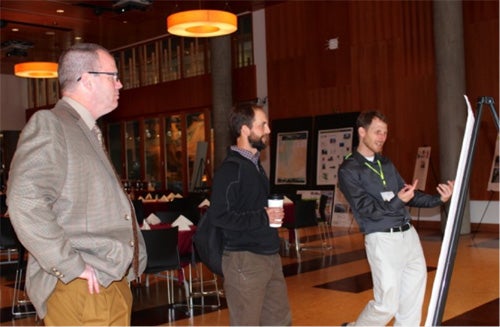 Above: Medford City Manager Eric Swanson, Josh LeBombard of the Oregon Department of Land Conservation and Development, and SCI codirector Marc Schlossberg discuss past SCYP projects. Photograph by Bree Nicolello.
Dozens of University of Oregon faculty members and students attended the kickoff of the Medford partnership, from departments and schools including architecture; planning, public policy and management (PPPM); geography; journalism; economics; and business. Speakers included School of Architecture and Allied Arts Dean Frances Bronet and UO Interim Senior Vice President and Provost Scott Coltrane.
More than twenty representatives from Medford traveled to Eugene for the event, including City Manager Eric Swanson and Director of Planning Jim Huber. Jeff Towery, assistant city manager for the previous SCYP city, Springfield, was also in attendance.
The SCYP is a partnership between SCI and a city, county, special district, or partnership of governments in Oregon for an entire academic year. Previous participant cities in Oregon include Gresham, Salem, and Springfield.
"This engagement is incredibly worthwhile for students, faculty, and the community," said SCI cofounder and codirector PPPM Associate Professor Marc Schlossberg. "We are thrilled to have such a great partner in Medford and overwhelmed by the engagement of faculty across multiple departments at the University of Oregon."
Although working with communities outside of Eugene has been standard practice at the UO for decades, the scale of engagement with SCYP is very different—and universities across the country are beginning to notice. In addition to SCYP's work with Medford this year, SCI is training other universities how to adopt and adapt the SCYP model; after only two years, universities in twelve other states are now implementing adaptation of "the Oregon Model."
"SCYP is not only helping communities throughout Oregon, but it is also changing the landscape of higher education across the country," says Nico Larco, SCI cofounder and codirector and associate professor in the Department of Architecture.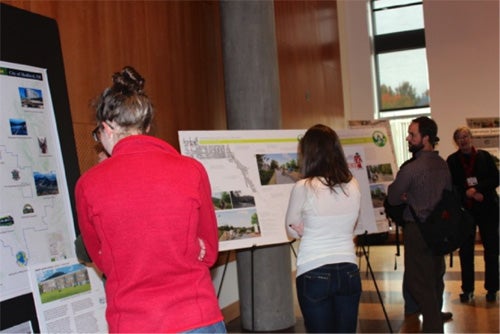 Above: Students view SCYP project boards done for the City of Springfield, Oregon, in 2012-13 along with upcoming concepts for the City of Medford. Photograph by Bree Nicolello.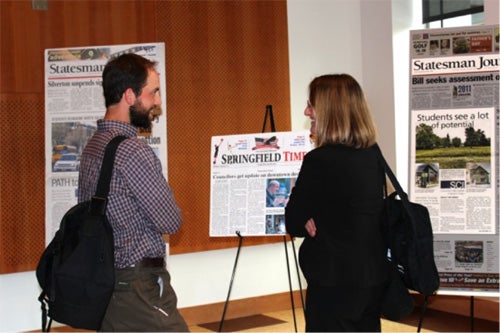 Above: Josh LeBombard of the Oregon Department of Land Conservation and Lori Cooper, deputy city attorney for the City of Medford, talk about SCYP while viewing newspaper coverage of previous years' projects. Photograph by Bree Nicolello.
Story by Bree Nicolello