University of Oregon students and area residents participated in a "story circle" January 29, hoping to tap into the American condition through public storytelling. Stories from the event, coordinated by arts and administration Associate Professor John Fenn, may contribute to a national broadcast February 20 from Philadelphia.
The January event in Eugene, at the UO's Many Nations Longhouse, was part of a nationwide series of gatherings in several communities the same week. It was organized by the US Department of Arts and Culture (USDAC), which recently named Fenn a 2016 Cultural Agent.
The event "resulted in a diverse and dynamic group of stories," Fenn says. "Participants shared a wealth of experiences and thoughts. I've already started generating ideas for how to expand the circle next year."
As an Arts and Administration Program faculty member and Eugene resident, Fenn says his goal is to make his work with the USDAC a long-term opportunity.
"How university-level work translates to the public and benefits the community that surrounds us is something I'm interested in," he says. "I view this as an opportunity as something I can do in tandem with and driven by my position as a faculty member."
The USDAC, a nongovernmental organization, aims to encourage and augment cultural living on a community scale throughout the United States.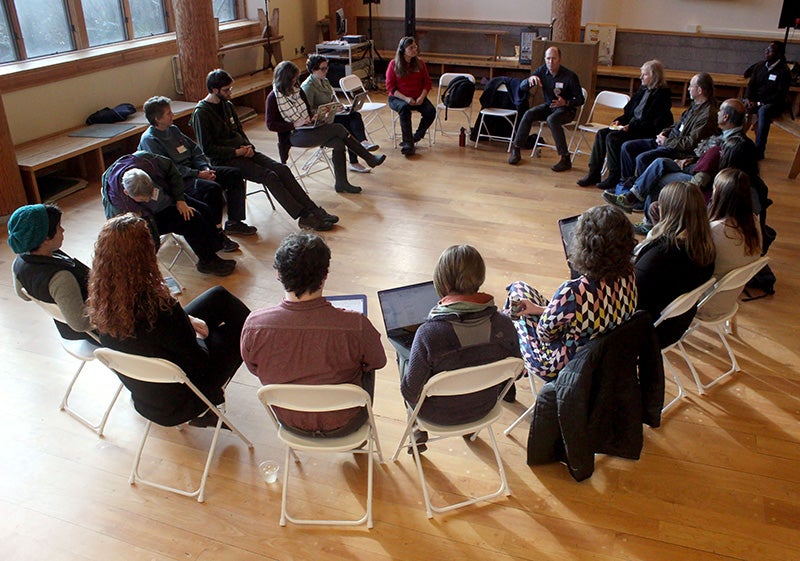 Above: Community members and University of Oregon students assemble in a circle for the People's State of the Union at the Many Nations Longhouse on the UO campus. The storytelling event was a grass-roots response to the annual presidential address.
The People's State of the Union is intended as a grassroots response to the presidential State of the Union address earlier in January. The broadcast February 20 of the curated stories, "The 2016 Poetic Address to the Nation," will be emceed by Yolanda Wisher, Poet Laureate of Philadelphia.
The stories were focused by three prompts. They were intended to be open to interpretation and include (a) a story that the president ought to hear, (b) a story from the state of the union's perspective, and (c) a story of belonging or not belonging in the state of the union.
"It's a weaving of a collective narrative and culture and community, belonging or not belonging," says Fenn.
Each story, roughly two to three minutes in length, was recorded and transcribed by a council of poets who will rearrange, reinterpret, and reformat the collected stories for possible use in the national broadcast.
The story circle was Fenn's first major assignment as a Cultural Agent.
The USDAC is encouraging Cultural Agents to curate additional events, or "Imaginings," which the USDAC website describes as "vibrant, art-infused gatherings in which a community envisions its ideal future and identifies creative tactics to get there."
Fenn, who holds a PhD in folklore from Indiana University, says that being a Cultural Agent with the USDAC overlaps with his training as a folklorist—"listening to people's narratives and understanding how culture, story, and identity intersect for all of us, all the time."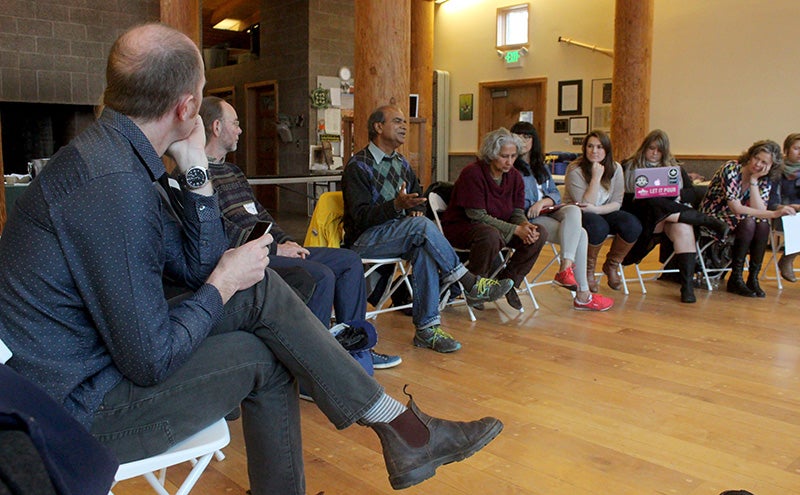 Above: John Fenn (left) listens to Arun Narayan Toke' (center), founder of Skipping Stones magazine, during the People's State of the Union story circle on January 29. "I don't think it's a good idea for a future president of the USA to say 'get all the Muslims out of this country,' " said Toke'. "I have walked along Willamette Street and people have said 'Go back home' thinking I was a Muslim, but I'm not. I think when we all know each other's stories we are no longer strangers, and that is why I came here."
The USDAC plans to establish the creation of college hubs around campus in which arts and culture engagement can manifest in communities nationwide on a university level, he says.
"How do we harness or leverage that kind of engagement and what does that look like?" he asks. "I'm working with our graduate students and others and we're looking at what it might mean for the UO to be a college hub for the USDAC."
As for upcoming Imagining events, Fenn wants to partner with the City of Eugene Cultural Services and Department of Parks and Recreation to host smaller story circles. He also plans to look to community arts organizations and arts organizations around town to work on a project of collective active imagination with them.
He adds that he may connect with neighborhood associations around Eugene, such as those in the Whitaker, Friendly, or River Road neighborhoods, to collaborate on projects.
"They're grappling with infrastructure issues that could also be an arts and culture engagement opportunity," he says.
Imaginings often take the form of city planning, although they're more spontaneous and usually last a week at most, he says. These can take the form of a mural painting project, park upkeep, or even addressing concerns such as the controversy surrounding potential development of Kesey Square, which Fenn says, "offers a great opportunity for a collective act of imagination."
Fenn is one of three Cultural Agents in the 2016 cohort who live in Oregon, the first of the USDAC's agents operating within the state. The others, Charlene Martinez and Joel Stein, are based in Corvallis and Portland, respectively.
Fenn says he plans to collaborate on future Imagining events with the other Oregon Cultural Agents, potentially involving the Interstate 5 or Highway 99 corridors.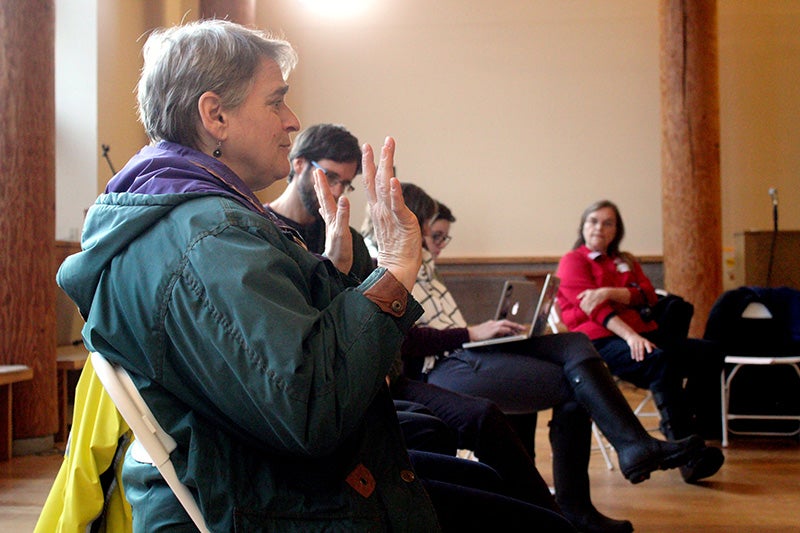 Above: Eugene resident Grace Boone shares a story of a visit to Washington, DC. "I don't consider myself a patriotic person … but I really felt like I could feel the essence there—something that at the core of America is the desire to be better," she said of her visit to the nation's capital.