The School of Planning, Public Policy and Management is committed to furthering sustainability and social equity in a time of accelerated environmental and social change. Our students and faculty continue to win prestigious national awards and external grants, and our alumni are doing amazing things all over the world.
---
Alumni Profile: Outstanding Recent Alumna
Amanda West, MPA '09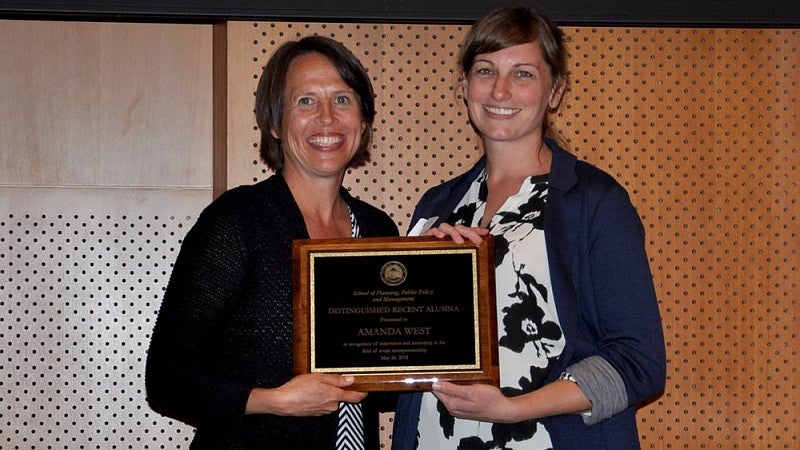 Amanda West (right) receives the Distinguished Recent Alumni Award at the 2018 PPPM Awards Ceremony.
West is a member of the Social Ventures team at Mercy Corps in the San Francisco Bay Area. She brings her experience in social entrepreneurship to the daily management of the Innovation Investment Alliance, a funding and learning partnership between the Skoll Foundation and USAID, supported by Mercy Corps. The Alliance has invested almost $50 million in proven, transformative social enterprises.
Prior to working at Mercy Corps, West was a co-founder of EcoZoom, a social enterprise and Certified B Corp in the clean energy sector (cookstoves and solar lights for developing countries). In less than five years EcoZoom's founding team grew the company from $40,000 in initial funding to $10.5 million in annual revenue and opened offices in Mexico and Kenya.
West earned her Bachelor's degree in Journalism and Spanish from the University of Oregon in 2003, and her Master of Public Administration from PPPM in 2009.
---
Share Your Story
Reflections on your life after graduation will inspire future students, convey the value of a School of Planning, Public Policy and Management education, and mark your contributions and accomplishments.