A&AA welcomes five new tenure-track faculty members for the 2013-14 academic year. Here's a look at who they are and what they bring to the A&AA community.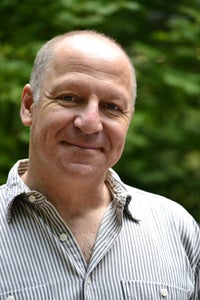 "It's good to be home," says Portland native and now UO Professor Keith Eggener, who joined the Department of the History of Art and Architecture fall 2013 as Marion Dean Ross Distinguished Professor in Architectural History, a position filled after the retirement of Leland Roth, who held the position since 1992. Prior to coming to UO, Eggener taught art and architectural history at the University of Missouri in Columbia. At UO he'll be teaching primarily American and modern architectural history and urbanism. He also plans to offer courses in contemporary world architecture, cities in the western imagination, and Latin American modern art and architecture. "I will likely do a seminar soon on memory and forgetting as it pertains to artifacts, and I might at some point want to teach some undergraduate courses in American art (i.e., painting, sculpture, photography, etc.)."
Eggener has a master's in art history from the University of Washington and a master's and PhD in art and architectural history from Stanford University. He is a contributing editor of Places, which "gives me an outlet for shorter pieces on a wide range of topics. Currently I'm working on studies of sentient, evil buildings in popular cinema and fiction, the Maharishi Vedic City in Iowa, the Precious Moments Chapel in Missouri, the Mexican modernist Francisco Artigas, presidential gravesites, and a few other things. My next book, I hope, will be on an early 20th century progressive architect from Kansas City named Louis Curtiss, and I'd like to do a collection of essays (several of which I've already published) on built environments in the American Midwest."
Eggener—who, somewhat unsurprisingly, collects "early 20th century household machines"—anticipates his son will become a Duck in fall 2014.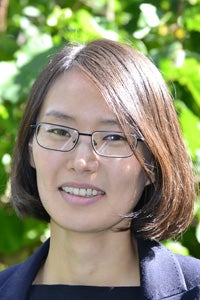 Wonhee Jeong Arndt, assistant professor in the Product Design Program, takes some of her design inspiration from practicing the Japanese tea ceremony. "It has helped me think a lot about how to design an object with good consideration for the user and the relationship between object and how they interact," she says.
Jeong Arndt started teaching as an adjunct professor at UO in 2008.
In addition to teaching core product design classes, Jeong Arndt developed the experimental materials lab class, which is only offered once a year. "It is a class where students explore possibilities of new material through open-ended experimentation and find appropriate design application. We often collaborate with other science departments or other schools such as Oregon State University or Portland State University," she says.
Jeong Arndt comprises half of the award-winning design studio, Studio Gorm, which focuses on "incorporating low-technologies and a simple, basic solution with attention to the design's aesthetics," she says. Studio Gorm has had numerous write-ups as well as winning awards for individual products.
The studio is currently working on a collapsible telescope and a watch made from heat-compressed wood.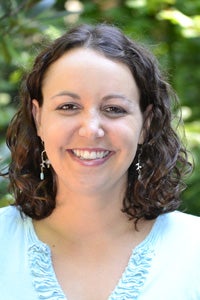 Assistant Professor Rebecca Lewis joins the Department of Planning, Public Policy and Management. Most recently she taught in the Department of Urban and Regional Planning at Florida State University.
At UO she'll be teaching human settlements, public budget administration, growth management, and green cities. "In future years, I may offer more specific classes in land use and infrastructure," she says.
Her academic background combines political science and public policy and planning. UO's PPPM "lies at the intersection of these fields," she says, explaining why she applied to teach at UO. "I am interested in how policies at the state and regional level affect land use and development patterns."
Currently Lewis is working on several projects in the areas of growth management policy in Florida, development patterns in large U.S. metropolitan areas, and climate change policy in Maryland.
She holds a master of public policy from the University of Maryland and a PhD in urban and regional planning and design from the University of Maryland. A triathlete, since moving to Eugene in June she's also started trail running.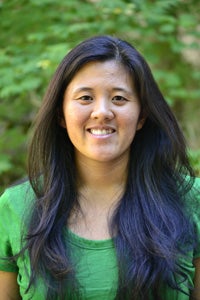 Assistant Professor Nicole Ngo ("pronounced 'No,'" her website notes) also joins the Department of Planning, Public Policy and Management. She received her PhD in sustainable development in May 2013 from Columbia University. She has dual bachelor degrees in economics and earth and environmental science from the University of California at Irvine. A former competitive tennis player, she taught tennis throughout college.
At UO, Ngo will be teaching classes in research methods and healthy communities during winter term, and international sustainability and health policy in spring. "International sustainability is a new course, and one that I intend to teach using an interdisciplinary approach, borrowing from the economics and environmental science literature," she says.
Joining a policy department "was a natural transition in my academic career," she says. "I really enjoy research and am particularly interested in translating academic work into policy. I also have an interdisciplinary background, and PPPM's unique mix of policymakers, economists, and urban planners was a perfect fit for my research concerning environmental health and urban sustainability."
Her current research includes examining the impacts of bus pollution policies on fetal health in New York City, and the health impacts of extreme heat and natural disasters, "phenomenon which are expected to increase in intensity and frequency with climate change," she says. "Another strand of my research observes urban air pollution in sub-Saharan Africa (SSA), a region where urbanization rates are among the highest in the world, yet there is little work quantifying air pollution in SSA, and even less is understood about potential health impacts."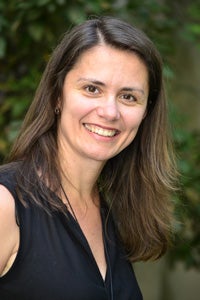 Assistant Professor Eleonora Redaelli joins the UO's Arts and Administration Program. Most recently she taught at and served as program coordinator of the undergraduate Arts Management Program at the University of Wisconsin-Stevens Point.
Redaelli has a PhD in arts administration, education, and policy from The Ohio State University. She also holds a diploma in music composition from the Conservatorio de Musica Giuseppe Verdi and a degree in philosophy from the Universita degli Studi di Milano, both in Milan, Italy. During her graduate studies, she reviewed classical music and cultural events for a Swiss weekly cultural paper.
Her entrée into the field of arts management was "gradual," she says. "I studied philosophy and music composition. During my schooling I was involved in organizing contemporary music festivals. I realized this organizational work that brought people to music was more interesting to me than creating music itself. Therefore, I worked in the organizational side of the cultural sector for several years in a public institution and then in a private foundation. At certain point I decided that I wanted to know more about what I was doing and get the chance to reflect on the organizational practice, so I went back to school."
A native of Italy, Redaelli spent this past summer teaching at the American University of Rome before moving to Eugene. Rome is also where some of her current research is focused. "I am working on two main projects: a research aiming to understand how urban plans in American cities define cultural resources, and a study looking at Augustus Rome as an example of creative city in antiquity." She is also investigating the role of arts management in American higher education.
At UO, Redaelli will teach classes in cultural policy, arts management, event management, and arts and human values.
Her international background lends itself well to two of her favorite extracurricular activities: travel and photography. A classroom slideshow? Redaelli's students should be so lucky.