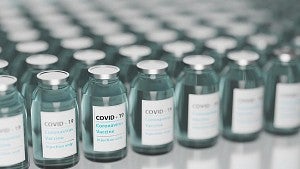 The tracking of vaccination data is more robust than the tracking of COVID-19 infections, Ben Clark told The Hill.
Clark—the co-director of the Institute for Policy Research and Engagement (IPRE) and an associate professor in the School of Planning, Public Policy and Management—explained that public officials have grown more savvy in the past year about developing dashboards and capturing data.
Clark, whose research areas includes local government and public management and administration, has been monitoring numbers and attitudes around the pandemic. In December, he and Robert Parker, the IPRE director of strategy and technical solutions, published the paper, "COVID-19 Masking, Social Distancing & Vaccines: Results from a Random Sample Survey of Oregon Residents."
"Clark said that as the Biden administration and Centers for Disease Control and Prevention think about preparing for the next pandemic, they should 'think about the type of data infrastructure that will help in managing the pandemic, in reporting out to be much stronger,'" The Hill wrote.
Read more in the article "State record-keeping on vaccinations leads to patchwork approach."