master of science '89
Committed to higher education
Chip Terhune's commitment to education has been evident since his days as a student, allowing him to ascend to the position he now holds. Since 1996 he has served as chief of staff to Oregon Governor Ted Kulongoski.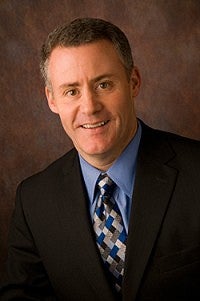 Terhune received his master's degree in public affairs from the University of Oregon in 1989. He credits the staff, professors and engaging coursework as the platform for his successful career. The guidance and lectures of Bill Simonsen, former professor of planning, public policy and management, influenced Terhune to pursue a career in public service. As a former lobbyist for the Oregon Education Association, Terhune stresses the importance of education, particularly at the college level.
"I learned that the sum is greater than the parts, and that a collaborative effort is the most effective kind," Terhune says of his time at UO. "The students, professors, and administration offer an amazing support network once you graduate," adds Terhune.
Terhune's advice for both students and graduates stresses self-confidence, flexibility, and patience, as he feels these attributes contribute to one's success once they leave the university.
With regard to the Kulongoski administration, Terhune states, "It will always be a primary focus for the governor to support higher education in the state of Oregon and at the University of Oregon. Having the proper resources and access to stable education is always a top priority."
This story was published as part of the 100 Stories collection, compiled to celebrate our 2014 centennial and recognize the achievements and contributions of our alumni worldwide. View the entire 100 Stories archive on the College of Design website.