Today's college graduates must be prepared to enter a far more diverse workforce than that of their parents or even those who graduated just 10 years prior. An interdisciplinary two-year pilot program at UO that combines intercultural competency training with professional development is designed to address the increasing need for diversity in the workplace. Registration for this year's program closes March 15.
Planning, Public Policy and Management (PPPM) Assistant Professor Gerardo Sandoval is well aware of the changing employment trends and how they can affect students entering the workforce. "It is important for students to gain experience working in multicultural environments," says Sandoval. "Oregon is quickly becoming a more diverse state and our students need to have the skills, knowledge, and practical experience to make positive changes in ethnically diverse communities."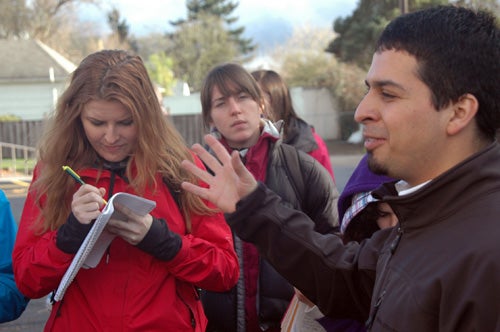 The new cross-cultural competency job requirement is seen across many disciplines, says Eli Meyer, Center for Latino/a Latin American Studies (CLLAS) assistant director. "We found that graduate students are getting specialized degrees such as business, planning, or biology which does not necessarily prepare them for a changing workforce and the new job requirements with preferences for people who have experiences working cross-culturally or working in diverse environments."
Recognizing that UO had a gap in multicultural education options, Sandoval coordinated with CLLAS to develop the Intercultural Competency Program (ICP). The ICP offers graduate students from any discipline theoretical and applied components of intercultural career training.
ICP consists of two classes and an intercultural internship experience. The winter term class, "Public Participation in Diverse Communities" (PPPM 552), is taught by Sandoval. "This course is a field experiential course that exposes students to Oregon communities that are experiencing rapid cultural changes," says Sandoval. "We visit Woodburn, Hillsboro, Portland, and organizations in Eugene-Springfield. The students speak to practitioners of 10 community-based organizations, local government and school officials, to understand the strategies they use to engage low-income Latino communities."
The second course, "Difference and Power in Institutions and Public Spaces," will be offered during summer term's zero week starting June 24. This course will examine critical race theory and minority histories, policies, and offer field observations. This course will be team-taught by Sandoval, Heather McClure from the College of Education's Center for Equity Promotion, and David Vazquez of the Department of English.
The ICP culminates with an intercultural internship in summer or fall. "The first goal for this internship is to meet the career goals of the student," says Meyer. "What is important for the internship is that whether it takes place abroad, throughout the country or within the state, is that it injects the students into an intercultural environment where they go through some processing activities allowing them to apply the classroom's lessons in relation to their internship experience." Students enrolled in the ICP are eligible to receive a $1,000 scholarship to support the internship.
Many community organizations and minority development groups in Oregon support ICP's approach and look forward to working with interns. "ICP will help students begin to grasp just how dynamic and pervasive issues surrounding cultural competency are – both in the academic world and in the workplace," says Joanna Bernstein (MCRP, '12), communications and development coordinator at Huerto de La Familia, a Eugene nonprofit working to cultivate community integration and economic self-sufficiency for Latino families by offering opportunities and training in organic gardening and farming and the development of food-based microenterprises.
"Students need to be given concrete opportunities in multicultural environments in order to actually have a fighting chance of becoming culturally competent in whatever cultural environment they become immersed in," Bernstein says. "Huerto is hoping to receive an intern through ICP, recognizing that this student will be conscious of issues surrounding cultural competency, wants to broaden their own worldview, experience, and cultural leadership skills through working with our organization."
The ICP provides all graduate students an opportunity not currently available on campus. "ICP students will have a better appreciation of the difficulties and opportunities that exists in working with diverse communities," says Sandoval. "They will be exposed to specific strategies practitioners currently use and theories related to understanding cultural difference and inclusion."
Students with any questions should contact Meyer at (541) 346-5714 or cllas@uoregon.edu. The classes are open to undergraduates, but the program is only available to graduate students.
Story by Joe McAndrew