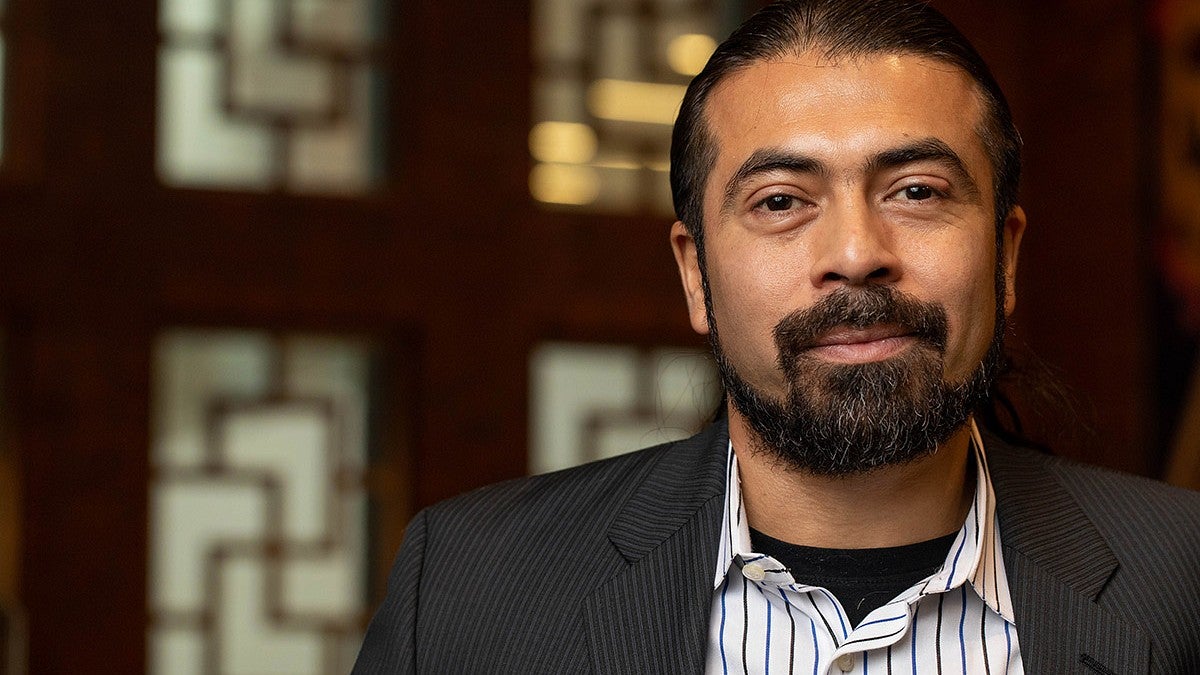 José W. Meléndez
PPPM alumna Maddy Reznick (BA, '20) says this is the class that helped breakthrough her world view, one that had been shaped by growing up as a white woman in an affluent Los Angeles suburb. The class also helped her reflect on the most recent wave of Black Lives Matter protests sparked by the police killing of George Floyd in Minneapolis.
"I was so grateful to have a space," Reznick said, "where I knew I could share how I felt and process everything and my personal role in fighting police brutality, and for justice for our black communities."
Alumnus Justin Furtado (BA, '20) says it was the first time he investigated the history of how social hierarchies are created.
"I learned so much from just being able to talk to people," Furtado said. "José [W. Meléndez] has a great way of asking thought-provoking questions."
The class in question, taught by Assistant Professor José W. Meléndez in the School of Planning, Public Policy and Management, is PPPM 494: Leadership for Social Change. Designed to increase students relational and systemic understanding of the connections between leadership theory and practice, the undergraduate class for PPPM majors prepares students for a range of careers in the public and nonprofit sectors.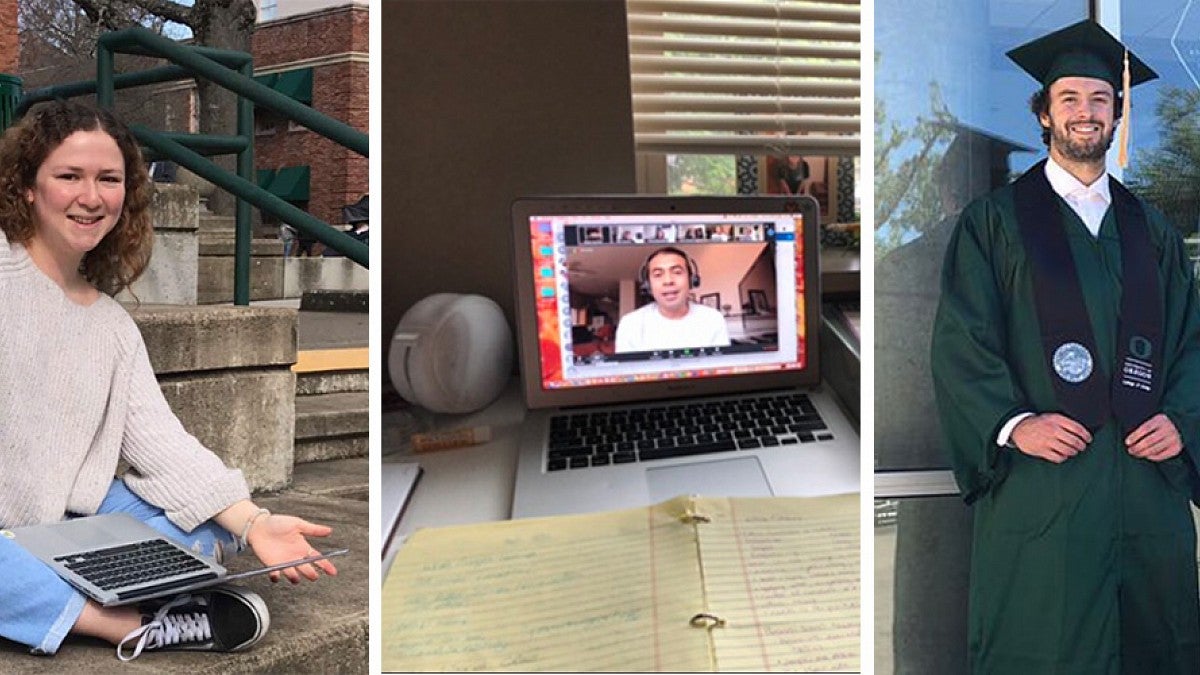 From left to right: Maddy Reznick; Reznick's photo of the leadership course online in the spring; Justin Furtado
Not only does Meléndez teach the class, he reinvented it. Meléndez began redesigning the course in 2018. His work was recognized with a Williams Instruction Fund Award for Undergraduate Education in the spring of 2020.
Meléndez organized the new class format into two interrelated tracks: one for foundational theories on leadership and how leadership is perceived and practiced differently depending on the context, the audience, and the person taking on leadership roles; and one that focused on issues of race, power, privilege, and ally-ship.
For the ladder track, Meléndez has been collaborating with the City of Eugene's Office of Human Rights & Neighborhood Involvement, using the city's Hate & Bias Prevention and Response Toolkit.
In 2018, Lorna Flormoe, an equity and access planner with the city, had finished creating the toolkit and was looking to test it in the community for finetuning. Meléndez suggested she pilot it in his class and challenge the students to flesh out and complete the toolkit's modules on topics from bystander intervention to the history of oppression. PPPM students also interned with Flormoe to do community organizing brainstorming and focus groups.
"We piloted it in the class, and it went really, really well," Flormoe said. "So many students in the class—especially young, white Oregonians—they didn't get any balanced history in their education. They have no idea about the history of exclusion and systems in Oregon that still exist from it."
With the course and the toolkit, Flormoe said students developed an awareness of equity and the skills to see systemic racism and discrimination as well as how to be an ally.
"I love working with students and professors at the university," Flormoe added. "It's this beautiful marriage between idealism and practicality and then doing something to actually help the community."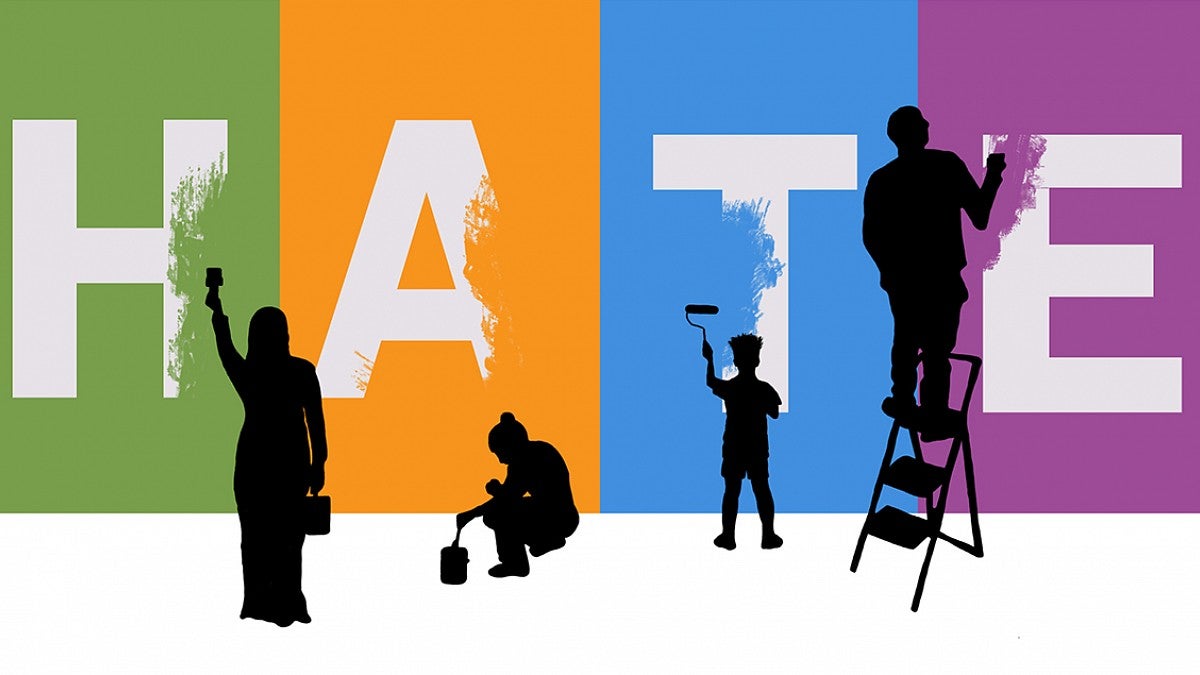 Graphic created by the leadership class students Melissa Graciosa and Willow Hamilton for Lorna Flormoe
Collaborating with Flormoe to implement the toolkit yielded additional partnerships geared at supporting the teaching needs of students in the course. This included partnering with Francis Pastorelle, assistant director for Family Housing and University Apartments; the City of Eugene; and the organization Stand Up for Racial Justice. Working with outside facilitators is intentional, said Meléndez, who pointed out that he is a professor of color in a position of leadership teaching a predominantly white student body.
"I have to be cognizant of how I structure the learning environment that both challenges and supports students from dominant and non-dominant backgrounds as they 'make sense' of their identity and relation to key topics that can be difficult to achieve meaningful dialogue with."
By bringing in outside collaborators from dominant groups, Meléndez can assume an outside facilitator role in his own class that gives him more opportunities to observe students' interactions for evidence of learning that he can then act on in the moment to push or support as needed.
"The course needed to take advantage of challenging and supporting the ability of graduating students to reimagine what a public servant could be," Meléndez said about the redesign. "How do I challenge and support future public servants' identity development? I needed to ensure that they were exploring issues of power, equity, race, and privilege."
During the course, Reznick said she started going to some Black Lives Matters protests.
"One of the most impactful pieces of the class is that you can't just be a bystander," Reznick explained. Since graduating in June, she's taken what she learned in the class and applied it to her new position as a program manager with the Columbia-Willamette Clean Cities Coalition,
where she is currently organizing multiple clean transportation webinars on topics such as workforce development for underrepresented communities and cultivating an equitable transportation system.
"This course really empowered me to have these specifically focused webinars that knock down barriers," Reznick said.
After taking the course, Furtado started a passion project called the Better World Challenge, an online platform that includes a blog and "challenges," or prompts people can do to make positive change in the world, from donating blood and community cleanups to Black Lives Matter anti-racism education activities such as listening to 1619, a New York Times podcast on how slavery transformed America, or watching movies such as I Am Not Your Negro and Sorry to Bother You. The platform also includes the podcast Better World Humans, where Furtado interviews people giving back to their communities, such as Executive Director of Habitat for Humanity of Central Lane Kellie Shoemaker Devore and Reznick.
"José's class shaped me into wanting to go deeper into community engagement," Furtado said. "I'm trying to encourage community-engagement action and highlight voices that are never heard."
Although the course has had to change in format due to Covid-19, the learning objectives have not. As the leadership course continues this fall term, Flormoe will be speaking to the class again to contextualize the importance of this work.
Meléndez said that, in this particular political climate, students who want to be public servants and leaders need to understand how to address these issues in their work.
"The reaction from students has been amazing. It's amazing because they are telling me how challenging it is. They are telling me how much it makes them think and work," Meléndez said. "They are stepping up to the challenge and doing stuff, both for class deliverables and outside of class, that blows my mind."