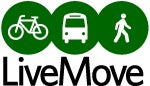 LiveMove, the University of Oregon transportation and livability student group composed of many Planning, Public Policy, and Management students, will receive a statewide award for "Student Achievement in Planning" from the Oregon Chapter of the American Planning Association for its proposed redevelopment of 13th Avenue in Eugene.
"I think it's terrific and very well deserved. This kind of goes beyond the norm of these kinds of student groups do, and they've taken it on their own task," says Professor Rich Margerum, head of the Department of Planning, Public Policy and Management. "What they're interested in doing is really taking these concepts and translating it to direct action."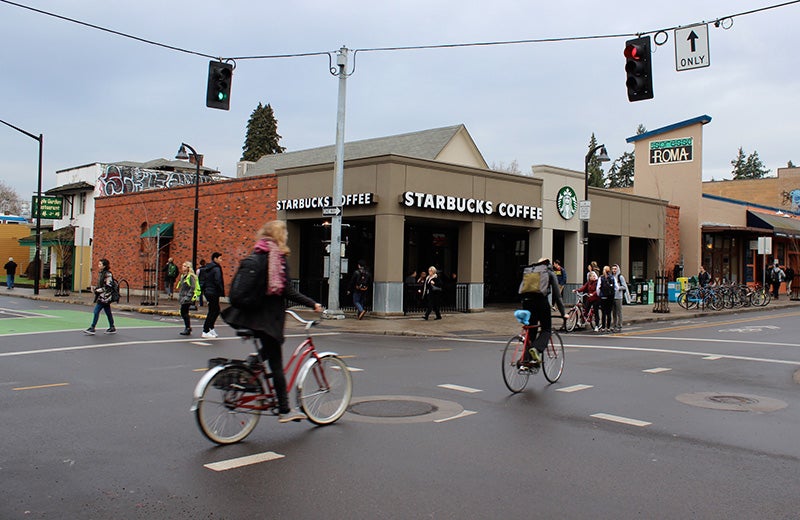 Above: 13th Avenue is a popular passageway for bicyclists, who use the street as a direct route between downtown and campus. Photos by Emerson Malone.
PPPM Associate Professor Marc Schlossberg nominated the students' work for both the "Student Achievement in Planning" and the "Special Achievement in Planning" OAPA award. The award ceremony will take place during the annual OAPA conference at 12:30 p.m. on May 30 at the Oregon Convention Center in Portland.
"I'm honored to be in charge of such a great organization and couldn't be happier that everyone who worked so hard on this project gets this excellent recognition," says LiveMove President Nick Melzter. "LiveMove has been gaining attention both across the state and [nationally], so this will help illustrate all of the work we do to make Eugene and the UO more livable through better transportation choices."
In his nomination letter, Schlossberg emphasized that although he is LiveMove's faculty adviser, the vast majority of the work was student driven.
"Not only is this plan an example of excellent work, it was done by a volunteer student group without academic credit or pay, little faculty guidance and without any direction from the two major players the work impacts: the City of Eugene and the University of Oregon," states his nomination letter.
The 13th Avenue Corridor Concept Plan is a comprehensive manual full of extensive research by LiveMove students. The plan argues that current conditions on the one-way street, which has the highest bicycling rates of any street in Eugene, are unsafe for cycling commuters, and a two-way bike lane is necessary.
It provides a block-by-block procedure for how a direct access between downtown and campus on this route can be implemented. The two-way bike lane would be nine blocks, or one mile, in length, from Olive to Alder streets.
Schlossberg has said that this work is a model for every Oregon community interested in creating a more accessible bicycle network.
"This work is absolutely fabulous and represents the best that planning has to offer our state," writes Schlossberg in his nomination letter. "When the project gets built, I expect it to be national news—both for the design implementation and for how the project developed. It will, in my opinion, represent one more way that Oregon planning is innovative and offers inspiration and lessons to the nation."
This OAPA award marks the most recent endorsement, following supportive feedback from Eugene Mayor Kitty Piercy, city staff members, development professionals, community members, and many UO faculty, students, and staff.
The proposal's block-by-block analysis began in the fall of 2012. The group's goal is to have the two-way corridor installed by summer 2015.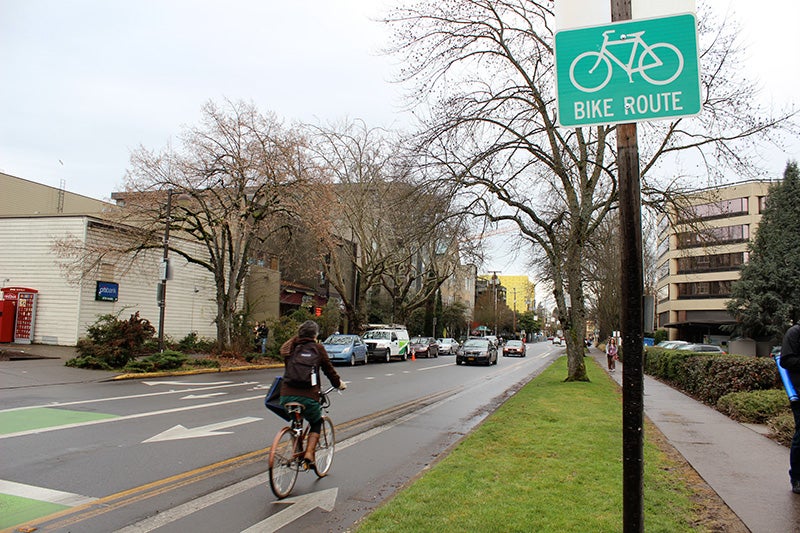 Above: The proposed two-way bike lane largely leaves the existing motorized travel lanes and on-street parking intact. A bicyclist heads westbound on 13th Avenue at Alder Street.
The redesign proposal for 13th Avenue is aesthetically similar to that of Alder Street between Franklin Boulevard and East 19th Avenue. The existing two-way bike lane on Alder Street is 12 feet wide with a dotted line down the middle. It also contains a 2-foot buffer between the bike lanes and car lanes.
LiveMove's comprehensive study of the avenue found that 40 percent of bicyclists on 13th Avenue go against traffic.
LiveMove's on-street parking counts of the entire corridor found that the vast majority of spaces were rarely used, which opened up opportunities for a better use of that public space.
The proposal maintains most on-street parking in the heavier use areas, but in some areas with lighter on-street parking use, some spaces will transition into the two-way bike lane. Along the entire corridor, a large quantity of underused on-street parking is available on adjacent streets.
LiveMove members studied city policies for support for the plan, and followed with a block-by-block analysis of the street. The number of parking spaces available was compared with how frequently they are used, and the redesign plan removes parking spaces that are mostly unused, says Meltzer of LiveMove.
"If they're occupied more than 50 percent of the time, we didn't take them out," Meltzer says. "We know parking is important to businesses. However, if they are empty more than half of the day, we felt that space could be better utilized."
Bicycle safety on East 13th Avenue became of increased concern locally in the summer of 2008, when 27-year-old David Minor, a UO graduate student and general manager of Jo Federigo's restaurant, was struck and killed by a motorist on the street.
His parents, Susan and John Minor, have pushed for safer biking zones in Eugene and donated $150,000 in David's memory last year to support LiveMove's two-way design.
LiveMove members presented their original work and research during the second public meeting hosted by the City of Eugene, on April 17. Community members discussed improvement options for bicyclists traveling from campus to downtown, and the potential changes for a two-way bike lane.