master of public affairs '93, master of international studies '93
UO alumnae travels world for humanitarian aid
In 2010, Mariza Rogers was nominated for the University of Oregon Distinguished Alumna Award presented by the Department of Planning, Public Policy and Management. By the time the award ceremony took place, Rogers was more than 3,300 miles away, working in Haiti following the magnitude 7.0 earthquake that same year.
"The devastation in Haiti was quite massive," says Rogers, who recalls seeing rubble and debris wherever she went.
The scale of destruction and suffering was heart-rending, she says. "While I was used to seeing the impact of disasters, what people have to go through, it's a lot of suffering. That's really sad."
Mariza Rogers at work in North Darfur's capital city, Al Fashir, Sudan, in 2002. Images courtesy Mariza Rogers.
Rogers works with the U.S. Agency for International Development (USAID) in its office of U.S. Foreign Disaster Assistance, which is responsible for leading and coordinating the U.S. government's response to disasters overseas.
Her work with the Office of U.S. Foreign Assistance has taken her around the world, including to India, Pakistan, Nepal, Bangladesh, Kosovo, Bosnia, the Philippines, East Timor, Indonesia, Sri Lanka, Nigeria, Ghana, Darfur, South Sudan, and Haiti.
Rogers and her colleagues assess emergency needs in these locations and make recommendations to the U.S. government to stabilize the situation, primarily through providing grants to nongovernmental organizations (NGOs) and the United Nations agencies implementing the response. They also provide blankets, water containers, and plastic sheeting, among other forms of emergency support.
"It is a personal commitment," she says. "I've always wanted to help and be involved in providing humanitarian assistance."
In disaster situations, temporary shelter is necessary if the affected population has been displaced, and clean water is critical if the area's water supply has been contaminated. Other needs include emergency healthcare, treatment of malnutrition, provision of seeds, tools, and response to drought.
Rogers graduated from the UO in 1993 with dual master's degrees in public affairs and international studies. She was selected for a competitive Presidential Management Internship (PMI) with the U.S. State Department, spending two years working first with the State Department's Bureau for Population, Refugees and Migration, and later with the Office of U.S. Foreign Assistance.
"UO provided me the academic grounding that I wanted to complement what I already had in terms of international experience," says Rogers. "From there, I became a PMI, which led me to working with the U.S. government and my long career in humanitarian assistance. Being at the UO definitely set me on that trajectory."
That trajectory has ranged far and wide. "I've been in so many countries, seen so much and experienced so many things that most other people would not see and experience in their lifetime," she says. "That's an immensely unique gift, and I'm grateful for all of that."
In 2005, Rogers worked in Pakistan following a 7.6 magnitude earthquake in Kashmir. She traveled to a remote village in the earthquake-affected area. She was among the first who arrived to help, prompting local authorities to thank her and USAID since no one else had come to the village's aid.
"To me, that is the heart of why I do what I do," she says, "to be able to reach out and help people in as heartfelt a way as possible. What we do is what satisfies me the most. We're able to help people. The work that I do is not just a career, it's a commitment to help people. … that's what makes it most meaningful to me and makes it worthwhile."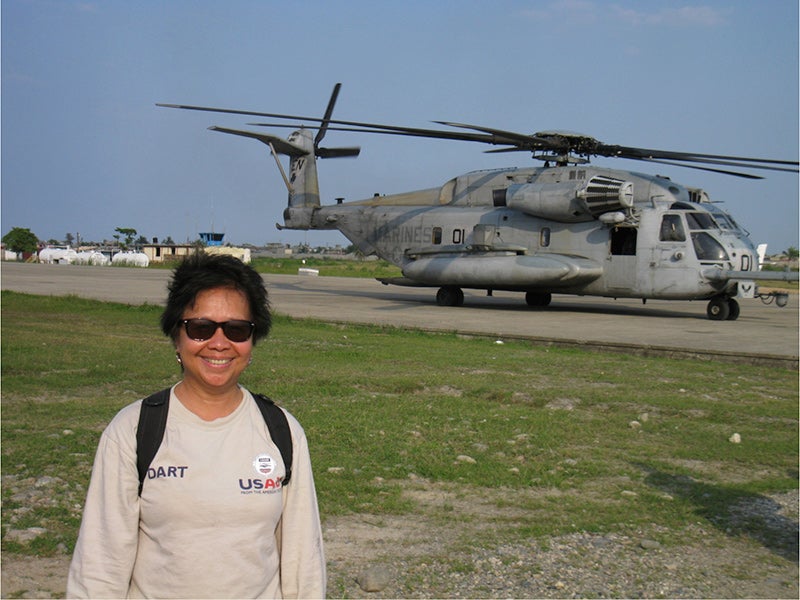 Above: Rogers waits to board a helicopter in Cap-Haïtien in Haiti, in 2010.
Rogers was a leader for a response team working on the humanitarian crisis in Syria in the past two years. Because of the ongoing war, the team is based in Jordan, from where they remotely monitor the situation in Syria. Currently, more than nine million refugees have been displaced as a result of the civil war in the country.
Rhonda Smith, a close friend of Rogers and internship director for the Department of Planning, Public Policy, and Management, said she nominated Rogers for the Distinguished Alumna Award for her contributions to worldwide humanitarian efforts and her reputation in relief efforts.
"What Mariza does is sometimes seen as intangible, but it affects so many lives," Smith says.
When Rogers returned to Eugene after her work in Haiti in 2010, she spoke to UO students about her work, discussing efforts from providing vitamin supplements to villagers in northern Darfur in 2002 to aiding victims of the 2005 Indonesian tsunami and earthquake. Smith says it was the most attended lecture in the PPPM alumni series.
"Doing this kind of work, one gets to meet different folks and learn about other cultures. There are similarities and there are differences, of course, but at the most basic level, people are really the same everywhere," Rogers says. "They appreciate what you do for them. They're very grateful."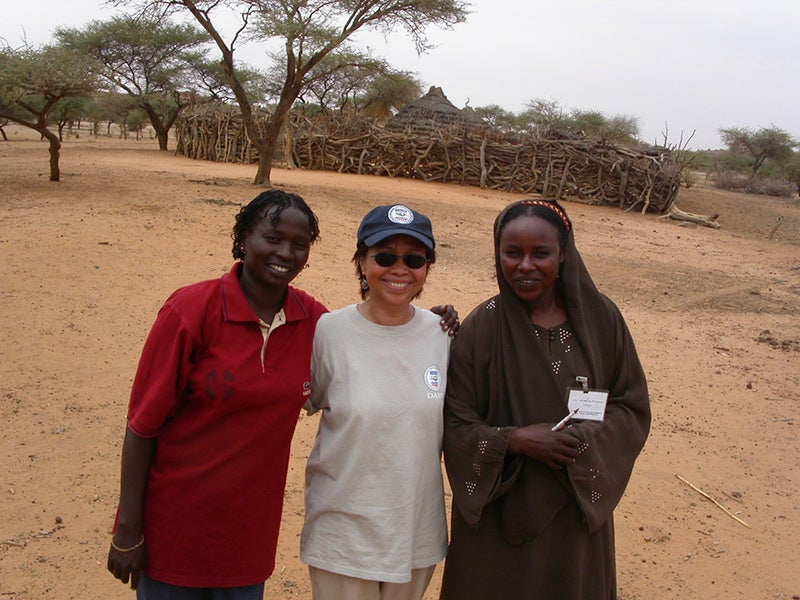 Above: Rogers with two local villagers in Darfur, Sudan, in 2002.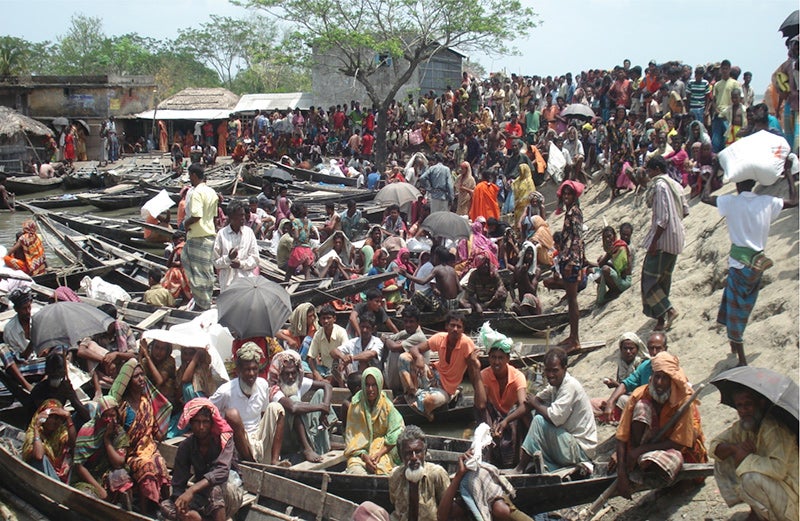 Above: Villagers waiting for aid in Bangladesh in 2009.
This story was published as part of the 100 Stories collection, compiled to celebrate our 2014 centennial and recognize the achievements and contributions of our alumni worldwide. View the entire 100 Stories archive on the College of Design website.