Professor Marc Schlossberg has been awarded a rare second Fulbright Scholarship, this time to work with faculty at Technion–Israel Institute of Technology, where he will collaborate with colleagues in the institute's Department of Architecture and Town Planning.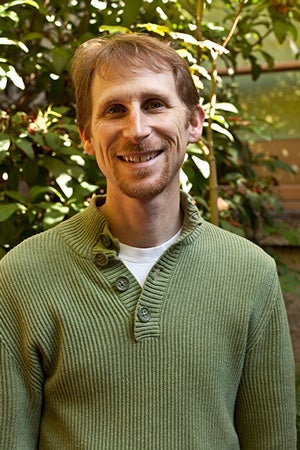 Above: Professor Marc Schlossberg
A professor in the Department of Planning, Public Policy and Management at UO, Schlossberg will use his Fulbright year to focus on sustainability and community quality of life, specifically how city design decisions influence active and sustainable modes of transportation such as walking and biking.
Along with teaching in PPPM, Schlossberg is co-director of the UO's Sustainable Cities Initiative. He was a Distinguished Fulbright Scholar to the United Kingdom in 2009-10.
"How our cities re-­‐shape themselves into a more sustainable form is a key question that motivates my work," Schlossberg stated in his application for his current Fulbright award. "Israel presents a very interesting laboratory within which to explore these issues."
His primary research focus will be to use the structure of Rethinking Streets, which he coauthored in 2014, to focus on recent street transformations in various Israeli cities. He plans to work with Technion's VizLab to develop 3D immersive streetscapes with multiple bicycle infrastructure designs to explore street transformation possibilities. His secondary research will be to engage in a mapping project with GIS as a tool both for data gathering and for community capacity building and knowledge generation.
Factors driving his research include an emphasis on ways to reduce carbon dioxide emissions from vehicles, a need to reduce obesity rates among children and adults, concern about sprawl and its impacts on land and energy consumption, changing preferences from active baby boomers and young millennials, and a recognition that walking and biking are impeded by poor design.
While half his time in Israel will be spent on research, half will be in the classroom. He anticipates teaching "Bicycle and Pedestrian Planning" and either "Sustainable Transportation" or "Participatory and Qualitative Uses of GIS."
The relationship between urban form and active transportation is an increasingly central topic in city planning, he notes.  
"My primary research focus comes from a rather simple question: 'What makes a walkable or bikeable environment?' Answering the question with a tangible set of variables, efficient ways of collecting data based on those variables, effective means of analyzing the data once it is collected, and communicating insights for both scholars and professionals is not so simple."
Schlossberg is "excited" about sharing his research and teaching experience from the U.S. and the U.K. with faculty members and students in Israel. The opportunity will provide a framework for testing his "U.S.-based understandings and ideas within a different cultural and development context" and the opportunity to "learn from Haifa and other Israeli cities and bring home expanded ideas on sustainable community design."
Schlossberg chose Technion for its faculty's "deep interest in sustainability and in applied research and teaching, mirroring my own interests connecting knowledge to practice." In addition, Technion's interdisciplinary nature—planning, design, architecture, and engineering—is well suited to his research interests, he notes.
Schlossberg will visit several cities in Israel to examine sustainable transportation projects, street retrofits, and policies guiding such work. In addition to working with colleagues at Technion, he expects to engage with nongovernmental organizations and government officials.