The Arts and Administration Program welcomed its first cohort of students 20 years ago, in fall term 1994. The new program consisted of three components: an arts management master's degree, a community arts undergraduate minor, and support courses designed to serve majors and students throughout the university. It replaced the Department of Art Education, which closed in August 1993 by university action due to the Measure 5 tax limitation initiative. Linda Ettinger served as first director.
Today, the program offers an undergraduate minor in arts management and master of arts or master of science degrees in arts management that attract a diverse national and international student group. The program requires completion of a 200-hour professional internship. Graduates of the AAD program find high-level administrative positions with museums, community arts organizations, performing arts venues, and as event managers.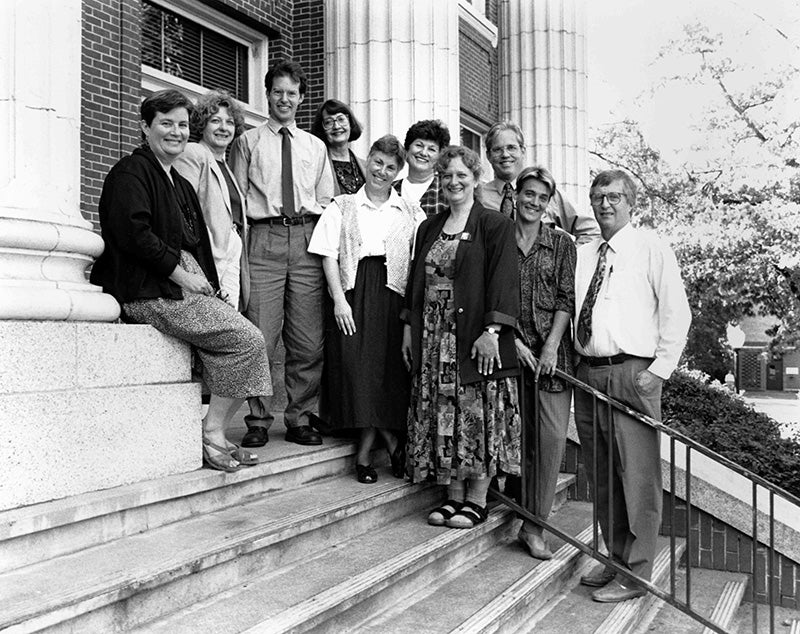 Above: Pictured on the steps of Johnson Hall are the initial 1993 faculty members, advisers, and instructors for the Arts and Administration Program: From left to right are Alice Parman, Rogena Degge, Doug Blandy, Sharon Morgan, Linda Ettinger, unidentified, Jane Maitland-Gholson, Douglas Beauchamp, Kassia Dellabough, and Peter Sears. Not pictured: Beverly Jones.
The Arts and Administration Program celebrates its twentieth anniversary with an alumni reunion October 16-18 in Eugene on the University of Oregon campus. A full slate of events has been planned for alumni to reconnect with the program and with fellow alumni, faculty members, and current students.
The reunion opens Thursday, October 16, featuring a lunch with faculty members past and present, and tours offered of campus and Eugene. A reception downtown and "A Night at the Symphony" take place in the evening. Depending on group size, discounted tickets to the performance by the Eugene Symphony (a Beethoven and Shostakovich program) may be available. The concert is preceded by a free talk with Conductor Danail Rachev.
Friday, October 17, offers a full-day symposium, "The Arts: Making a Difference in Communities." It begins with breakfast and a plenary presentation by Favianna Rodriguez, followed by break-out sessions, keynote presentations, lunch, and an afternoon plenary entitled "Funding the Arts."
The day winds down with a reception and AAD Alumni Network Connector with a presentation by Victoria Plettner-Saunders and a "Downtown Dine-Around."
Events on Saturday, October 18, include UO's homecoming football game (Oregon vs. University of Washington), and "Celebrating Our Artistic Talents." Associate Professor and program director Patricia Dewey will host a watch party at her house for those without tickets to the game.
For additional information, contact Tina Rinaldi at trinaldi@uoregon.edu or 541-346-3989.