The city of Eugene, frequently cited as one of the most bike-friendly places in the country, may soon add a new two-way bike lane nine blocks, or one mile, in length.
Following increased concern over the safety for bicycle commuters, members of LiveMove, the University of Oregon Transportation and Livability Student Group, has proposed plans for a two-way bike lane on 13th Avenue between Olive and Alder streets connecting campus and downtown.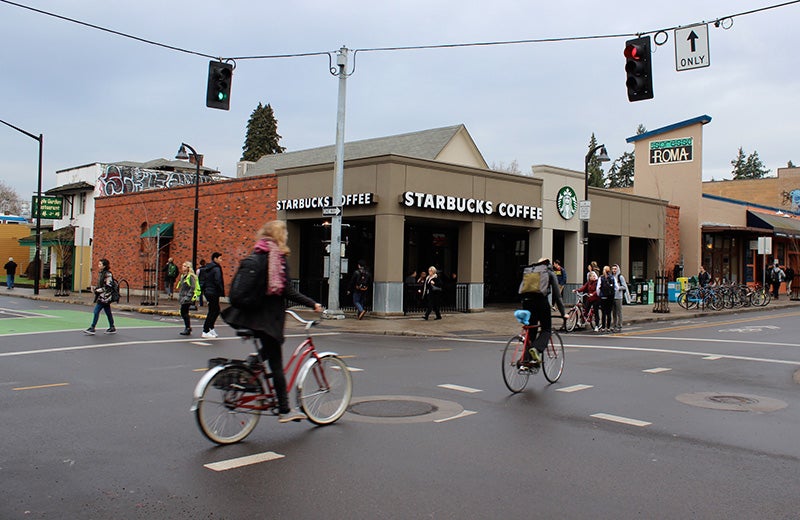 Above: 13th Avenue is a popular passageway for bicyclists, who use the street as a direct route between downtown and campus. All photos by Emerson Malone.
"A lot of us within LiveMove bike around town," said LiveMove President Nick Meltzer. "We're all coming into campus on 13th, but coming out of campus, there's not a very direct route."
The avenue, which connects the university campus to downtown Eugene, is a popular route for bicyclists. A new complex of Capstone Apartments have been constructed at 13th and Olive, providing more need for a safe, direct transport opportunity. Thirteenth Street is the most-used cycling corridor in the city yet has only a one-way bike lane directing traffic toward the campus.
However, a new initiative from LiveMove hopes to changes that with a two-way bike corridor, similar to that on Alder Street between Franklin Boulevard and East 19th Avenue. The existing two-way bike lane on Alder Street is 12 feet wide with a dotted line down the middle. It also contains a 2-foot buffer between the bike lanes and car lanes.
The LiveMove proposal for 13th is similar in design and aesthetic to that of Alder and relies on repurposing the street right-of-way with paint; the design proposal does not involve any reconstruction of the street itself and fits within the existing curbs.
Students from LiveMove created a concept plan for the bicycle passageway that would replace the bike lane on the south side of the street with a wider two-way lane on the north side. The block-by-block analysis began in the fall of 2012. The group's goal is have the two-way corridor installed by summer 2015.
The two-way bike lane largely leaves the existing motorized travel lanes and on-street parking untouched. LiveMove has proposed repurposing a vehicle lane between High Street and Ferry Street, while retaining the parking in the same area.
LiveMove's on-street parking counts of the entire corridor found that the vast majority of spaces were rarely used, which opened up opportunities for better use of that public space. Most on-street parking was maintained in the heavier use areas, but in some areas with lighter on-street parking use, some spaces will transition into the two-way bike lane. Along the entire corridor, a large quantity of underused on-street parking is available on adjacent streets.
In all, seven curbside metered parking spaces located between Oak and Pearl streets would be repurposed. Westbound bicycle use will require new traffic signals, although doing so creates an opportunity for Eugene to adopt its first signal "green wave," a deliberate timing of signals that accommodate average speed of both cyclists and cars.
Richard Johnson, owner of Midtown Direct Smoke Shop on 13th Avenue, said that he would lose parking spaces in front of his store.
"The parking on the street is critical because it serves all of these businesses," he said in the Nov. 23 issue of The Register-Guard.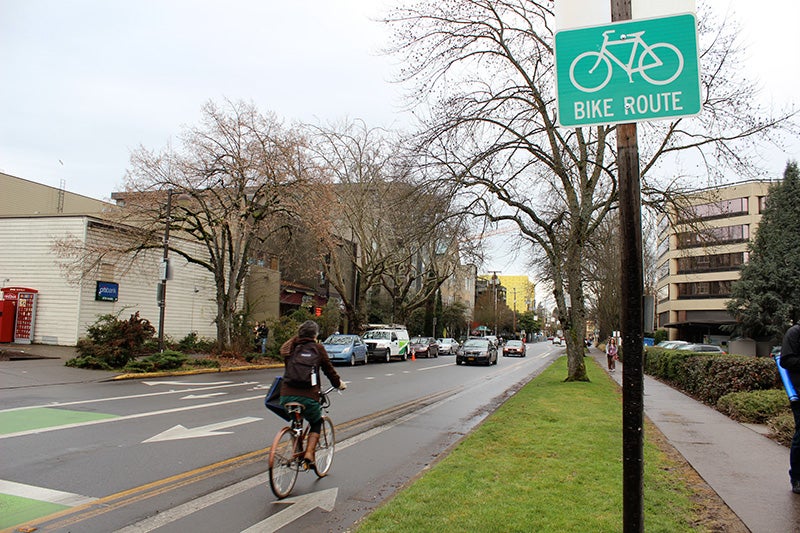 Above: The proposed two-way bike lane largely leaves the existing motorized travel lanes and on-street parking intact. A bicyclist heads westbound on 13th Avenue at Alder Street.
LiveMove members studied city policies for support for the plan, and followed with a block-by-block analysis of the street. The number of parking spaces available was compared with how frequently they are used. The redesign plan removes parking spaces that are mostly unused.
"If they're occupied more than 50 percent of the time, we didn't take them out," said Meltzer. "We know parking is important to businesses. However, if they are empty more than half of the day, we felt that space could be better utilized."
Associate Professor Marc Schlossberg, of the UO Department of Planning, Public Policy and Management, argued that the bike path would be good for the businesses along the route.
"Studies all around the country have shown that when you put bike lanes in like this, it actually boosts local business," he said. "Thinking about this sort of design for 13th, I see it as a transportation link, but also as an economic development catalyst."
LiveMove's analysis also found that 40 percent of bicyclists on 13th go against traffic.
"You can have two observations with that," Schlossberg said. "One could be, 'Who are these reckless students who have a death wish?' The other is, 'Wow, this is a really uncomfortable place to bike the wrong way. Most people don't have a death wish, yet 40 percent of people are still going that way. It really looks like they want to go on 13th and not on 11th or 12th.'"
In the summer of 2008, David Minor, a UO graduate student and general manager of Jo Federigo's restaurant, was riding on Willamette Street when he turned left onto 13th Avenue and was struck and killed by a motorist. He was 27.
His parents, Susan and John Minor, have pushed for safer biking zones in Eugene and donated $150,000 in David's memory last year to support LiveMove's two-way design. They would like the corridor to be named "David Minor Bikeway" in his memory, and many community members are actively working to make this idea into a reality.
LiveMove's original research and design work, along with the Minors's financial pledge, put the corridor officially onto the city's agenda. On Dec. 4, 2013, the city of Eugene hosted a public meeting to hear community perspective on the potential redesign of 13th Avenue and to consider the alternatives of building the passageway on 11th or 12th avenues, which Schlossberg and Meltzer agree are more indirect and inconvenient routes.
There has been generally supportive feedback from Eugene Mayor Kitty Piercy, city staff members, development professionals, community members, and many UO faculty, students, and staff.
The University of Oregon has not yet officially endorsed this project, which would serve the many commuters who take 13th Avenue each day. Karen Hyatt, assistant director of government and community relations for UO, said that despite support, it would be "atypical" of UO to officially endorse a project of this type outside the campus's parameters.
"The truth of the matter is that there are cities innovating with this type of design all over the place and Eugene has suddenly gone from a city that was at the forefront of bike design to not," said Schlossberg. "This design might help the city get back on that track and would be a tremendous selling point for the university and its future students, faculty, and staff who are actively engaged and committed to making a more sustainable campus and community."