After attending the Oregon Leadership in Sustainability Program (OLIS) at the University of Oregon this past summer, one recent graduate is embarking upon what he confidently says is his ideal career.
Tristan Sewell, using the knowledge and skills he garnered from OLIS, has moved up to Walla Walla, Washington, to become the new campus sustainability coordinator at Whitman College.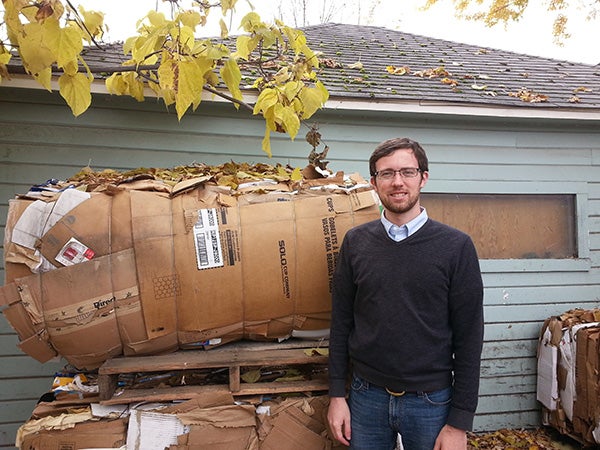 Above: UO graduate Tristan Sewell is the new campus sustainability coordinator at Whitman College.
"I kind of have two halves of a job," he said. "I drive a forklift some days and other days I'm behind a desk. I couldn't have asked for better," he said. "This is pretty much precisely where I'd hoped I'd be, and that's fantastic."
One reason Sewell chose the OLIS program was because of the level of environmental awareness in Eugene and the focus on sustainability throughout the UO campus. The OLIS curriculum addresses issues of climate change, green economy, and ecosystem services.
"The culture surrounding sustainability was clearly an issue [that] the campus was tuned into," he said. "It felt good to see people cared."
Sewell grew up in Poulsbo, Washington, and studied at Western Washington University in Bellingham. He graduated with a degree in environmental policy from the Huxley College of the Environment in 2012.
While at WWU, Sewell enrolled in "Campus Sustainability Planning Studio," in which he worked on a Sustainable and Energy Efficient Dorm pilot project. The proposal included reducing energy consumption in on-campus housing. (His efforts paid off when the program officially launched just one year later.)
The course, Sewell said, is what pushed him toward campus sustainability.
"Colleges are in such a unique position," he said. "They're at the verge and the forefront of society. That's definitely a big motivation for what drove me [to Whitman]."
Sewell's position at Whitman represents a marriage between student participation in sustainability and helping shape the college's nascent environmental code. This includes managing the campus's recycling center, chairing the Sustainability Advisory Committee, and enacting a sustainability revolving loan fund, where students can get funding for campus sustainability projects—such as installing more efficient lighting or appliances—that could provide financial savings and reduce environmental impact.
The Sustainability Advisory Committee models the college's commitment to environmental issues, including establishing long-term goals for Whitman. Sewell is already devising a long-lasting sustainability plan for the college and plans to sign Whitman onto the American College and University Presidents' Climate Commitment (ACUPCC), a pledge to commit to be a climate-neutral university.
"Like any climate action plan or sustainability plan, ideally we want to minimize our environmental or climate impact," he said. "We're in the process of doing the greenhouse gas inventory, collecting data, and then measuring how much our impact is."
Sewell earned his OLIS graduate certificate at UO in July 2013. The program let him work on community-based sustainability projects while studying urban design, planning, and sustainable business practices. As a student, he produced marketing research about whether local utilities would be interested in supply-side smart grid technologies for Portland General Electric. He also worked with the City of Eugene to evaluate the economic value of bicycling.
In the OLIS program, he said, "we got a lot of real-world experience, and I didn't quite have that from my undergraduate [degree]. [OLIS] really prepared me with a broad understanding of the issue of sustainability."
OLIS Program Director Vicki Elmer said she isn't surprised another university immediately snapped up Sewell as its sustainability coordinator upon graduation.
"Tristan is one of those students whom you know from the beginning will do wonderful things," said Elmer. "His work on analyzing alternative energy strategies for the UO was astounding. … I know that he will be a true leader in sustainability both at Whitman and in the larger sustainability community in the Pacific Northwest and the United States over the years to come."
For his part, Sewell has quickly integrated into his job and the Whitman community.
"At the end of the day, I'm basically the nexus on campus for sustainability as an issue," he says. "It's a little bit of everything. There aren't a whole lot of parts of campus that somebody couldn't ask me a question about" that he couldn't provide an answer for.
OLIS is a one-year professional graduate certificate program intended to give students the knowledge and skills to help cities adapt to the urgent challenges of the future. The sustainability-based curriculum includes applied projects and a focus on leadership. OLIS is designed for students from diverse backgrounds who want to prepare for sustainability careers in the public, private, and nonprofit sectors. Students are immersed in an interdisciplinary learning community with an emphasis on practical experiences and applied knowledge.