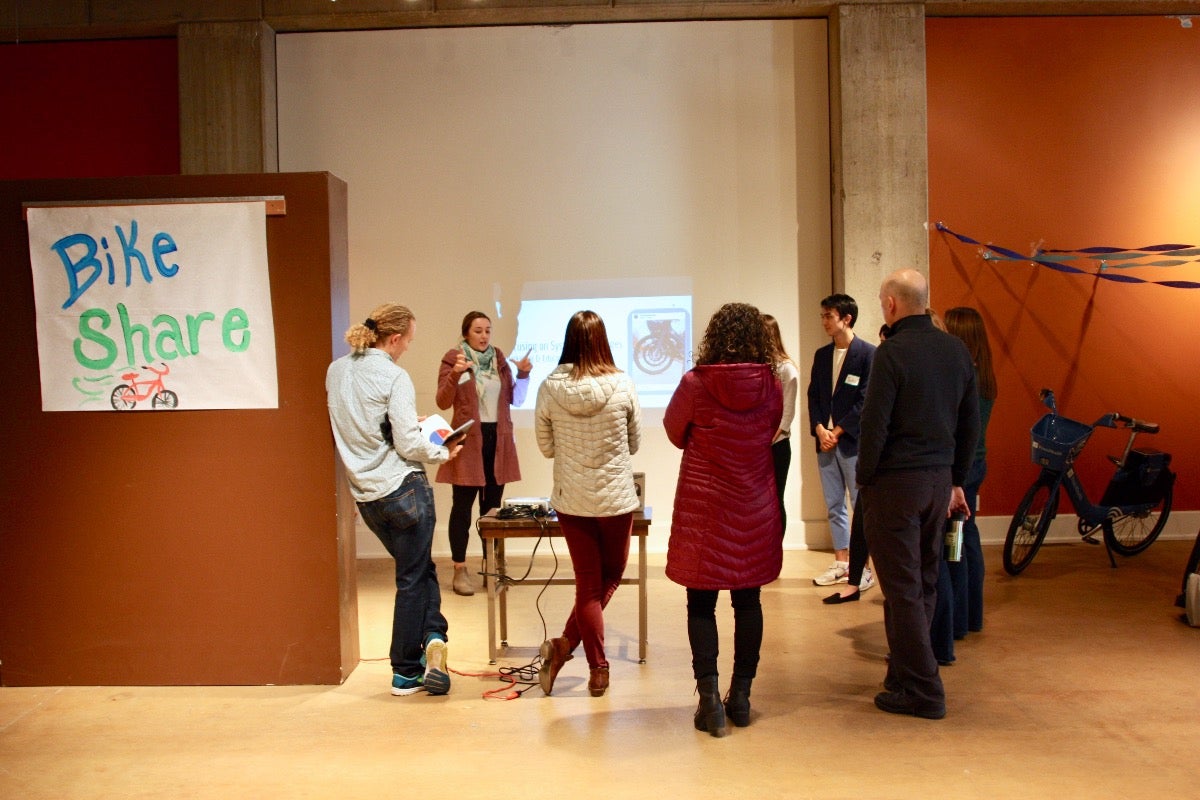 At the sound of a trumpet's fanfare, community members and city officials walked to the next student group project in a vacant storefront in downtown Eugene. The student groups stayed in place, staffing their stations for their final projects, including presentations on the Eugene bike-share program known as PeaceHealth Rides, a potential e-scooter program for the city, a community dance event, and a River Road neighborhood placemaking study.
The finals were for "Real World Eugene," a 400-level course in the School of Planning, Public Policy and Management (PPPM) in the College of Design.
Playing the trumpet was Jason Dedrick, a policy analyst for the City of Eugene, who has been collaborating for five years with Bethany Steiner, the class co-instructor and associate director for the Community Planning Workshop, part of the Institute for Policy Research and Engagement in PPPM. For the course, student groups pair with city officials and staff to work on professional projects.
"The students bring a perspective that the staff doesn't always bring," said Dedrick. "They work on issues that are real and happening right now."
Before the course begins, Steiner and Dedrick meet to discuss potential projects. At the end of the course, the student groups send their project's deliverables to their city partners. Oftentimes, the collaboration leads to internships.
"Undergraduates are so eager for real experiences that are chaotic and creative," Steiner said.
PPPM Senior Jules Renaud was drawn to the PeaceHealth Rides project because he uses bikeshare, and, he added, laughing, he also wanted to see what it would take to get a station closer to his house.
"It's a chance to use everything you learn in real life," Renaud said, describing the course as a semi-internship.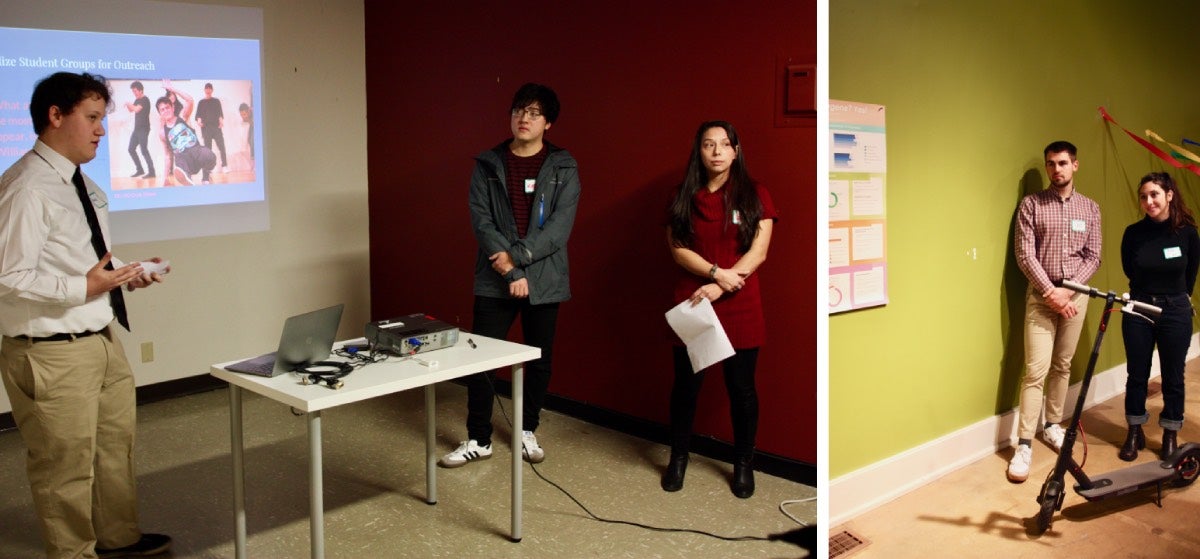 Another PPPM senior, Jacob Morgan, also appreciated the hands-on experience of Real World Eugene.
Morgan chose the dance event team because he attended an arts high school and likes how the arts can bring people together. One of the group's most notable findings is that students don't go downtown (where the dance event will be), but they do use the EmX, Lane Transit District's Emerald Express bus service. To address this, he believes students should be taught as freshman how easy it is to access downtown via the EmX.
City of Eugene Community Events Manager Colette Ramirez, who partnered with the dance event student team, said it was her first time working with Real World Eugene students.
"They were able to do the groundwork in connecting the city to student organizations," Ramirez said. This is key, she explained, as the city has had difficulty engaging with that student community in the past.
The River Road placemaking team, made up of PPPM students Lucy Nguyen, Michel Nuñez, and Kathryn Arblaster, said the course was a great capstone. They worked alongside Eugene Associate Planner Eric Brown.
"I really liked interacting with community members and city officials," said Nuñez.
"I like that I can use this as a tangible project for a job interview or résumé," added Arblaster.
PPPM offers the course Real World Eugene every fall term. Dedrick said he wished he had access to this kind of class focusing on applied learning when he was that age.
"They're learning how to run a meeting, put an agenda together, and cold call potential clients and partners," Dedrick said. "Things they would learn no other way.