An Oregon trailblazer and national leader, a community partner and planner, and a real estate attorney are the winners of three 2023 awards for public service presented by the UO School of Planning, Public Policy and Management and the PPPM Advisory Council. The awards ceremony will take place May 25th at the Ford Alumni Center on the University of Oregon campus.
Darlene Hooley, an outstanding public leader who has represented Oregon's interest at every government level one can imagine, will be presented with the Outstanding Service to Oregon award. Anita Yap, a seasoned professional with over 20 years of experience working with and in communities, is being honored as the Outstanding Alumni, and Jessica Bloomfield, real estate attorney at Holland & Knight, is being recognized as the Outstanding Recent Alumni.
The event begins at 3:30 p.m. with an Open House and showcase of student work. Starting promptly at 5 p.m., the awards ceremony will begin with a reception to follow.
---
Outstanding Service to Oregon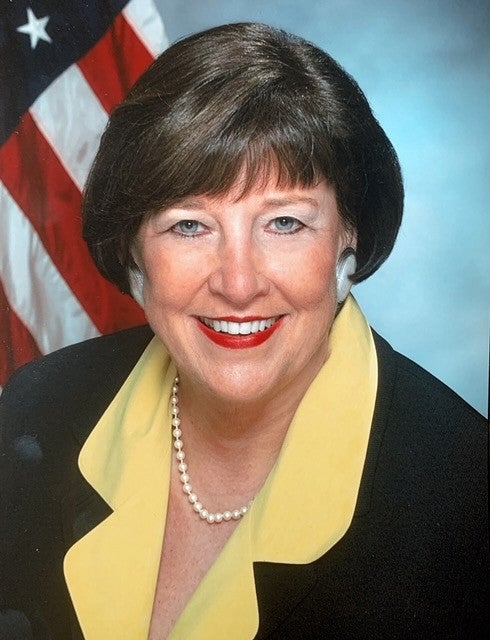 The Outstanding Service to Oregon recognizes members of the general public who have given extraordinary service over an extended period of time to the state of Oregon. Darlene Hooley, a former representative at the city, county, state, and federal levels, was this year's recipient.
A former Oregon public schoolteacher, Darlene Hooley began a long climb in state politics in the 1970s, inspired initially by defective equipment at a local playground. When Hooley's son fell off a swing in a public park and landed on hard asphalt, she was stunned by the lack of a response by city authorities to her concerns over the playground equipment. The lackluster response by the city inspired Hooley to manage a friend's successful mayoral campaign. The new mayor, in turn, appointed Hooley to the city board that controlled parks and recreation.
In 1976 Hooley was the first woman elected to the West Linn city council and then won a seat in the state house of representatives in 1980, where she served until 1987. In the legislature, she chaired the energy and environment committee where she helped pass energy conservation measures, recycling legislation, and a rewrite of land-use laws. She focused on establishing public kindergarten, passing pay equity laws, and reforming the state's welfare system. By the late 1980s, Hooley was ready to retire from public service when she was presented with the opportunity to become a Clackamas County commissioner. She accepted an appointment in 1987, becoming the first woman member of the Clackamas County commission. In 1996 Hooley received a phone call from Vice President Al Gore who said that she should challenge the incumbent first-term congressman, Jim Bunn.  The district covered much of the northern Willamette Valley from West Linn in the north to the state capital, Salem, and the university town of Corvallis to the south.
With backing from major women's political action committees such as EMILY's List, Hooley prevailed in the Democratic primary and defeated Bunn by a 51-to-46 percent margin in a race with two independent candidates. In her subsequent five re-elections, Hooley won by margins of between 53 and 57 percent of the vote. She served on numerous committees during her 32 years of service in Congress and was consistently known for looking out for her constituents. 
---
Distinguished Alumna/us
Anita Yap is a seasoned professional with over 20 years of experience in community development, public policy, and community engagement in Oregon. She is a leader in innovation and sustainability, leading communities in alternative systems planning and innovative approaches to community planning. Anita brings her personal approach with active listening and engagement to empower diverse communities to influence public policy decision-making. Anita is actively involved in community service and brings a focus on equity and a culturally competent approach to working with people and communities. She also has expertise in strategic planning and assisting with organizational strategies with an equity, diversity, and inclusion focus.
Anita holds a Master's in Urban and Regional Planning from the University of Oregon and a Bachelor of Science in Forestry from Oregon State University. She is a Fellow with the U.S. Department of Housing and Urban Development (HUD). Anita received the Governor's Livability Award, Women of Vision Award from the Daily Journal of Commerce, Women of the Achievement from the Oregon Commission for Women, and the Distinguished Leadership by a Professional Planner from the American Planning Association.
Anita Yap is the founding partner of the MultiCultural Collaborative, providing strategies and services to engage with diverse communities for equity, capacity building, community visioning, urban design and public policy advocacy. Anita is an active community member serving on the boards of the Regional Arts and Culture Council (RACC), the Asian Pacific American Network of Oregon (APANO) and the Jade International District Steering Committee.
---
Distinguished Recent Alumna/us
Jessica Bloomfield is a real estate attorney in Holland & Knight's Washington, D.C., office and a member of the firm's Land Use and Government Team. Ms. Bloomfield represents land owners through the development entitlement process and routinely leads diverse project teams comprised of developers, architects, engineers, planners and other project consultants.
Ms. Bloomfield's practice focuses on obtaining zoning approvals for Planned Unit Developments (PUDs), zoning map amendments, campus plans and design review applications from the D.C. Zoning Commission; variances and special exceptions from the Board of Zoning Adjustment (BZA); embassy and chancery approvals from the Foreign Missions BZA; and public space approvals from the District Department of Transportation.
Ms. Bloomfield also has experience obtaining approvals from the D.C. Council for street and alley closures, land dedications and Highway Plan amendments, as well as negotiating with District agencies and utilities through the Large Tract Review process. Ms. Bloomfield engages frequently with the D.C. Zoning Administrator, D.C. Surveyor and D.C. Building Code Official to obtain zoning determinations, subdivision approvals and building code modifications. She works with small and large clients to implement mixed-use, mixed-income and transit-oriented projects, and routinely negotiates development deals with elected officials, public agencies and community stakeholders.
Prior to joining Holland & Knight, Ms. Bloomfield worked in the public sector, focusing on issues related to land use and transportation planning, sustainable development and environmental regulation.
---
Previous Award Winners
For a list of previous award winners, visit https://pppm.uoregon.edu/events/pppm-awards.