Bill Eggert wasn't even halfway through his two-term capstone course in public administration when he realized the literal payoff of the curriculum's intense schedule: Midway through spring term, he was offered a job with the California State Auditor's office.
Eggert saw the capstone sequence "as a great opportunity to improve my professional writing, communication, and research skills," he says. "Lastly, I saw this course as fantastic experience to put on my resume." As the two-term course nears its end, he says, "I realize that I have gained a profound understanding of economic development, which I had little exposure to before I started the course. It is a great feeling knowing that my team and I could become subject matter experts in just four months of conducting our research."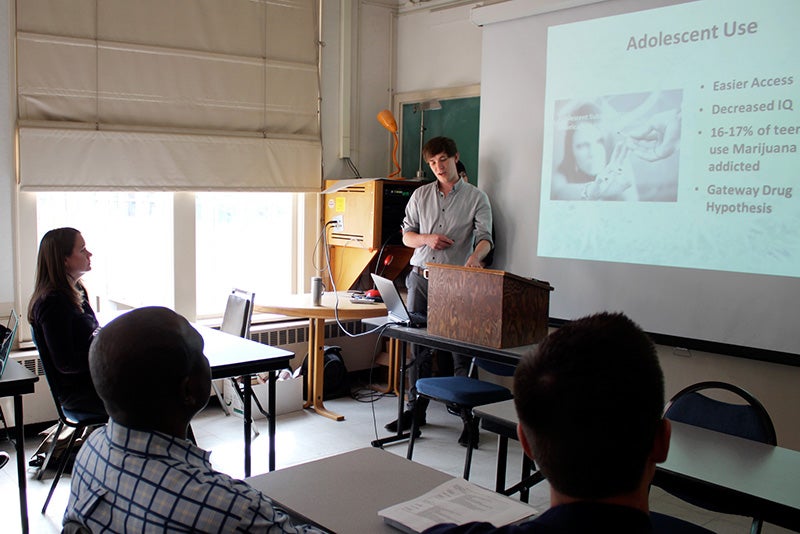 Above: Marcus Mueller delivers a report on adolescent use of potential marijuana legalization in Oregon during his capstone class. Photos by Emerson Malone.
During the "Capstone Applied Research Project"—part of the Master in Public Administration (MPA) curriculum—students work with organizations engaged in cutting-edge policy and programs. The agencies often operate with limited resources and face political and fiscal scrutiny. Two of the three accepted client proposals this year involve challenging political circumstances: legalized recreational marijuana and implementing the Affordable Care Act. The students' job is to provide objective analysis.
The twenty-week collaboration enables students to deepen the analytical, managerial, and interpersonal skills they gain throughout the two-year MPA curriculum. Now in its fifth year, the capstone sequence has been taught for three years by Colleen Chrisinger, assistant professor in the Department of Planning, Public Policy and Management (PPPM).
Students say they've been energized by the professional applications they're experiencing in their projects.
"I've gained a lot of knowledge of how policy is developed, which, for good or for bad, is not a linear process but involves many different power dynamics of many players," says Marcus Mueller, whose team is exploring issues surrounding legalization of recreational marijuana. "Our specific policy issue is in uncharted waters and really highlights how the U.S. uses states as testing grounds for policies to explore nationwide."
Course objectives oblige students to put in practice what they've learned in the classroom. Each team creates a work plan, conducts research (interviews, site visits, data analysis), and drafts a report for their agency.
This year's project clients and topics include Planned Parenthood of Southwestern Oregon in Eugene ("Feasibility of Health Care Expansion in Rural Southwestern Oregon"), the Association of Oregon Counties in Salem ("Impacts on Oregon Counties of Recreational Marijuana Legalization"), and the Oregon Innovation Council/Business Oregon in Portland ("Advancing Innovation-Based Strategies for Economic Development").
Mark Nystrom, MPA '10, is policy manager for the Association of Oregon Counties. AOC asked students to consider the impacts on Oregon counties of legalized recreational marijuana.
"The capstone group provided some excellent insight into the policies of Colorado and Washington," Nystrom said, referring to the two states that recently legalized recreational marijuana. "Their research will help us develop our policy agenda for the upcoming legislative session and provides us information we can use to inform our membership. We have been impressed at their thoroughness and understanding of the topic."
Cynthia Pappas, MURP '83, CEO of Planned Parenthood of Southwestern Oregon (PPSO), said the students' efforts are vital to her organization's mission. "The PPSO board of directors and I will use the [student team's] recommendations to move our organization forward through this tumultuous, disruptive Affordable Care Act environment. The capstone class project is a great opportunity for students to help nonprofits address and solve real-time business issues."
Eggert chose the MPA program "because I knew I wanted to work in the public sector and I felt that the MPA program was a natural extension of my undergraduate studies in sociology and criminal justice, which are both very service- and community-oriented fields."
Eggert, who will graduate in June then move to Sacramento to begin his new job, says that "volunteering and helping my community has always been an important part of my life. I saw this MPA degree as the perfect opportunity for me to influence my community in a meaningful and lasting way."
For her part, Chrisinger says she hopes that by completing the capstone applied research project, "students will develop in-depth knowledge of an important policy or management topic, gain experience with policy and management analysis, strengthen their ability to communicate with a wide audience, and learn critical skills for working collaboratively in a group of diverse peers."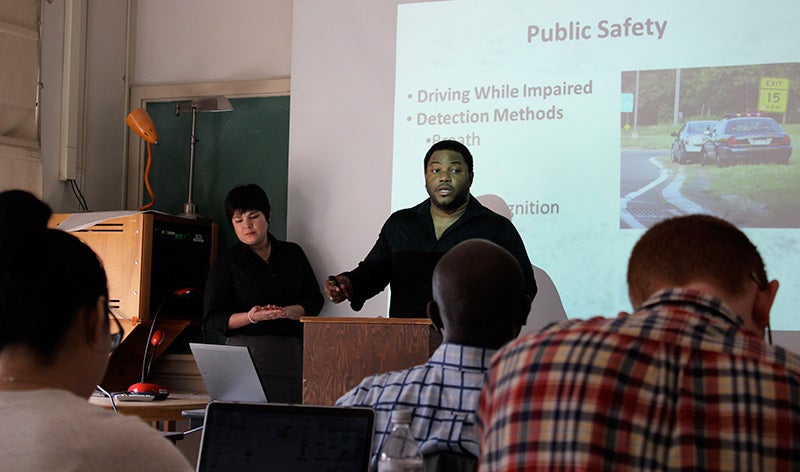 Above: Stephane Durand presents his research on the public safety component of potential marijuana legalization in Oregon.