Four students in the Planning, Public Policy and Management Department's Scholars on Board Program will present their experiences from serving on a nonprofit board during a symposium Tuesday, June 3, from 8-9:30 a.m., in Heritage Hall, located in the Bowerman Family Center at University of Oregon.
This year, twenty-one graduate students have enrolled in the board governance program, with each spending a minimum of nine months serving on a regional nonprofit board of directors. The students' projects range from redesigning board practices to leading strategic planning retreats. The presenting students and their organizations are: Claire Catania -- Wellsprings Friends School; Kathleen Strek -- Planned Parenthood of Southwest Oregon; Shannon East -- Huerto de la Familia; and Miles Mabray -- Center for Dialogue and Resolution.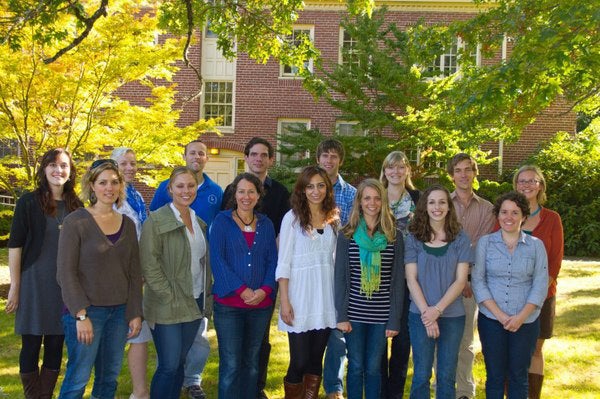 Above: Courtesy Department of Planning, Public Policy and Management.
In addition to their board service, scholars also enroll in a Nonprofit Board Governance class with instructor Diane Lang. In this class, students review relevant board governance literature and discuss the features of a highly effective nonprofit board. The experience provides them with the opportunity to reflect on the relevance and application of the literature and share their knowledge gained through experience with their classmates.
Also during the symposium, Lang will speak about her experience working with the students. Afterward, a facilitated discussion will take place among the guests. The program will close with remarks from a representative from Pacific Continental Bank and a presentation of certificates to all of the board governance scholars.
Other organizations that students worked with included Springfield Public Library Foundation, Sutherlin Community Resource Center, CASA of Lane County, Materials Exchange Center for Community Arts, Eugene Springfield Art Project, School Garden Project of Lane County, Eugene Public Library Foundation, Oregon Supported Living Program, Oregon Contemporary Theater, Eugene Education Foundation, The City of Refuge International, Inc., Makindu Children's Program, Pro-Bone-O, FOOD for Lane County, ShelterCare, Eugene Parks Foundation, and Cascades Raptor Center.
Guests at the symposium will include all graduate students enrolled in the program, representatives from their respective nonprofit organizations, and distinguished invitees from Pacific Continental Bank, the Oregon Community Foundation, and the University of Oregon.
The Planning, Public Policy and Management Department's Scholars on Board Program has been made possible for the past nine years through the generous sponsorship of Pacific Continental Bank. To date, PCB has donated more than $100,000 to this program, which assists the greater Eugene and Portland communities in prioritizing the development of future nonprofit leaders.