The City of Eugene is home to innumerable fire hydrants painted with eccentric designs: a Lego character, the Oregon Duck, a Dalmatian, a hula dancer, a squirming red squid, or simply a bunch of colorful dots.
But getting one of these idiosyncratic hydrants painted, surprisingly, isn't simple.
"You would think it would be as easy as just putting paint on a fire hydrant, but there's a lot of approvals to go through," said Gilly Garber-Yonts, an undergraduate in "Real World Eugene," a 400-level course offered by the School of Planning, Public Policy and Management (PPPM) in the School of Architecture and Allied Arts.
Finding out who owned the hydrant was among the initial obstacles, since it might've belonged to the City of Eugene, the Eugene Water & Electric Board, or a private resident.
Another directive was to preserve the original color of the bonnet (the topmost helmet-shaped part), since its color lets firefighters know the hydrant's flow rate.
And the hydrant "shouldn't have any words [written on it] that would distract drivers or be confused for a hazard sign," Garber-Yonts said.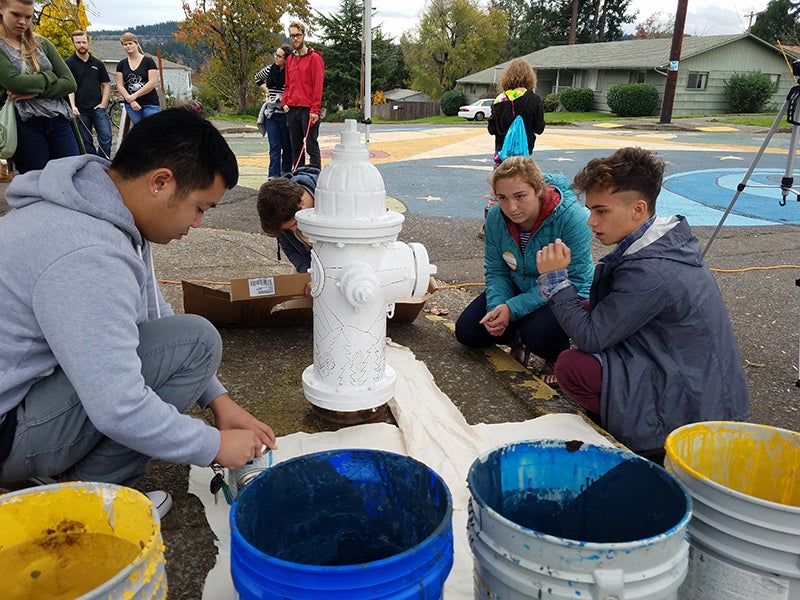 Above: From left, Brian Soutavong (PPPM undergraduate), opens paint while classmates Emily Fagan (architecture undergraduate), Andrei Eugenio (education undergraduate) and neighbors gather for the block party to decorate a fire hydrant. Photo by Emerson Malone.
After getting the required approvals, students in the "tactical urbanism" group of the "Real World Eugene" class organized a neighborhood block party at West 26th and Olive Streets on a Sunday afternoon in November to paint their target fire hydrant.
"This is a great project for the class because it's so tangible with so much immediate feedback from residents, city officials, young people, store owners," said Bethany Steiner, class co-instructor and associate director for the UO Community Planning Workshop, part of PPPM.
"The class provides students with a unique opportunity to get out in the community and dig into issues that are both timely and interesting," said Jason Dedrick, community adviser for the class and a policy analyst for the City of Eugene. "The City benefits by getting a fresh perspective on some of our work and learning from younger generations who could be future community members."
Along with decorating a fire hydrant, the students are producing a video and supplemental manual for community members interested in sprucing up other hydrants. The video and manual will list contacts within city government and step-by-step instructions that include organizing a block party for fire hydrant makeovers.
At the block party, education undergraduate Andrei Eugenio got the attention of neighborhood youths by blowing massive bubbles while PPPM undergraduate Brian Soutavong and architecture undergraduate Emily Fagan outlined a diagram on the hydrant to guide color placement.
Soon enough, neighborhood children began dipping brushes and adding colors.
Nearby, a table offered nametags, baked goods donated from Great Harvest Bread Co., and a chart of other available hydrants that neighbors could volunteer to paint.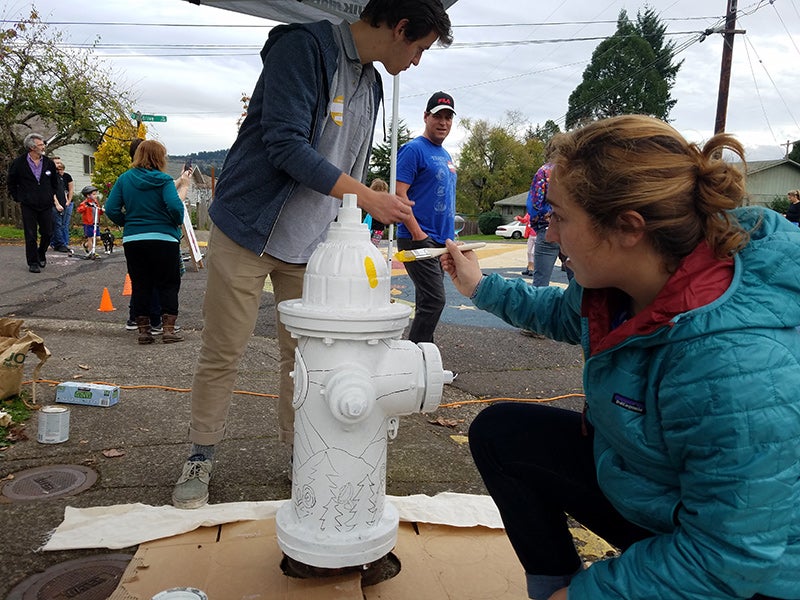 Above: PPPM undergraduate Emily Fagan lays down the first spot of color during the fire hydrant painting party she and her classmates organized for a course in the Department of Planning, Public Policy and Management at the University of Oregon's School of Architecture and Allied Arts. Photo by Emerson Malone.
The newly colorful hydrant complements a large mural on the pavement at West 26th and Olive Street. The mural was created by students in the 2015 "Real World Eugene" class, then a pilot course financed by the Williams Fund, a grant that supports experimental courses around the UO.
The intent of the street mural was to build community within the immediate neighborhood and to encourage drivers to slow down through the intersection, the only four-way cross street on College Hill without a stop sign.
"My hope is that if students can learn to work through the steps to paint an intersection and have a block party, they are learning skills that will help them tackle larger community needs," Steiner said. "My long-term vision is that more undergrads get to do applied learning and research, and that this course continues to attract a diversity of majors."
The "Real World Eugene" course includes four student groups embarking on other initiatives around Eugene. These include creating surveys to better understand UO students' perspectives on downtown; studying community members' hopes and uncertainties around the forthcoming 2021 IAAF World Championships track-and-field event; and developing recommendations to involve students in reinvigorating the West University Neighborhood Association, where 99 percent of residents are renters.
"I feel committed to building a partnership with this local community," Steiner said. "It's our obligation as a university to do that."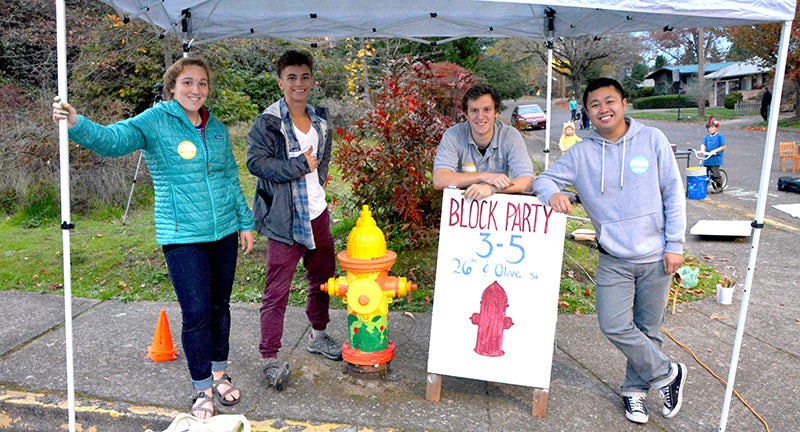 Above: Emily Fagan (from left), Andrei Eugenio, Gillian Garber-Yonts and Brian Soutavong celebrate the newly decorated fire hydrant. Photo courtesy Bethany Steiner.