Fall 2016 marked the 15th year that students in the Department of Planning, Public Policy and Management (PPPM) have partnered with local organizations to help draft strategic plans, providing a boost for community organizations with limited financial resources.
In the seminar, "Strategic Planning," student teams review an organization's past plans, budgets, annual reports, and other documents. Then they reach out to employees, board members, donors, and clients to conduct a "SWOT" analysis that identifies strengths, weaknesses, opportunities, and threats. Nineteen graduate and three undergraduate students comprised the fall 2016 class.
This term's participating organizations included Centro Latino Americano, Corvallis Environmental Center, Willamette Family Inc., Wellsprings Friends School, Oregon Farm to School & School Garden Network, Whole Earth Nature School, New Life Lutheran Church (Florence, Oregon), and Kids' FIRST (Forensic Intervention Response and Support Team).
"I've probably done a hundred plans for local organizations through the class," said PPPM instructor Bob Choquette.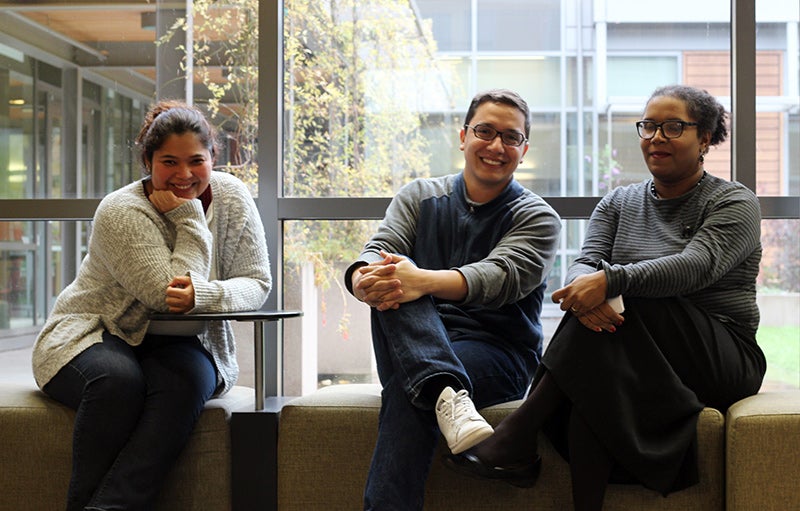 Above: Debora Calderon (from left), Iván Hernandez Lopez, and Rachel Mallinga relax after presenting their findings to classmates December 8. Photo by Emerson Malone.
The students' work can have a lasting effect. In 2011, a student team provided a strategic plan for Eugene's Center for Community Counseling that helped the organization win a $100,000 grant.
In the fall 2016 class, one student group partnered with Centro Latino Americano, a nonprofit that has served Eugene's Latino-American community since 1972 with health care services, addiction treatment, job assistance, youth mentoring, translation, and more. The student team included Debora Calderon, Rachel Mallinga, and Ivan Hernandez Lopez.
"Culturally, Centro is an appropriate space to address the issues that the Latino community faces," said Mallinga, a second-year graduate student in PPPM's Nonprofit Management Program. "They have longevity, and are a nonprofit that has been addressing social justice issues and the lack of services geared toward the Latino community."
Calderon, also a second-year graduate student in the Nonprofit Management Program, agreed that Centro responds to needs in Eugene, where Hispanics make up the second largest population.
"The fact that they can offer bilingual services makes a huge difference," she said.
The student team evaluated the board's structure and offered suggestions to help optimize operations. For example, they analyzed the specific strengths each board member offered, such as bilingualism, marketing experience, managerial experience, or an intimate understanding the needs of the Latino-American community.
"Some [board members] have untapped skills that can help the organization that they might not have considered to be valuable," said Mallinga.
Calderon praised Centro executive director David Sáez and assistant director Trevor Whitbread.
"They're a great organization. They're doing their job and just want to improve, which is a perfect situation for us," said Calderon.
Calderon added that the experience offered in the PPPM course can be advantageous in the real world.
"Usually, working in nonprofits, strategic planning is something you learn as you go. It helps to have the theory and some field experience [before entering the workforce]."
Executive Director Sáez praised the students' research after they presented it to the organization on December 12th.
"It helped me identify some priority areas to focus on and helped my board identify some strategic focus areas important in making our agency stronger," said Sáez.