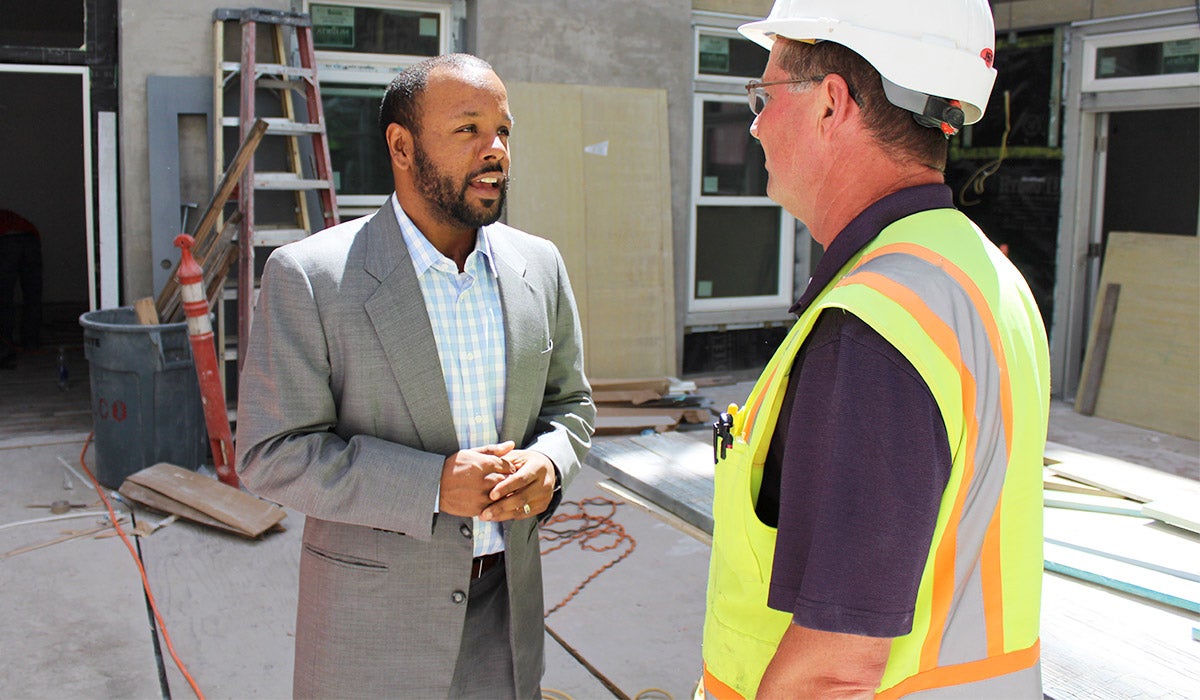 Nate McCoy has some advice for graduating students as he looks forward to his College of Design commencement speech:
Identify your purpose and passion and use these to set goals.
Be diverse with your relationships. "Pay attention, know what matters to people (all people)—their hopes, their fears and motivations. This opens the door to more trust and appreciation from diverse communities," McCoy explained.
Be intentional with your time and resources. "If you value diversity, equity, and inclusion," he said, "allocate the necessary time, attention, and resources to pursue it."
Commencement Day
Monday, June 17, 2019
University of Oregon
8:15 a.m. Grad Parade from corner of 13th
Avenue and University Street (in front of
EMU)
9:30 a.m. Ceremony at Matthew Knight
Arena
College of Design
3:00-3:30 p.m. Candidates for graduation
gather at staging area between
Gerlinger Annex and the Knight
Library

4:00 p.m. Ceremony at Knight Library
South Lawn (Southwest Campus Green)
Currently the executive director of the Oregon chapter of the National Association of Minority Contractors (NAMC), McCoy graduated with a bachelor of architecture from the College of Design in 2004 and was named a "2016 Newsmaker" by the Daily Journal of Commerce. NAMC was founded in 1969 to address the needs of minority contractors through advocacy, outreach, and business support. Prior to joining NAMC-Oregon, McCoy spent seven years as a senior construction coordinator for the Portland Housing Bureau and Portland Development.
"We are excited to welcome Nate back on campus as our commencement speaker," said Christoph Lindner, dean of the College of Design. "Nate's commitment to issues of equity and inclusion is inspirational and his message is important for our graduating students to hear."
Some of McCoy's favorite memories while studying architecture at the UO include the time he spent doing design studio presentations and panel discussions with experts, and volunteering for Reach for Success, a program through the Center for Multicultural Academic Excellence that facilitates campus visits for traditionally underrepresented seventh- and eighth-grade students.
He also recalled the support of faculty members such as architecture Associate Professors Glenda Utsey (Emeritus), Peter Keyes, and Nancy Cheng, now the head of the Department of Architecture.

Nate McCoy at the final architecture reviews in 2004; McCoy at graduation.
"The professors I had were truly there to encourage and support my growth and development toward getting my degree and advancing my future career in architecture," McCoy said. He added that his time at the School of Architecture and Allied Arts (now the College of Design) also exposed him to the lack of diversity in his chosen field, which led to feeling isolated at times.
It gave me a rude awakening that the profession I am so passionate about was highly underrepresented with people of color," he said. "These experiences have shaped me into who I am today and the work I do in empowering the next generation of designers to think more critically about diversity, equity, and inclusion in all we do."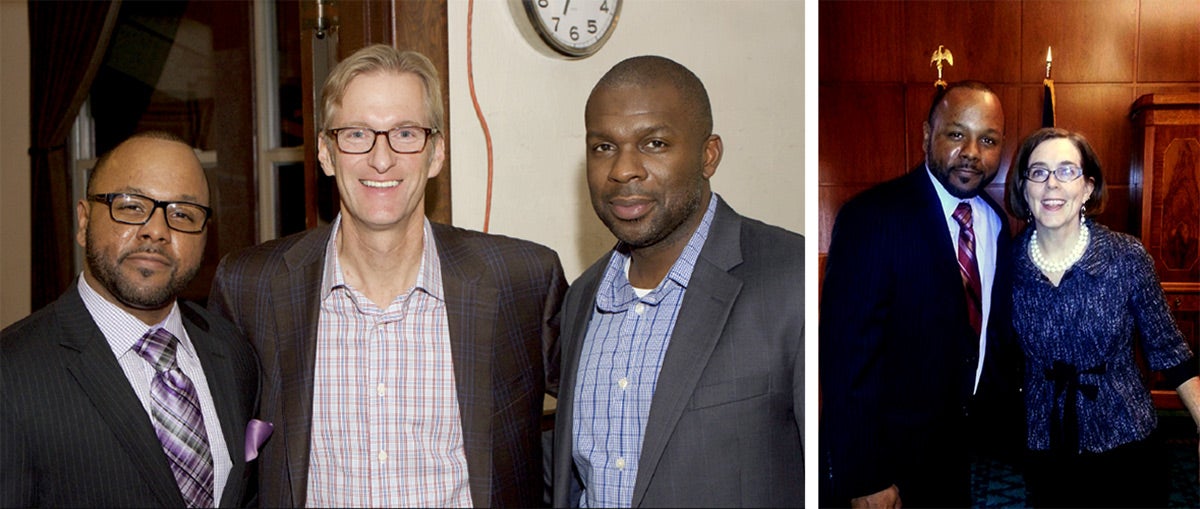 Nate McCoy (left) with Mayor Ted Wheeler and Wheeler's former Chief of Staff Maurice Henderson; McCoy with Governor Kate Brown.
McCoy will speak June 17 at the College of Design commencement, which will begin at 4 p.m. on the Knight Library South Lawn of the Eugene campus.
In addition to McCoy, the College of Design will have two student commencement speakers this year: master in architecture candidate Chelsea Millan and master in public administration candidate Agraj Dangal.

A LEED Green Associate, Millan attended Baylor University, where she earned an undergraduate degree in interior design. The Texas native has done volunteer work for the affordable tiny house community Emerald Village in Eugene, Habitat for Humanity, and Global Engagement in Mexico, Costa Rica, and Uganda. With her architecture degree, Millan wants to apply design in communities to improve social, environmental, and economic conditions.

Hailing from Kathmandu (a sister city of Eugene) in Nepal, Dangal came to the School of Planning, Public Policy and Management for a master in public administration and a graduate certificate in nonprofit management. Dangal also worked as the Graduate Diversity and Retention Graduate Employee for the UO's Graduate School. He was the recipient of the UO scholarship for students from Nepal, a fund established after the 2015 earthquake, which requires students return home after graduation to support rebuilding efforts. With his degree, Dangal would like to bridge philanthropy and business.