After Alexis Biddle finished his first year of law school he wasn't sure he wanted to be a lawyer, so he decided to take time off to find direction. He accomplished that literally by working as a taxi driver.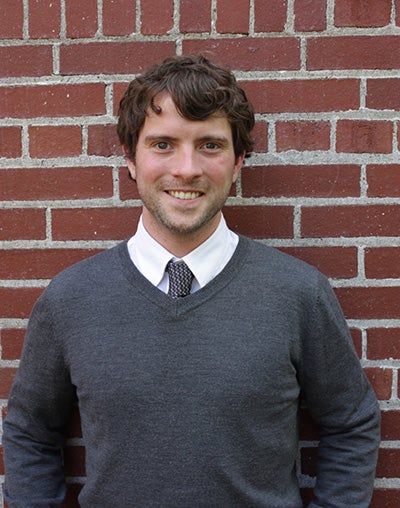 But along with learning the fastest routes through Eugene, Biddle realized that people who hire taxis aren't just headed to the airport or home from a bar. Many simply can't afford a car. Grocery stores are too far from their homes to reach on foot, and buses may not be available. So they hail a taxi when they need bananas or socks or vacuum cleaner bags.
"I began to see taxi service as a proxy for lacking transit service," he says. "I began to understand how the way we organize our cities keeps people dependent upon personal automobiles. These considerations combined two things I cared about — equity and the environment — and allowed me to channel my energy toward a singular cause: I want to improve how we move."
Biddle — set to graduate in June with a master's degree in community and regional planning and a degree in law — is among just twenty graduate students nationwide selected as Eno Fellows for the 24th annual Eno Future Leaders Development Conference in Washington, DC, June 5-9.
He is the fifth Eno Fellow selected from the UO Department of Planning, Public Policy and Management.
The annual Eno conference gives the nation's brightest graduate students in transportation-related courses a first-hand look at how national transportation policies are developed. Eno Fellows come to Washington for a week of meetings with federal transportation officials, congressional committees, industry associations, and leaders of business and nonprofit organizations in the world of transportation.
Students studying engineering, planning, public policy, public administration, economics, business, and law compete for the fellowships.
    
That the UO has fielded so many Eno Fellows is impressive, says Marc Schlossberg, a professor in the Department of Planning, Public Policy and Management.
"This is the UO's fifth awardee in the last decade, which is amazing given that we do not have a dedicated program in transportation planning or engineering," notes Schlossberg, who nominated Biddle. "For UO to have five winners in ten years is utterly amazing. This record perfectly illustrates a strength of the UO — connecting classroom learning, applied experiences, and a commitment to social change. We are focused on creating leaders dedicated to making the world a better place."
One of Biddle's many research projects involves tackling a worldwide challenge from Oregon: As a Hatfield Resident Fellow for the Oregon Department of Transportation, "I am one of the first people in the state to focus on policy related to self-driving cars," he says. Biddle is facilitating a steering team of ODOT division administrators "to anticipate the costs, benefits and needs of the looming shift in our relationship to vehicles," he says. "I have learned as much about teaching and agency culture as I have about automated vehicles" in the process.
Biddle has also coorganized the student-run Public Interest Environmental Law Conference, served as an Oregon legislative intern for the 2015 session, and is active in the local transportation advocacy organization Better Eugene Springfield Transit. Since July 2015 he has also served on the City of Eugene's Sustainability Commission.  
As if his plate wasn't sufficiently full, he is also a graduate research fellow in the UO Sustainable Cities Initiative and the SCI Fellow in the Environmental and Natural Resources Law Center's Sustainable Land Use Project. Through those positions, Biddle has engaged in national research supported by the National Institute for Transportation and Communities.  
"Through his coursework and research, Alexis continually demonstrates the value of drawing on a multitude of disciplines to provide innovative solutions," says Heather Brinton, director of the UO's Environmental and Natural Resources Law Center. "The Eno Fellowship allows Alexis an exceptional opportunity to build on this foundation."
Adds Schlossberg, "It is a real testament to Alexis' personal pursuit of transportation-related opportunities that he was selected for this award. The fellowship provides incredible access and is designed to help the next generation of leadership kickstart their own journey."
The Eno Center for Transportation is a nonpartisan think tank that promotes policy innovation and provides professional development opportunities across the career span of transportation professionals.
Previous Eno Fellows from UO include Joe McAndrew (2013), Cortney Mild (2012), Sarah Schooley (2009), and Vanessa Bekkouche (2006). McAndrew is now Policy Director at Transportation for America. Mild is senior planner for the Chattanooga-Hamilton County Regional Planning Agency.