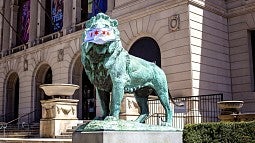 During the pandemic, one in three nonprofits had to lay off or furlough at least some of their staff.
That is just one of the findings in a national survey by Nonprofit Organization Research Panel (NORP). School of Planning, Public Policy and Management Assistant Professor Dyana Mason wrote about the results, with George Mason University Associate Professor Mirae Kim, in an article for The Conversation.
In November and December 2020, NORP surveyed 573 nonprofits about how COVID-19 affected budgets, fundraising, and operations.
Other key findings include:
More than 60 percent of nonprofit social services, arts and culture organizations obtained Paycheck Protection Program loans during the first nine months of the COVID-19 pandemic
Almost 50 percent of nonprofits providing social services, such as food banks and shelters for people experiencing homelessness, still had to scale back their work and cut staff because of inadequate funding. Almost 80 percent of arts and culture groups faced the same problems. 
At the same time, half of social services organizations have seen an increase in demand for their services, and about one-third have had to increase staff hours. Arts and culture groups, however, have seen demand for their services fall by more than 60 percent, and more than one-third have cut staff hours.
Hope is on the way for the U.S. nonprofit sector.
"The new $1.9 trillion coronavirus relief package President Joe Biden signed into law on March 11 will bring nonprofits of all kinds additional relief," the article stated.
Read more in The Conversation's "Federal support has shored up nonprofits during the coronavirus pandemic, but many groups are still struggling."