Celebrate the Eugene-Springfield Latino community and culture—including food, games, salsa dancing lessons, and music performances—at the Festival Latino Block Party on Saturday, May 30, from 4-11 p.m. at Sprout! Regional Food Hub, 418 A Street in Springfield.
Presented by Huerto de la Familia to celebrate its 15th anniversary, the event is organized by the UO chapter of the Association of Fundraising Professionals (AFP), which annually selects a local nonprofit organization to fundraise for. Huerto de la Familia is a Eugene-based nonprofit that works with the Latino community on organic gardening, nutrition, and micro-business development projects.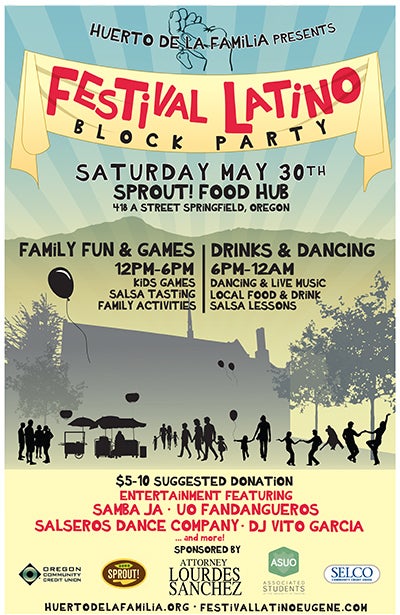 The festival features activities for the whole family. From 4-7 p.m., activities include a salsa cook-off (with celebrity judges), games for children, traditional Latin American foods prepared by Huerto de la Familia's partner families, and live music. From 7-11 p.m. there will be a bilingual salsa dance class and performances from local salsa dancing groups. Live music will be provided by Samba Ja, CTE Capoeiragem, Springfield High Marching Band, and Courtney and Vito Garcia. Local food and drink will be available all day including tamales made by Huerto de la Familia families and local food trucks. Admission is a suggested donation of $5-10. 
"Festival Latino brings together UO students, the Latino community and the wider Eugene-Springfield community to celebrate local Latino culture and the rich diversity found in Eugene-Springfield," says Alex Macfarlan, a UO Master of Public Administration student from Sydney, Australia, and Festival Latino coordinator. "Featuring Latino culture in a fun, all-ages day out is a great way to promote cross-cultural understanding and integration while also raising funds for Huerto de la Familia and supporting the great work they do in the community."
The Organic Garden Education Program is the foundation of Huerto de la Familia. "We have been offering this program since 1999, and to date have served over 400 parents and children," Macfarlan says. "The goals of this program align with the Healthy Communities Program's healthy lifestyles focus by supporting our member families in developing healthier lifestyle and nutrition habits, increasing their access to nutritious food, and improving their food and financial security by growing and preserving fruits and vegetables from their own gardens."
Huerto de la Familia also runs a business training and business counseling program—the Cambios ("Changes") Micro-Development Program. The program's goal is to increase the food security and financial stability of participants by providing education, training, and an incubation program for new and existing small businesses. Huerto de la Familia also runs an annual health clinic that offers information on nutrition, diabetes, and weight control. More info is available at huertodelafamilia.org.
The event is sponsored by attorney Lourdes Sanchez, the Associated Students of the University of Oregon, Oregon Credit Community Union, SELCO Community Credit Union, UO Professional Outreach and Development Service (PODS), City of Eugene Human Rights Commission, Willamalane Park and Recreation District, City of Springfield, as well as dozens of other local organizations that have made contributions.
Last year, Festival Latino drew a crowd of over 850 people and raised more than $5,000 for Huerto de la Familia. More information is available at festivallatinoeugene.com.

Above: Festival Latino activities include salsa dancing lessons, music, and games for kids of all ages. Photo courtesy Festival Latino.