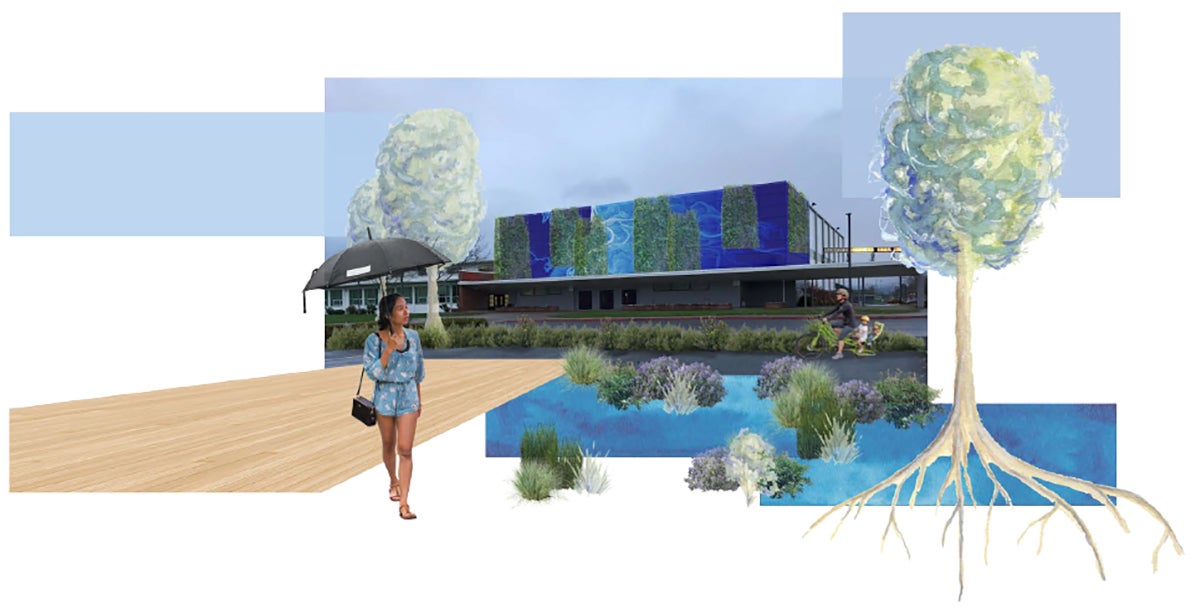 The Environmental Protection Agency (EPA) announced today that a University of Oregon team won first place in the Demonstration Project Category in the agency's 7th Annual Campus RainWorks Challenge.
"The challenge was meaningful for our College of Design students because it created a chance to collaborate on tackling an urgent environmental design problem while working with local high school students on connecting the community with their watershed," Dean Christoph Lindner told the EPA.
Assistant Professor of Landscape Architecture Yekang Ko led a team of six students from the School of Architecture & Environment (SAE) and the School of Planning, Public Policy and Management (PPPM) including Ellee Stapleton (PhD in Landscape Architecture), Evan Elderbrock (PhD in Landscape Architecture), Brittany Murphy (Master of Landscape Architecture), Sam Ault (Master of Public Administration), Maya Lazaro (Master of Public Administration), and Tom Fiorelli (PhD in Landscape Architecture).
Landscape Architecture Instructor Jeff Krueger and Visiting Professor of Landscape Architecture Michael Geffel also acted as faculty advisors.
The EPA challenge invited students to tackle the management of stormwater runoff, a significant source of water pollution in the U.S.
Together with professionals in the field and students from South Eugene High School, the team created the "Good Drainage, Good Vibes" project, which reimagined the high school campus with the implementation of green infrastructure practices such as rain gardens and permeable parking lots to manage stormwater runoff while also connecting the community to their watershed.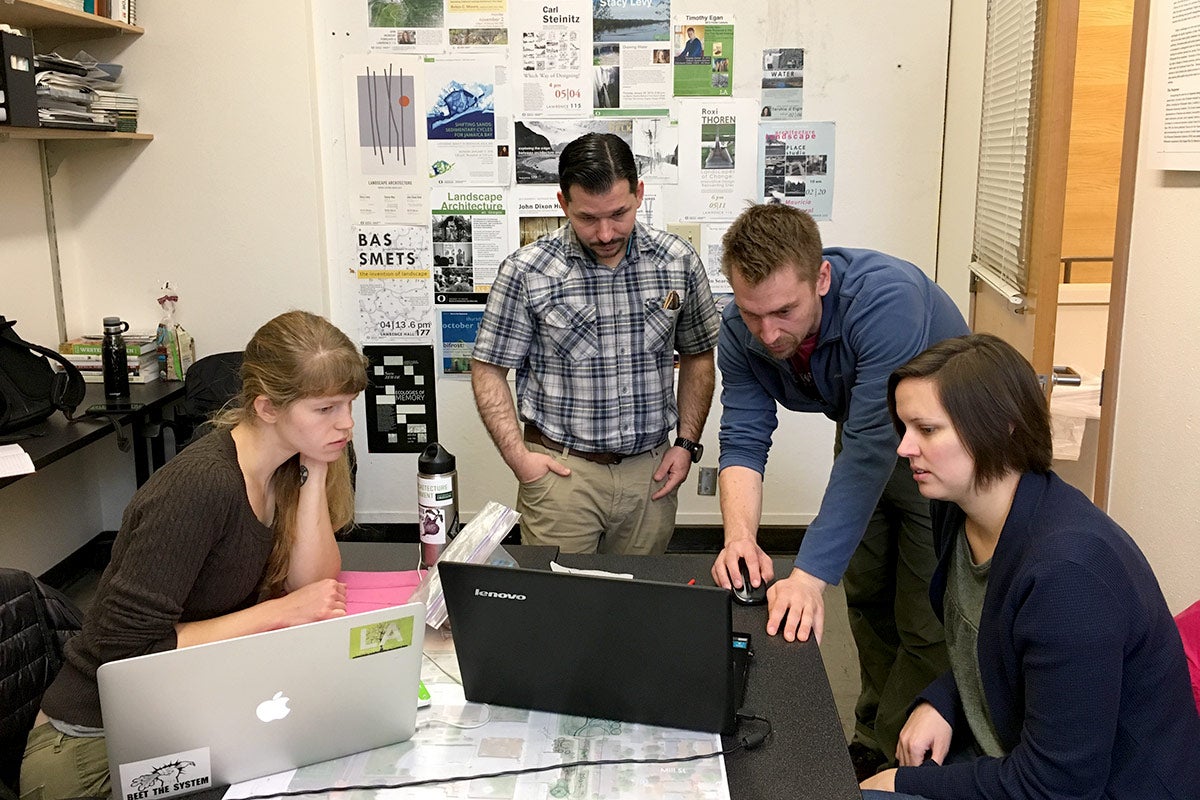 Students Ellee Stapleton, Tom Fiorelli, Evan Elderbrock, and Brittany Murphy working on the Campus RainWorks Challenge
"The challenge was a fun and rewarding experience of an interdisciplinary collaboration among the UO College of Design and community partners, including the City of Eugene and the 4J School District, to address the real stormwater issues at a local high school." said Ko. "It was a dream team of talented students supported by landscape architects, an urban forest analyst, an ecosystem service team supervisor, a civil engineer, and a 4J architect. The EPA review committee acknowledged that community engagement and support in this project was exceptional."
Ko said that the team seized on the potential of the underutilized lawn space at the high school and envisioned new multifunctional landscapes for onsite stormwater treatment, community activities, and education. The team used the pop-up space in Lawrence Hall last fall to work on the project.
"Our primary design interventions really looked to reduce the pollutant loads in the urban stormwater that's running into Amazon Creek," said Elderbrock in a video about Good Drainage, Good Vibes (see below).
The team will receive a $2,000 student prize to be split among team members and a $3,000 faculty prize to support green infrastructure research and education.
Read more about the competition and the winners at the EPA News Releases page.