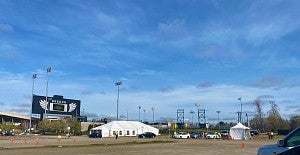 One of the Lane County Public Health COVID-19 Vaccine Clinics at Autzen Stadium
For Karen Gaffney (MPA, '92), like countless others, the past year has been the most challenging of her career.
As the director of Health and Human Services for Lane County, Gaffney has not only been charged with the County's response to COVID-19, but her department was a critical responder for the Holiday Farm Fire, tasked with helping coordinate mental health, housing, and other social service needs. Her team has also been called to address structural racism across multiple systems in the wake of the anti-racism protests since the police killing of George Floyd, as well as the growing homelessness crisis. All of this was in addition to the regular work of the County's largest department, providing physical and behavioral health, juvenile justice, and social services in the community.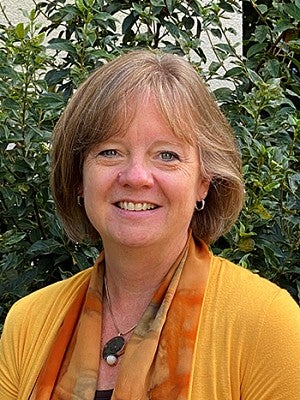 "I have to start by saying this past year, we've really been managing four emergencies. The COVID-19 pandemic is only one of those," Gaffney said.
"If you have a passion for this work, it's a pretty darn exciting time, too," she added.
Gaffney found her passion for public service while studying at the UO, first as a journalism undergraduate, and then as a graduate student in the Master of Public Administration program in the School of Planning, Public Policy and Management. We caught up with the former ASUO president (elected in 1988) to discuss how her passions for social justice led her to study public administration and how the MPA program prepared her to manage the real-life emergencies of today.
How did you come to pursue a Master of Public Administration?
I did my BS at the UO in journalism, and I was student body vice president during my senior year in journalism school. This introduction to public service and governance as an ASUO officer was really tremendous. I decided I didn't want a career in journalism because really my passion was public service. I opted to run for student body president and simultaneously applied to the MPA program. My first year as an MPA graduate student was also the year I was president of the student body.
As student body president and vice president, I learned how my passion for social justice can translate into tangible and real improvements for people who are historically marginalized. As an out lesbian and a committed ally, I brought together a diverse staff team of students and professionals to tackle important efforts such as the response to the Oregon Citizens Alliance anti-gay ballot measure, the creation of the ASUO Women's Center, enhanced childcare services, and management of the student insurance program. It taught me how to be a leader, working with people across the state and country, and how to think about policy and advocacy in very practical ways.
"I remind people this is the great pandemic of our time."
It was actually wonderful to be able to study and be in the field at the same time. That continued after being the student body president; I came to work at Lane County and finished my master's degree while I was employed here. It made my graduate work grounded in practice and in the field in ways that would have been much different had I been a full-time student.
I started at Lane County in 1990. I have worked here my whole career in a variety of positions. That first job was doing community organizing for youth substance abuse prevention as part of our Youth Services department. In this program, I was applying the principles we were studying in terms of community engagement and bridging back to resources in PPPM with the help of my advisor [PPPM Associate Professor] Ed Weeks. The relationships I was able to make through my master's program supported and influenced the work I was doing at the county.
What are your biggest takeaways from the MPA program?
The program positioned me well for this role [director of Lane County Health and Human Services] with its focus on generalist leadership and management. I have the opportunity to lead the largest of the county departments with a lot of different, specialized programs and staff, including physicians, nurses, social workers, business and marketing professionals, probation officers, and others. My broad public administration education is what positioned me to lead a department that is as varied and diverse as we are. I understand how leadership comes together to benefit communities. I understand the role of engagement of communities and employees, of public finance and public management. PPPM grounded me in ways I could never imagine. I draw on those areas each and every day in my work.
Tell us about leading during a pandemic?
This past year we've really been managing four emergencies; the COVID-19 pandemic is only one of those. Our department was a critical responder for the Holiday Farm Fire that destroyed nearly 500 homes in this community, not to mention all the businesses, environmental impacts, and other catastrophic effects of the county's largest fire.
We have also been in the throes of our social justice and racism emergency response—not that this was new this year, but it poured onto the streets and people's consciousness in new ways, and it demanded a response from institutions, including the systems I represent. We manage the juvenile justice system, the public health system, the housing and social services system, the mental health system—all places where there are significant disparities impacting our BIPOC communities. This year we have defined our equity lens and are looking deeply into the root causes of those disparities with an eye toward how we do our part to unwind those systems of oppression.
"Partnerships have made all the difference.
I'm heartened by the way community can rally."
The fourth emergency is our homelessness crisis, which is really a humanitarian crisis on our streets. It has been the most challenging year of my career—nothing else has come close.
There have also been tremendous bright spots. People are amazingly resilient. I have watched our staff respond and help people move through it all in tremendous ways this year.
What have you learned during the pandemic?
I remind people this is the great pandemic of our time. This is an amazing time to be in the health department, frankly, and seeing how our community can come together to respond.
There have been many, many learning moments. One of them has been how an emergency can push us to implement changes and improvements that otherwise felt impossible. An example of that is remote working—the county had very little capacity for remote work until COVID-19 hit. We knew in order to keep people safe, we had to do our work differently. We implemented telehealth systems for our primary care and mental health clinics, which we had been planning for years but hadn't been able to implement. We've also improved mobile services to be able to meet people and deliver services where they are—an element we will continue to grow during recovery.
The Lane County Public Health COVID-19 Vaccine Clinic at Autzen Stadium
One of the other surprises has been how we can work with communities to create solutions that none of us would have come up with individually. An example is our vaccination efforts right now. Lane County had the fifth highest per capita vaccination rate in the state of Oregon [as of the third week of April 2021]. I credit that to our dual strategy of bringing in amazing numbers of volunteers to help with these mass vaccination clinics at Autzen Stadium, Lane Community College, and the Lane County Fairgrounds. And pairing that effort with partnering with community-based organizations to set up smaller clinics for our marginalized communities to make sure we are getting vaccinations to people who otherwise would have barriers to get care, whether it be their experience of racism or the fact they are frontline workers and have difficulty getting away from work.
Partnerships have made all the difference. I'm heartened by the way community can rally. It's important to lift up the strategic partnerships that have come out of our efforts. From the very beginning, we have had close partnership with the UO, the City of Eugene, the City of Springfield, McKenzie-Willamette Medical Center, and PeaceHealth as key leaders in our COVID-19 response.
We've also been working with PPPM. The County and the Institute for Policy Research and Engagement partnered several years ago to form the Oregon Policy Lab to help leverage the talents of students and faculty to help address complex policy challenges. During the COVID-19 response, this partnership was critical in helping to gather data to influence our approach to policy and effective behavior change.
What is your advice to students following a similar path?
It's critically important to find an area that feeds your passion. For me, health and human services and social justice were my passions. It's important to pair the work with something that will feed your passion.
It's also important to pay attention to the basics—leverage those opportunities to learn skills and build the toolbox. That toolbox is what we'll keep going back to year after year, whether it's the policy and planning parts or the basics of human resources or union bargaining or finance and how we're going to pay for a building project. All of those basics are really fundamental pieces that allow us then to do the creative work on top of that.
Those two pieces of finding the passions and paying attention to the basics have helped me be able then to follow and create a path that was tremendously fulfilling for me and I think has a made a real difference in the community.
Lastly, build your network and relationships while you're in school. I'd say to anyone who is beginning this work, those relationships are a key part of the toolbox too because we can't do this work alone or in silos.