master of community and regional planning '01
A&AA alumna creates collaborative workspace for all creative disciplines
Ask any local Portland artist-hobbyist-craftsperson who Kelley Roy is and they'll immediately respond with "ADX Portland." Roy, MCRP '01 (Community and Regional Planning), is the brainchild behind Portland's unique incubator space for "makers"– those who want to explore their art, prototype their designs, and bring them to fruition.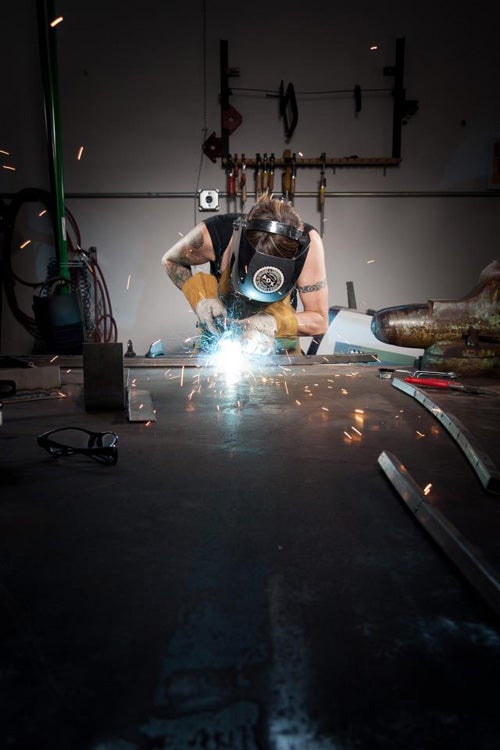 Above: Above: Kelley Roy at work. Photo by Nicolle Clemetson.
"Anyone can use the space," says Roy. "Someone can come in with just a napkin sketch of what they want to build and we'll make sure it goes from start to finish. A lot of people want to develop their own businesses and products but don't know how to get started. We provide the support, training, and connections to resources that they need to succeed in doing that."
Along with providing tools and workspace, ADX offers consulting services, financial projections, marketing and branding strategies, and financial "matchmaking." In just the past year, the buzz surrounding the workshop has exploded onto the Portland scene and demand for ADX's services has surpassed Roy's expectations.
But the path to ADX wasn't exactly direct. After graduating from UO, Roy says she began a string of jobs before discovering what she really loved to do: own her own business and work for herself. In 2002, Roy left her two-year job with Metro (the regional government for the Portland metropolitan area) and began to take on entrepreneurial endeavors. She purchased and redeveloped a retail and residential building on Division Street in Portland, then moved to New York and started an organic farm-fresh food company in Park Slope. After a year-and-a-half, Roy sold her part of the business and moved back to the West Coast in 2008 to assess the next phase in her life.
"I'm a risk-taker," says Roy. "I found that there was so much creative energy here in Portland and after I read a New York Times article about 3rd Ward in Brooklyn (an experimental craft facility), I wanted to harness all that energy and do something with it."
So in 2009, she began a small-business consulting firm in Portland. She soon found herself working exclusively with creative people who needed help with financial projections; many were local artists trying to turn their hobbies into careers. Through a network of friends, she rented warehouse space where artists could showcase their work and Roy could provide financial consultations.
Eventually, the demand grew and Roy decided her next step would be to move to a bigger space and create an incubator-type business that could be used as an outlet for "all the creatives" in Portland. In January 2011, she founded ADX Portland and worked with local branding firm The Official Manufacturing Company to develop the ADX tagline, "building a community of thinkers and makers."
In the past year, ADX has grown to more than 400 members. It offers wood and metal shops, laser cutting, 3D printing, a CNC router, team building programs, group and one-on-one classes, coworking spaces, and in-house professional services (including design, branding, marketing, business, financing, and fabrication). Businesses and users can enlist ADX employees to fabricate projects (such as retail displays, signs, furniture, etc.) in-house or take a safety and tool-training course and make whatever they want themselves.
Ultimately, Roy wants to remove any barriers that could prevent someone from learning the skills to "make anything they've always wanted to make."
So far, Roy has catered to a number of local businesses for fabrication projects. Clients have included Nike, Schoolhouse Electric, Wieden + Kennedy, and more. And demand has grown more than she ever expected. Through word of mouth, membership has grown, projects expanded, and more jobs created. She hopes to create more jobs through ADX as she expands the current facility and plans a new manufacturing shop.
"ADX is harnessing Portlands' creative energy and sending it back into the world in the form of jobs and a Portland-made line of products," Roy says.
For more information about ADX, visit their Facebook page or www.adxportland.com
This story was published as part of the 100 Stories collection, compiled to celebrate our 2014 centennial and recognize the achievements and contributions of our alumni worldwide. View the entire 100 Stories archive on the College of Design website.