bachelor of science '11
Homeless advocate graduate lands job in D.C.
A University of Oregon graduate who works in Bethesda, Maryland, advocating to end homelessness had a life-affirming moment when she walked through a train station on a chilly, November evening.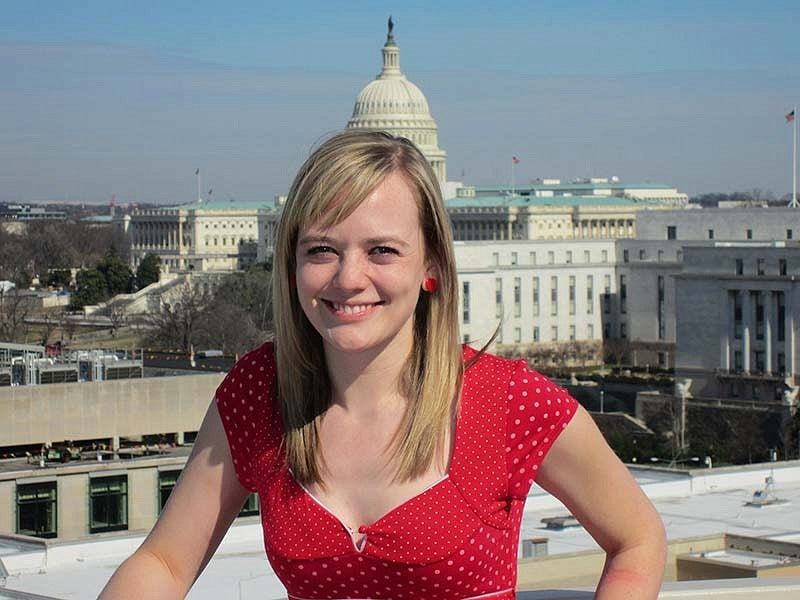 Above: Korrin Bishop in front of the Capitol in Washington, D.C.
After a long day's work, Korrin Bishop trudged up an escalator. She walked outside and heard a trumpet. Down the street someone sat by a crosswalk and played "The Star Spangled Banner."
She'd seen the trumpet player before playing by the train station's fountain a year prior. She appreciated it, if only to break the day's monotony. She recognized that he was a homeless veteran, approached him, and thanked him for the music.
They began to talk. The man put a fist up against his mouth and admitted, "I'm just trying not to break down."
They told each other they loved one another. That night, Bishop would write in her blog, "I said it because it was remarkably, wholeheartedly true."
She added, "The deepest form of love can be imparted upon a total stranger; humanity is truly rooted in beauty."
Humanism has been at the core of Bishop's pursuits since she was a college freshman. She sampled several majors looking for the right fit. She started as a pre-engineering major, but left because she wanted to work in public service. After studying political science, which she found too removed from the actual community-level implementation of the subject's theories and research, she discovered A&AA's Department of Planning, Public Policy and Management.
"What really appealed to me [about PPPM] was the fact that it was taking coursework and research and actually applying it to real-world situations, allowing students to see how their work could actually help to build a better community," says Bishop. "I also liked that they offered a nonprofit administration minor, since that correlated to the work I was interested in at the time. The department's curriculum overall sounded like a perfect match for what I envisioned myself to be doing in the future."
Bishop's long interest in homelessness solidified into a career path after taking a course titled "Community Leadership and Change" from instructor Richard Weinman, who was involved with local homelessness issues in his position with the City of Eugene at the time.
"Many PPPM classes are taught by adjunct instructors who hold additional positions within city government or local nonprofit organizations, while other classes bring in many of these people as guest speakers," Bishop says. "I found it invaluable to be able to get this professional perspective while in the classroom."
Bishop was able to attend courses that combined her interests in both policymaking and the provision of needed services to people at-risk of or experiencing homelessness. This opportunity guided her through several competitive internships and eventually helped her earn a job at Abt Associates, where she works today.
Before that, she was hired for an internship with the Fresh Air Fund, a nonprofit organization in New York City that brings low-income, inner-city children to an overnight camp upstate where they spend their summer playing and learning with others in a nature setting.
The low-income population of Lane County also received Bishop's attention. She helped plan and volunteered for "Project Homeless Connect," a one-day event held at the Lane County Fairgrounds that provided basic needs items and critical services to people experiencing homelessness.
She also applied for a competitive internship with The Carter Center in Atlanta, Georgia, led by former President Jimmy Carter, where she helped with fundraising and development work. Because the internship was unpaid, university administration, the School of Architecture and Allied Arts, the Department of Planning, Public Policy and Management, Clark Honors College, and Student Financial Aid and Scholarships generously combined their resources to finance her internship.
More recently, PPPM Department Head Rich Margerum created the PPPM Public Service Internship Award to support students selected for unpaid internships with nonprofit or public sector organizations.
The university's endorsement moved her to become the scholarship coordinator of the UO Alumni Association National Capital Chapter, which colloquially calls themselves the D.C. Ducks. Every year, the chapter awards a $1,000 scholarship to a UO student who comes to D.C. for an unpaid summer internship.
"I know how much the funding the UO gave me for my unpaid internship meant to me and how it allowed me to take on some really important experiences," says Bishop.  "I saw getting involved with this local chapter as a way to extend that work, which I believe is vital to students."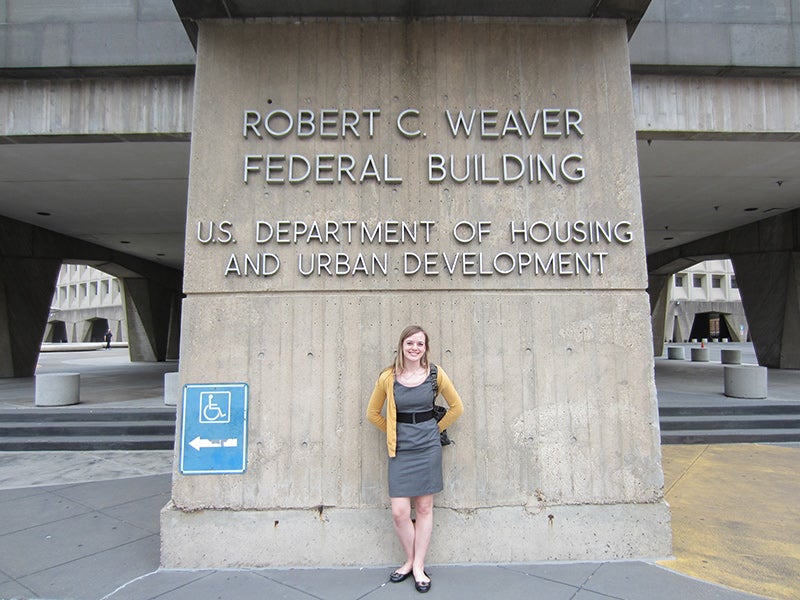 Above: Korrin Bishop in front of the U.S. Housing and Urban Development Department headquarters.
Bishop was awarded the 2011 Michael Hibbard Award for Excellence. Her thesis, "Reversing the Homeless Trend: A Case Study of the Homelessness Prevention and Rapid Re-Housing Program in Lane County, Oregon," earned the 2011 Barbara Corrado Pope Award for addressing issues of diversity and equity.
Her research work for the thesis introduced her to several people at the U.S. Department of Housing and Urban Development (HUD) in D.C. Upon moving to D.C., she was invited to present her research to HUD staff. This opportunity ultimately led her to a job offer with Abt Associates to implement another homeless assistance program with which she became familiar through her research.
Today, she works on federal homeless assistance programs, provides policy guidance to HUD grantees, and highlights best practices. Bishop also assists Abt Associates in collecting and cleaning data for the Annual Homeless Assessment Report to Congress. This report provides nationwide estimates of homelessness by community and demographic characteristics, including special subpopulations, such as veterans, youths, or victims of domestic violence.
PPPM graduate Internship Director Rhonda Smith remarked that "as a young professional and graduate of our program, [Bishop] is at the top of the list because she embraced her academic program and complemented her studies with skill-building internships and community involvement."
"She always wanted to do whatever she could to learn about the issue of homelessness, [and] to involve herself in such a way where she could make a contribution," Smith adds. "She's committed to doing the best work she can with what's often described as an intractable problem. Some say there is no solution, but that's not her perspective. She is committed to ending homelessness."
Bishop says that, beyond her work, her biggest accomplishment is working to reduce the stigmas and barriers that have been constructed around homeless populations.
"A lot of this population just gets walked by. I spend a lot of time out of the office volunteering so that I can always see the faces that the policy and data represent," she says. "I like those moments where you really view that personal component. It makes what I'm doing more meaningful."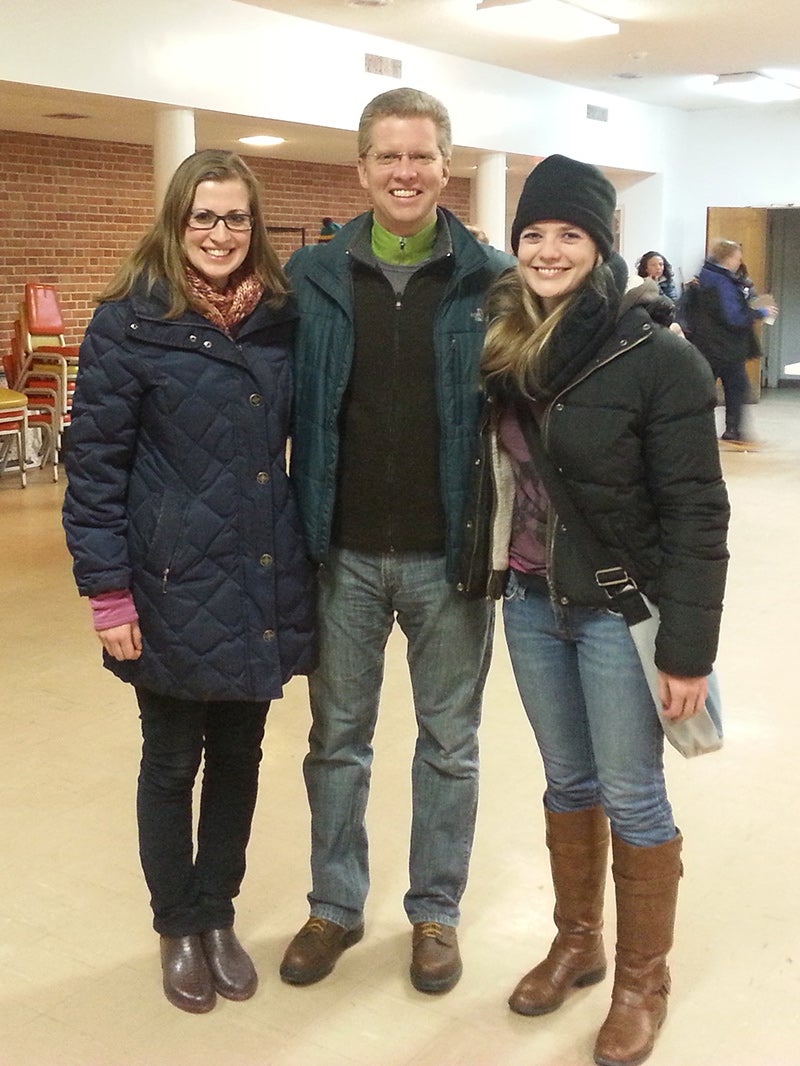 Above: Korrin Bishop's colleague Katherine Buck (from left to right), U.S. Housing and Urban Development Department Secretary Shaun Donovan, and Korrin Bishop during the Point in Time count in the Capital Hill neighborhood of Washington, D.C. The Point in Time is a national event that tallies the number of homeless individuals at a given time on a January night. It is mandated by the U.S. Dept. of Housing and Urban Development. Images courtesy of Korrin Bishop.
This story was published as part of the 100 Stories collection, compiled to celebrate our 2014 centennial and recognize the achievements and contributions of our alumni worldwide. View the entire 100 Stories archive on the College of Design website.