Laura H. Sampson, DEd '80, sees her estate gift to the Arts and Administration Program (AAD) as an opportunity to help students and to honor Effie Lu Fairchild, her faculty mentor.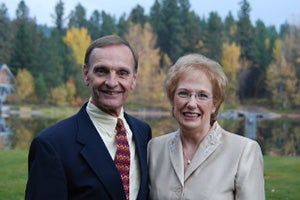 The gift by Laura and Kent Sampson, above, will benefit students in the Arts and Administration Program. The gift honors Laura Sampson's faculty adviser and mentor, Effie Lu Fairchild.
"The spirit of Effie is what the UO is about to me," says Sampson. 
Her estate gift will be added to the Effie Lu Fairchild Scholarship Fund, allowing more financial awards for aspiring students in recreational or educational arts and culture.
Sampson, the only doctoral student advised by Professor Fairchild, says she was grateful to find an adviser willing to think outside the box and support her education. "We were both nontraditional folks, and she saw in me someone who could be creative and innovative," says Sampson.
Her dissertation on adult learning used photographic documentation, along with traditional techniques, and was a new methodology in studies of the elderly. She received the Lynn Rodney Award from her department for the creativity of her research project.
Sampson, now retired, was the director of the Institute for Lifelong Learning and Elderhostel in New York. Given her career achievements, the UO's Arts and Administration Program is a perfect fit for her gift, she says.
Fairchild was a faculty member in the former Department of Recreation and Park Management at UO. She valued community education, leisure programming, and inspiring young leaders. Sampson says her own career was well served by the skills and talents she honed at the UO and with Fairchild.
For many years AAD hosted the Effie Workshops, which brought cultural and recreational leaders together for professional training and offered courses in event management. 
"Lifelong learning and the arts go together—I always took my work in recreation toward cultural events programming," she says. 
Sampson and her husband, Kent, a retired YMCA professional, both believe that their careers were gifts—an opportunity to serve— and never just a job. 
"We felt our careers were a real blessing, and not everyone can say that," she adds. 
When they began thinking about their estate plans, she says, it made sense to them to try to help others have the opportunities they had.
"We want to give a gift that is worthwhile. I consider this going full circle."
For information about making an estate gift, contact the Office of Gift Planning at 800-289-2354 or giftplan@uoregon.edu.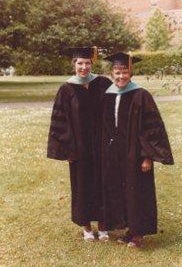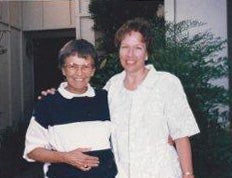 Above left: In regalia, Laura Howe Sampson, at left, celebrates her graduation with her doctoral adviser, Effie Lu Fairchild, during Sampson's 1980 graduation from UO. Above right: Laura Sampson, at right, visits her faculty mentor, Effie Lu Fairchild, at her home in Walnut Creek, California, in 1988.