Community and Regional Planning master's student and LiveMove President Joe McAndrew is among just 20 graduate students nationwide selected as Eno Fellows for the 21st annual Eno Leadership Development Conference June 2-6 in Washington, D.C. The goal is to cultivate the next generation of leaders in all modes of transportation.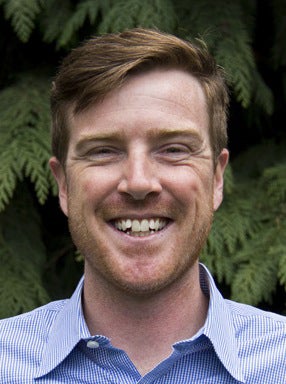 Each year, the conference gives the nation's brightest graduate students in transportation a first-hand look at how national transportation policies are developed. Eno Fellows come to Washington, D.C., for a week of meetings with federal transportation officials, congressional committees, industry associations, and leaders of business and nonprofit organizations.
"I'm very honored to first be nominated by the University of Oregon for the 2013 Eno Fellowship, and I'm over the moon to in fact be accepted," says McAndrew, a graduate teaching fellow in A&AA.
McAndrew is the fourth awardee in seven years from the UO Department of Planning, Public Policy and Management. That UO has fielded so many Eno Fellows is impressive, says Associate Professor Marc Schlossberg.
"The UO doesn't even have a transportation focal area of study," notes Schlossberg, who nominated McAndrew, "making this all the more incredible. Most other attendees will be getting degrees in transportation engineering and some in transportation planning. For UO to have four winners in seven years is utterly amazing. This record perfectly illustrates a strength of the UO - connecting classroom learning, applied experiences, and a commitment to social change."
Students from transportation-related programs nationwide, including engineering, planning, public policy, public administration, economics, business, and law, compete for the fellowships.
"Joe's trajectory is to work professionally on national transportation issues at the policy level, and the format of the Eno Leadership Development Conference couldn't be a better match for his interests, skills, and future direction," Schlossberg says. "He is passionate about policy, including the cultivation and development of relationships across stakeholder groups to create outcomes that can work. His transportation interests are particularly around transit, bicycle, and pedestrian transportation, and policy that impacts community choices for these modes."
As president of the student transportation and livability group LiveMove, McAndrew developed an innovative program called ByDesign that brought together students from multiple disciplines to redesign a key community transportation corridor to better serve active transportation users.
"The interdisciplinary mix of students (in ByDesign) devised a way to get past municipal inaction by taking it on themselves to conduct a comprehensive study of corridor users, parking utilization, land use, commercial activity, best practices of street retrofits, etcetera, and are developing visual renderings of street re¬designs that they will directly put in the public domain for discussion and debate," Schlossberg says. "The intent is to use student ideas and neutrality to expand community conversations about what is possible."
McAndrew has a BA in management from Luther College in Iowa, which included coursework at the National University of Ireland in Galway. He currently represents the Lane Transit District as government relations intern at the Oregon State Capitol. He served as Oregon Fellow for the Oregon Department of Transportation and as transportation planning intern for the City of Eugene in 2012. Prior to beginning graduate work at UO, he was outreach coordinator in Washington, D.C., for Iowa Congressman Dave Loebsack.
McAndrew anticipates both academic and career development from participating in the Eno leadership conference. "The fellowship will provide me unparalleled lessons in transportation policy development and leadership training. Additionally, the opportunity to learn from and network with federal officials and leaders of business and nonprofit organizations in my chosen career field will certainly prove invaluable for my academic and career aspirations."
The Eno Center for Transportation is a neutral, nonpartisan think tank that promotes policy innovation and provides professional development opportunities across the career span of transportation professionals.
Previous Eno Fellows from UO include Cortney Mild (2012), Sarah Schooley (2009), and Vanessa Bekkouche (2006).