The Association of Fundraising Professionals (AFP), a University of Oregon volunteer student group run through the Department of Planning, Public Policy and Management, have planned Festival Latino, a Latino community event.
Festival Latino will be a fundraiser for the Eugene-based nonprofit Huerto de la Familia, or "The Family Garden." Each year, AFP plans a fundraiser for a specific local nonprofit; Huerto de la Familia works with the Latino community on organic gardening, nutrition, and microbusiness development projects.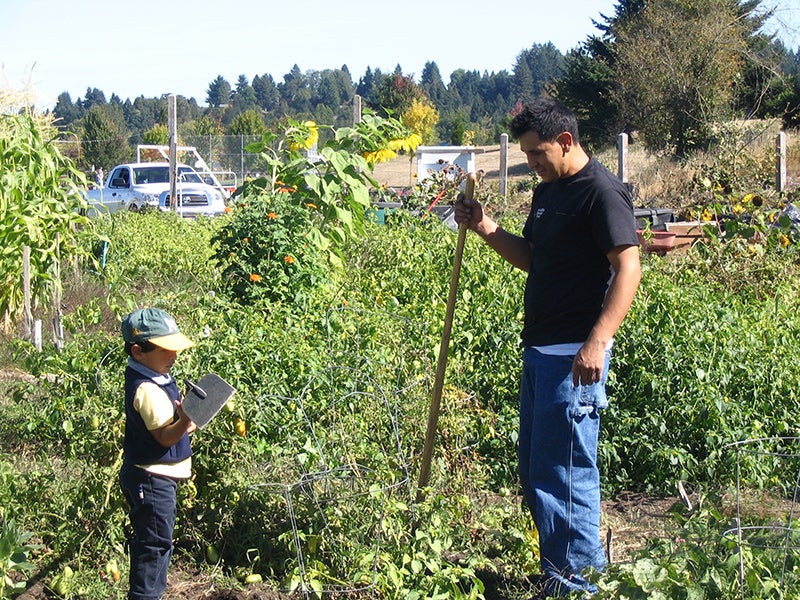 Above: A child and father work in Huerto's Organic Garden Education program. Photo courtesy Huerto de la Familia.
"There aren't many large events that feature Latino culture in the area and we feel that Festival Latino will become a popular fixture for years to come," says Alex Macfarlan, a public administration graduate student and AFP's treasurer.
He adds that the festival is "a great way to promote cross-cultural understanding and integration."
The event marks the 15th anniversary of Huerto de la Familia and raises money for the organization. A salsa cook-off, salsa dance class, and live Latino music will all be part of Festival Latino, which will commence at 4 p.m. on Saturday, May 31 at Sprout! Regional Food Hub, 418 A Street in Springfield. There is a $5 suggested donation.
"I'm looking forward to families being there and participating in the various activities," says Sarah Cantril, the founder and executive director of Huerto de la Familia. She adds, "I'm extraordinarily grateful to the Association of Fundraising Professionals for putting this on. It's been a tremendous service for us."
Local Latino musicians, including Jimmy G. Revue, Cascabel de los Hermanos Hernandez, and Taller de Son Jarocho, will perform live music throughout the day.
Families involved with Huerto de la Familia's Organic Garden Education Program are invited to Festival Latino's salsa cook-off, which takes place in the afternoon.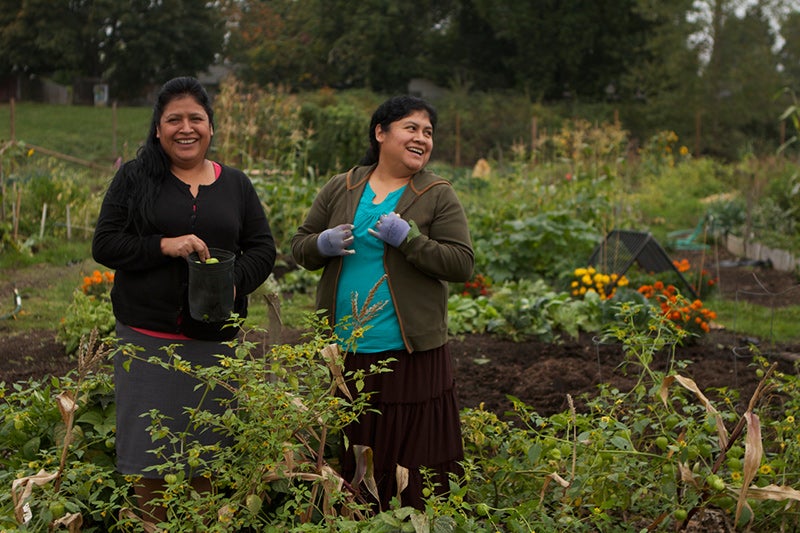 Above: Members of Huerto's Organic Garden Education program take a break in the organic garden. Photo courtesy Huerto de la Familia.
The Organic Garden Education, Huerto's largest program, has supported more than 400 parents and children since 1999, according to the organization's website. The program allows families to grow food for themselves in community garden plots.
Eugene Mayor Kitty Piercy, Springfield Mayor Christine Lundberg, and chefs of local Latino restaurants El Torito and Jalisco will be judges for the competition.
Huerto's Cambios Micro-development Program aims to help Latino families with small business ventures. The program offers education and training in financial literacy, marketing, and how to operate a small business.
Festival Latino's revenue will finance both of these programs.