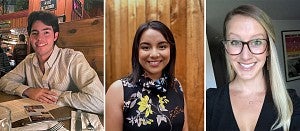 Three students within the College of Design have a plan to make the college's environment more inclusive and welcoming through a series of banners and flatscreen displays highlighting student voices.
These voices will be responding to the prompt: "I feel welcome here because…"
The School of Planning, Public Policy and Management student team—including undergraduates Guillermo Chumacero and Melissa Gonzalez-Gabriel and Master of Nonprofit Management student Brittany Mattice—proposed a project for the spring 2021 Creative Placemaking course taught by PPPM Associate Professor Eleonora Redaelli.
Dean Adrian Parr is contributing $2,000 for the implementation of the project in the main entrance of Lawrence Hall and at the White Stag Block in Portland. The student team will work on the project over the summer so that it is ready for the return of students in the fall.
Radaelli says the proposal, which was also recommended by College of Design Equity and Justice Faculty Fellow Gerard Sandoval, addresses Goal 1 of the college's Diversity Action Plan: "Create an inclusive and welcoming environment for all."
Through interviews with students from across the college's varied schools and departments, the PPPM student team identified a desire for increased cross-departmental connections and an intersectional place where students can share their work and accomplishments with a larger audience.
In addition to the banners and television display, the team will create a full-length banner with information about how the project was created and how to further interact with it. In the proposal, the students outline that they hope the displays will increase the inclusivity of the College of Design student experience, create a long-lasting legacy by capturing student histories, and improve cross-departmental collaboration.
"The College of Design can be thought of as a neighborhood within a city, with the city identified as the University of Oregon," the student team wrote in their proposal. "The social connections the students within the College of Design build ultimately leave a legacy of these built traditions."