bachelor of science, community service and public affairs '82
UO alumnae helped form Oregon Food Bank, aims to end hunger
During the 1983 economic recession, Oregon unemployment stood at 12 percent. University of Oregon alumnae Rachel Bristol chose that desperate period to apply for a competitive job against 105 other applicants.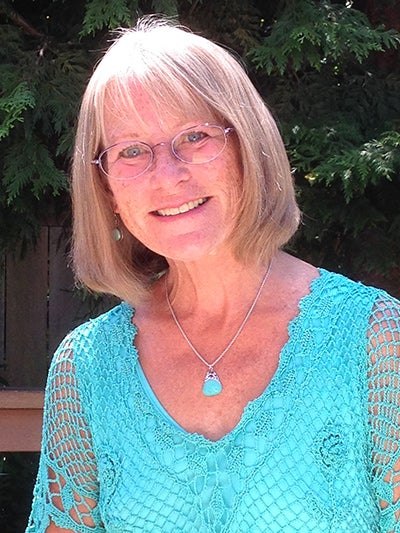 Rachel Bristol. Image courtesy of Rachel Bristol.
Bristol was hired by the newly formed nonprofit Oregon Food Share as a Volunteer in Service to America (VISTA). She was tasked with distributing surplus commodities from the federal government to locales in Oregon, especially rural communities. Since the assignment came without any source of funding, Bristol developed a volunteer storage and distribution network and persuaded truckers who hauled the commodities to deliver them for free.
She also worked on securing the donated food and distributing it as equitably as possible. "If memory serves, we distributed about 14 million pound of food [in 1983 to 1984," she says.
"Food banking got started due to the growing awareness of the billions of pounds of food that were ending up in landfill every year," she says.
This conundrum confused Bristol: a large amount of food being wasted, and yet hunger was a statewide endemic. Why was so much food being thrown away when many people were unable to feed their families?
Her VISTA volunteer work was her introduction to developing stages of the statewide food system in Oregon, ranked as one of the top five states for hunger: One out of every seven Oregon residents suffers from food insecurity, according to a report released by the Oregon Food Bank in 2014.
Bristol graduated with a degree in community service and public affairs from UO's Wallace School of Community Service and Public Affairs in winter 1982, before the school's curriculum was transferred to the Department of Planning, Public Policy and Management.
She played a key role in the 1988 formation of the Oregon Food Bank through the merger of two organizations: the Portland Interagency Food Bank and the statewide Oregon Food Share.
"In the beginning, neither of us had warehouses or trucks, so everything was about begging for donations," Bristol says.
The following year, she was appointed to the Oregon Legislative Task Force on Hunger Relief, where she stayed for the next decade, including several years as chair. She was named CEO and executive director of Oregon Food Bank in 1990.
When she assumed the role as executive director, she said she wanted to change the organization's mission from supporting a statewide network of surplus food distribution to eliminating hunger's root causes. She says, "We aren't going to solve hunger with surplus food alone. … I didn't want to institutionalize charity as a way to address hunger. That was never my intent."
The Food Bank's first capital campaign started in the late 1990s and helped the company move into an official headquarters in northeast Portland. "That facility— designed to expand our capacity and welcome community participation—catapulted us into a whole new world within a matter of five years," she says.
When the facility was completed, OFB employed about 50 people. That tripled following the expansion, and its 5,000 volunteer workforce increased to 35,000 in under six years.
Bristol says her biggest objective with the Oregon Food Bank was developing "the largest and strongest advocacy program within any food bank in the country," which improved food and economic security for low-income indexed to inflation.
She adds, "I don't want to offend donors and volunteers who put in decades to work on it, but to me, there's no reason for there to be hunger in this country. Our advocacy, education, and community development programs [that] work on the root causes of hunger is what I'm most proud of."
In a statewide survey, Oregon Food Bank was named "The Most Admired Oregon Nonprofit" in 2005 and 2011.
In 2009, Bristol was named "Most Admired Nonprofit CEO" in Oregon by the Portland Business Journal and was awarded the UO Distinguished Alumnus Award.
The Oregon Food Bank served roughly 200,000 people a year when it began. When Bristol retired in 2012, the number had increased to about a million people annually.
She has since volunteered for the Bob and Charlee Moore Institute of Nutrition and Wellness at Oregon Health and Sciences University. The Moore Institute is creating a statewide nutrition consortium with Bristol's help. The emphasis of the consortium is to combat the developmental origins of nutrition-related diseases, including obesity, heart disease, and diabetes in girls and women.
Bristol has helped compound the consortium with former colleagues at the Food Bank, including nutrition professors, members of the Oregon Diabetes Association, people who work on creating sustainable food systems, and other nutritionists.
The first Nutrition Consortium Forum took place in June 2013 in Portland, with a second in April 2014 in Corvallis.
"The forums created a unique opportunity for people working with the target population to network with each other, encourage new collaborations, garner new allies in spreading the research findings and key messages of the Moore Institute to a broad audience," says Bristol.
The forums confirmed the shared desire of other healthcare practitioners to prevent diseases through better nutrition and to build momentum for future generations.
While many people understand that a balanced diet consists of eating whole grains and fresh produce, Bristol says others are unfamiliar with the health and the societal repercussions of eating "the American yummy, fat-filled, processed foods that are often cheaper and easier to access."
Today, she spends as much time as possible in her garden, where she grows blueberries, strawberries, raspberries, green beans, and lemon cucumbers. She continues to support the Oregon Food Bank as a donor and part-time consultant.
This story was published as part of the 100 Stories collection, compiled to celebrate our 2014 centennial and recognize the achievements and contributions of our alumni worldwide. View the entire 100 Stories archive on the College of Design website.