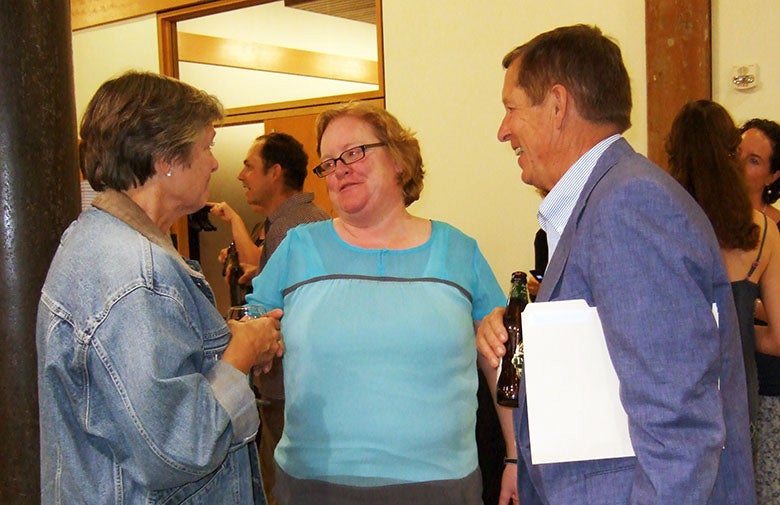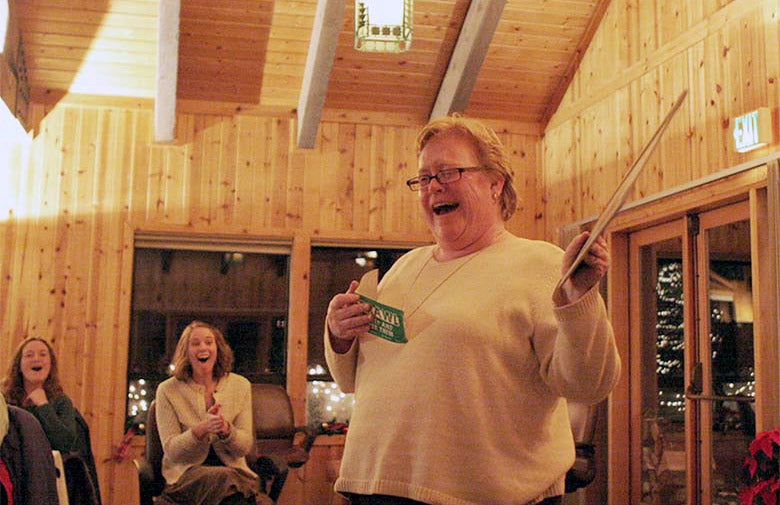 The College of Design community is mourning the loss of Megan Smith, longtime program director for Resource Assistance for Rural Environments (RARE) and co-director of the Institute for Policy Research and Engagement (IPRE) in the School of Planning Public Policy and Management (PPPM). Smith passed away Oct. 14 from health complications.
"RARE has reached every community in Oregon, and Megan's legacy will live on through the public servants she's inspired to work toward prosperity for Oregon's rural communities," said Governor Brown.
For 25 years through RARE (an AmeriCorps program), Smith was a leader in helping rural Oregon communities improve the quality of life for their residents and mentored students to do the same. Her work also included citizen involvement and outreach for the McKenzie Watershed Council as well as community development projects for the U.S. Forest Service and Lane County.
"The ripple of her loss is felt throughout the state," said Titus Tomlinson, program coordinator for RARE. "She was one of those quiet but strong leaders. It was an honor to work with someone so esteemed in the state of Oregon."
Smith spent her career building up a network across the state, driving from county to county to find the right communities to place her students where they could best help solve local economic, social, and environmental challenges. Under her guidance, students were placed for 11-month stints in communities statewide, where they worked on everything from facilitating county-wide Geographic Information Systems and coordinating the development of downtown master plans to implementing community health services, enhancing local farmers' markets, completing economic development plans, and coordinating watershed assessments.
"She was always so thoughtful and very supportive of others, and has played a big role in the applied work of IPRE (and its predecessor the Community Service Center)," wrote PPPM Director Richard Margerum to PPPM faculty, students and UO colleagues earlier this week.
Many in the College of Design community, and in her field, say her commitment to and passion for her work was unparalleled.
Originally from the San Francisco Bay Area (she was a huge Giants fan), Smith came north to pursue a bachelor of science in geography and sociology at Southern Oregon University. She then attended the University of Oregon for graduate school, receiving her master's degree in Community and Regional Planning in 1996, where she was also a member of RARE's first cohort. RARE is celebrating its 25thanniversary this year.
"I don't know who taught who," said PPPM Professor Emeritus David Povey, who founded RARE and was a mentor to Smith. "She had a phenomenal capacity to share her enthusiasm with incoming students or participants in the program."
The following year, Smith joined the RARE staff as a coordinator, and shortly after became the program director.
Robert Parker, co-director of the IRPE and an instructor in PPPM, and Smith were graduate students at the same time and worked together for 25 years. He explained that Smith's work was so important because rural Oregon has historically been economically challenged, and the RARE program connected the resources of the university to these communities.
"It's really hard to overstate the impact Megan had in the state," Parker says. "Megan was really sharp and incredibly dedicated to the mission of the organization as well as the participants of the organization, and incredibly dedicated to rural Oregon and finding solutions for the pressing needs of rural communities."
Through her mentorship of students, she was creating problem-solvers for the next generation. Many RARE participants have gone on to work in the communities where they were originally placed. One such success story is Maddie Phillips, who in 2012 received her master's in Community and Regional Planning from the UO. Phillips was a RARE participant placed in Creswell in 2013. The following year the city hired her as a planning technician, and now she is a city planner there.
"Megan was a tireless advocate in providing young people opportunities in the public sector," said Phillips. She adds that Smith was key in guiding her through her placement process, redirecting her to Creswell from her first choice, because Smith knew her student would have greater success in this city.
"She helped people clarify their direction," Phillips recalled. "Her legacy is that she understood how to approach challenges and find a way to bring young people into public service at a time that was critical for both the participant and the recipient."
Tomlinson has his own fond memories from working with Smith for seven years at RARE.
"When I was first coming on as program coordinator, she took me on this giant tour around the state, up the gorge and through Eastern Oregon," Tomlinson said. They were driving near John Day when a golden eagle swooped down in front of the windshield. "We were both totally stunned. I just had never seen that part of the state and she was out showing me her stomping grounds. That is a memory I will always hold dear."
"What impact will her work have? Huge, just huge. In terms of numbers and the lives that she has affected in a positive way," Povey said.
A celebration of Smith's life will be held at 1 p.m. Saturday, December 8, at the Ford Alumni Center.