The Oregon chapter of the American Planning Association (OAPA) has named a recent UO College of Design alumna the winner of its 2017 Project of Statewide Importance award.
Sadie DiNatale, who graduated this year with a master's in Community and Regional Planning won the award for her work assessing how small towns in Oregon respond to Airbnb. Though she was nominated for the award in the student category, her research was so impactful that the committee awarded her a statewide prize, usually reserved for practicing professionals.
DiNatale combined quantitative data from Airbnb with a survey she developed and administered to planning directors and city managers across the state. She examined how short-term rentals, as part of the proliferating sharing economy, were impacting communities—their housing stock, neighborhoods, residents and fiscal budgets.
Professors Rebecca Lewis and Robert Parker, both of whom teach in the newly named School of Planning, Public Policy and Management (PPPM), supervised DiNatale's master's project.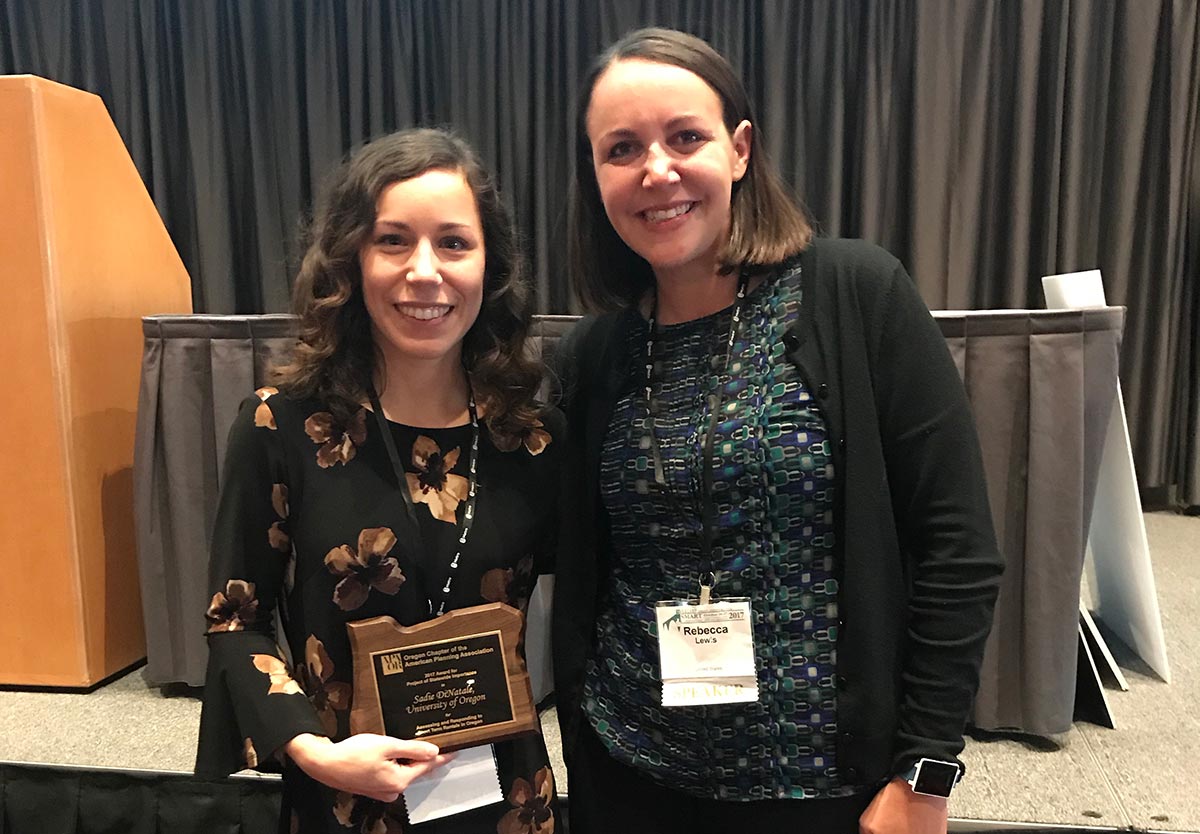 Sadie DiNatale and Assistant Professor Rebecca Lewis celebrate DiNatale's Project of Statewide Importance award presented by the Oregon chapter of the American Planning Association.
With polarized conversations around the topic, DiNatale was eager to get a better sense of perceptions as well as findings from hard data.
"I quickly learned that the subject is incredibly nuanced," she said. "While best practices to managing short-term rentals exist, proper management is not solely a matter of constructing equitable policies and flexible regulations. Equally important are the conversations we have in our communities to improve transparency and build an understanding of the role technology plays in changing the way we use our physical spaces."
DiNatale's work was supported by a PPPM research award that allowed her to purchase the data needed to complete her analysis.
The statewide planning award was presented at the Joint Planning Conference in Portland on October 27 for the OAPA and the International Society of City and Regional Planners (ISOCARP). The conference included a panel discussion, "The Unpaved Road to Housing Affordability: What Role Does Technology Play?" with PPPM faculty members Rebecca Lewis, PPPM assistant professor; Robert Parker, Community Service Center executive director; and PPPM alumni Nick Meltzer, MCRP '14; Ethan Stuckmayer, MCRP '17; Andrew Martin, MCRP '17; Emily Brown, MCRP '16; and DiNatale, MCRP '17.