master of urban and regional planning '82
Anderson helps advance sustainability in Portland
A UO graduate of the PPPM department works today as director of the City of Portland's Bureau of Planning and Sustainability. Her efforts behind the City's Climate Action Plan—the first local government plan of its kind in the country—the Portland Plan, and other sustainability programs promote the city's health and environment.
As climate change becomes a defining challenge of the 21st century, carbon emissions have dropped by more than 11 percent in Portland since 1990. The City of Portland is a community known for its inventive sustainability efforts and environment-friendly policies, and one University of Oregon alumnae is at the center of it.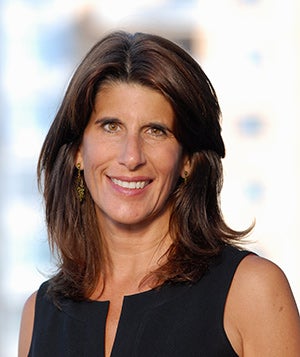 Above: Susan Anderson. Photo courtesy of the Bureau of Planning and Sustainability for the City of Portland.
The metro area's carbon reduction is a result of the city's leadership through the Climate Action Plan—the first local government plan of its in the country—from the early '90s, which was developed by UO graduate Susan Anderson.
"The drop in carbon emissions was a result of many successful efforts by the City, residents and businesses focused on energy efficiency, renewable energy, pedestrian and bicycle infrastructure, waste reduction and recycling, and land use planning that creates walkable, healthy, connected neighborhoods with accessible transit," says Anderson.
Anderson, who was born in the Midwest and moved to Los Angeles at age 12, attended the University of California, Santa Barbara, earning dual bachelor's degrees in economics and environmental science. She has called Oregon home for the past thirty-five years.
"I came to Portland because of its amazing access to natural beauty, forests, river and mountains juxtaposed with urban living in wonderful, walkable, connected neighborhoods," she says. "I wanted to work in a place that not only creatively balanced jobs and prosperity with a strong environmental ethic, but also built portions of the economy by developing green technologies, products, and services."
Anderson graduated in 1982 from the Department of Planning, Public Policy and Management with a master's degree in Urban and Regional Planning. Her efforts behind several of the City of Portland's policies have advanced the City's ecological code.
She previously worked with Portland's Office of Sustainable Development. The City Council then merged that office with the City's planning bureau to create the Bureau of Planning and Sustainability (BPS) and she was hired as its director. Both the bureau and the position were created in 2009.
With an emphasis in long range and neighborhood planning, and sustainable practices, BPS develops policies and programs to enhance Portland's livability. It works with public and private sector partners to advance efforts that address climate change and promote quality urban design.
Anderson's responsibilities include developing partnerships to create and champion comprehensive and neighborhood land use plans, the Climate Action Plan, and the Portland Plan, a 25-year strategic plan. Economic growth, affordable housing, accessible transportation, resilient infrastructure, and accessible parks and open space—with better air and water quality—are among the many objectives of the Portland Plan.
Anderson's team at BPS also develops rules, codes, and policies including the zoning code and development standards, environmental and industrial land policies, and green building, energy and solid waste/recycling policies. They also educate and collaborate with community members and businesses to build demand for sustainable products and services. This can include energy efficient equipment, solar energy systems, recycling, composting, green building, eco-roofs, and district energy.
"We created Clean Energy Works and spun it off as a nonprofit," says Anderson. "The organization provides technical assistance and financing for energy efficiency retrofits for single-family homes."
Solarize Portland—another effort—was started by community members who worked with the BPS and the Energy Trust of Oregon to purchase and install hundreds of residential solar systems.
The bureau is also responsible for the City Energy Challenge, which focused on city government buildings and facilities and resulted in more than $6 million in annual savings on city electricity, natural gas, and fuel bills.
When Anderson was still a UO student, she didn't anticipate becoming a driving force in policymaking in Oregon's largest city. She took courses from professors such as Dean Runyan, Maradel Gale, and her thesis advisor, John Baldwin.
She recalls an emphasis on quality public presentations and political understanding. Students were given the freedom to investigate matters of interest.
"For me, even though it was thirty years ago, my interest and passion was focused on community-based energy efficiency and solar—what later become green building and sustainable development," she says.
She adds that her interests were always at the intersection of the built and natural environment and looking for ways to improve both. It was only in recent years that her interest has broadened to how decisions are made within cities.
Anderson advises current students: "It's important to know whether you want to be the political leader or the person doing the research and fact gathering.  Don't just sign up for a topic. Work with your strengths and what you love to do. And above all be kind and interested in other people. You can be the most brilliant person in the room, but if you are hard to get along with, people won't want to partner or work with you."
This story was published as part of the 100 Stories collection, compiled to celebrate our 2014 centennial and recognize the achievements and contributions of our alumni worldwide. View the entire 100 Stories archive on the College of Design website.