This year's University of Oregon Common Reading Program book selection Between the World and Me by Ta-Nehisi Coates is a memoir-letter written to the author's teenage son.
When Coates' son learns that the murderer of 17-year-old Trayvon Martin would not be penalized, Coates writes to his son, "What I told you is what your grandparents tried to tell me: that this is your country, that this is your world, that this is your body, and you must find some way to live within the all of it."
First-year University of Oregon students in the fall 2016 Arts and Administration course, "Portable Life Museum," were assigned to contribute a piece of artwork in response to Between the World and Me.
"I had some students come to me and they said, 'Thank you for helping me be a better person,'" said Senior Instructor Julie Voelker-Morris. "You know, I never write that in my syllabi, but I think that's ultimately what I want from my classes: for every student to be a better person as the result of our work together grappling with these issues."
In tandem with this course, these First-Year Interest Group (FIG) students were enrolled in "Art & Gender," which is also taught by Voelker-Morris, and "Understanding Contemporary Media," taught by instructor Fahrad Bahram. The culmination of these three Arts and Administration courses is "Our Body, Our Country, Our World," a 19-piece exhibit of student artwork in the UO's Global Scholars Hall. The exhibit's title, borrowed from the passage from Coates' book, was rearranged at the students' behest. The exhibit includes portrait drawings, collages, mixed media, and interactive panels that delve into issues of racial politics, identity, feminism, consent, and the universality of prejudice.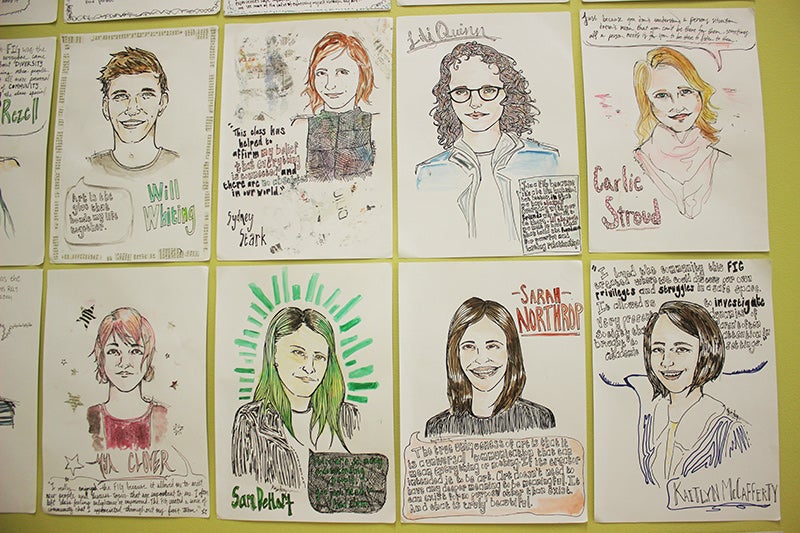 Above: UO Freshman Kezia Setyawan's series of portraits are now on display as part of the "Our Bodies, Our Country, Our World" exhibit in Global Scholars Hall. Photo by Emerson Malone.
The exhibit, which opened on December 9, will be up through February, when Coates visits the UO campus on February 3 for the School of Journalism and Communication's Ruhl Lecture.
During the term, students studied artists whose works exemplify prejudice, privilege, identity, and oppression. The students also visited local exhibits, including the Jordan Schnitzer Museum of Art's African American Artists Respond to Ta-Nehisi Coates; as well as Rails through Eugene: A Black History Connection at the Lane County Historical Museum; and the annual Día de Los Muertos show at the Maude Kerns Art Center.
 "I love seeing the impressive work made by the friends I got to know through the three classes we shared and loved," said Michaela Fishback, an environmental science major and art minor. "Not everyone that was in the FIG claims to be an artist, but everyone put something forth, and I think it turned out really well, especially seeing the different takeaways people had."
Kezia Setyawan, a pre-journalism major, created portraits of everyone in the class, which she captioned with quotes from the subjects about insight they gained from the class.
"My growth as an individual comes from interacting and building relationships with others," Setyawan said. She added that Coates' book inspired her to examine the privilege enjoyed by herself and her classmates. "After this election cycle, I was more aware and purposeful in my actions regarding the values I uphold, my commitment to diversity, and amplifying the voices of those who have been oppressed."