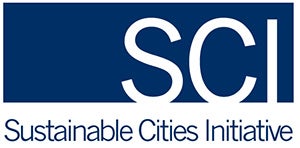 The University of Oregon's Sustainable City Year Program (SCYP) is among six winners selected from global applicants for the 2015 Ashoka U-Cordes Innovation Award, which recognizes top educational approaches in social entrepreneurship within higher education. UO Professor Marc Schlossberg and Associate Professor Nico Larco co-lead SCYP as codirectors of the UO's Sustainable Cities Initiative. 
"We are honored to receive this recognition in front of an audience of social innovators from across the globe working to leverage the resources within higher education to advance the social good," Schlossberg said. "We are thrilled that our model program developed at the University of Oregon is being adopted and adapted at twenty other institutions, and this recognition from the Cordes Foundation and Ashoka both gives us confirmation that we are on the right track and a boost to spread this Oregon export even further."
Winners were selected based on three criteria: 
• Innovation – the model addresses a clear challenge or opportunity for advancing an entrepreneurial or socially impactful mindset, skillset, and culture for the university context; 
• Replication – the model may be easily adapted without losing quality and impact; and 
• Maturity – there is evidence of refinement and iteration of the model over time. 
"[The Ashoka U-Cordes Innovation Award] casts a broad net and identifies the best and brightest innovations that are really affecting the ability of our students to be changemakers," said Ron Cordes, cofounder of the Cordes Foundation.
The six 2015 awardees will be recognized at the Ashoka U's Exchange held February 26-28 at the University of Maryland. The Exchange brings together more than 650 university faculty, staff, and administrators from 120 colleges and universities and 30 countries to share best practices for social innovation in higher education.
SCYP is a massively scaled, annual partnership between a university and a city in which existing university courses are directed toward that city's self-identified "real-world" sustainability and livability projects. SCYP typically directs between 20-35 courses, engaging more than 500 students across roughly a dozen disciplines, providing more than 60,000 hours of investigation, creative thinking, and problem solving. SCYP is based on existing courses, existing city work plans, and existing administrative structures of universities and cities, making the model highly replicable and adaptable. 
The Ashoka U-Cordes Innovation awardees demonstrate how students, faculty, and community members transform the ways in which colleges and universities prepare students as changemakers while positively impacting the community, blazing the trail for the institutions of tomorrow.
The awardees will be recognized by Stephanie Cordes, vice chair of the Cordes Foundation, and Spencer Ton, executive director of the Cordes Foundation, in a morning plenary session on February 27 during the Ashoka U Exchange. Resources to support collaboration and replication of the awarded innovations will be available through Ashoka U's online Innovation Award Portal.
Other winners this year include: ChangeTheWorld.org, a program of the Center for Social Value Creation at the University of Maryland; the Coast Capital Savings Innovation Hub at the Sauder School of Business Centre for Social Innovation and Impact Investing at the University of British Columbia; the Social Entrepreneurship Accelerator at Duke University; the Sustainability and Social Innovation Residential Academic Program at the University of Colorado Boulder; and Swearer Sparks at Brown University.