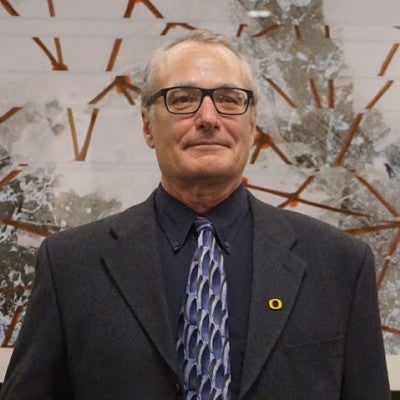 Three decades at the University of Oregon. 600 students taught. Advisor to 75 terminal projects. 400-plus planning projects completed for Pacific Northwest communities. These numbers tell the story of a profoundly dedicated mentor and educator, the story of Robert "Bob" Parker, who will retire in July as executive director of the Institute for Policy Research Engagement (IPRE) at the School of Planning, Public Policy and Management (PPPM).
"When a distinguished leader retires, their colleagues often lament the 'big shoes' left to fill. When a true mentor retires, their colleagues need not worry. Mentors dedicate themselves to encouraging the talents of those around them, building capacity, and fostering diversity of thought. In this sense, their skills and expertise carry on in everyone around them, as true mentors have already shared their 'shoes' with others. Bob Parker's legacy as a mentor in the planning field and in Oregon is mighty," said a statement signed by 11 Master of Community and Regional Planning alumni.
"And now as we, his students, grapple with some of the most pressing issues of our time— climate change, compromised food systems, housing crises, rising wealth inequality—we ensure that Bob's wisdom and teaching continues to impact our work, our colleagues, and the communities we serve around the state, country, and world."
Parker's mentees are not the only ones taking notice of his impact. In 2019, the Oregon Chapter of the American Planning Association chose him for the Distinguished Leadership Lifetime Achievement Award. In June 2020, the UO Office of the Vice President for Research and Innovation recognized Parker with an Outstanding Research Award for transforming communities through research and action.
"It has been an honor and privilege to serve as IPRE's executive director over the past 20 years," said Parker, who is passing the co-directing torch to PPPM Associate Professors Rebecca Lewis and Ben Clark but will remain in a researcher role with the institute. Josh Bruce (MCRP '02) will be IPRE Director of Applied Research. Parker says he could not have asked for a more capable team to lead the organization into the future. "IPRE and CSC have been my life's work up to now—continuing the legacy is a gift to me from the entire IPRE team. What we built is unique in higher education and stands at the intersection of the three pillars of UO's mission: education, research, and engagement."
 
"Bob is calm, unflappable, solution-oriented and the community thinks the world of him."
—Cassandra Moseley, interim UO vice president for research and innovation 
Clark says that he was drawn to teach at the UO in large part because of the impact Parker had on PPPM graduate programs, putting a focus on application.
"This 'always in the field, but in the classroom' approach is what attracted me to Oregon initially, and what continues to drive my work as a professor and now as the co-director of IPRE," said Clark. "The success of this educational model can be directly tied to the hard work and dedication of Bob Parker."
Lewis says that as she and Clark assume IPRE leadership, they will continue this legacy of applied work in Oregon, while also enhancing interdisciplinary research within IPRE, PPPM, and the university.
"Under Bob's leadership, IPRE has become an exemplary institute that balances applied work in communities with academic research," said Lewis. "The Institute is well-respected across the entire state of Oregon and the CPW model is nationally recognized."
Parker started at the University of Oregon in 1990 when as a project manager to assist PPPM Professor David Povey with the Community Planning Workshop (CPW), a "risky move," as the position was part time with an organization that had few projects. CPW was later folded into the umbrella organization then known as the Community Service Center (CSC), now IPRE. When Povey retired in the late nineties, Parker took on the role of co-director with Megan Smith, who passed away in 2018.
In 1994, Povey secured AmeriCorps funding to start the Resource Assistance for Rural Environments program (RARE), which Parker called a turning point that expanded CSC's reach through service learning into rural Oregon communities.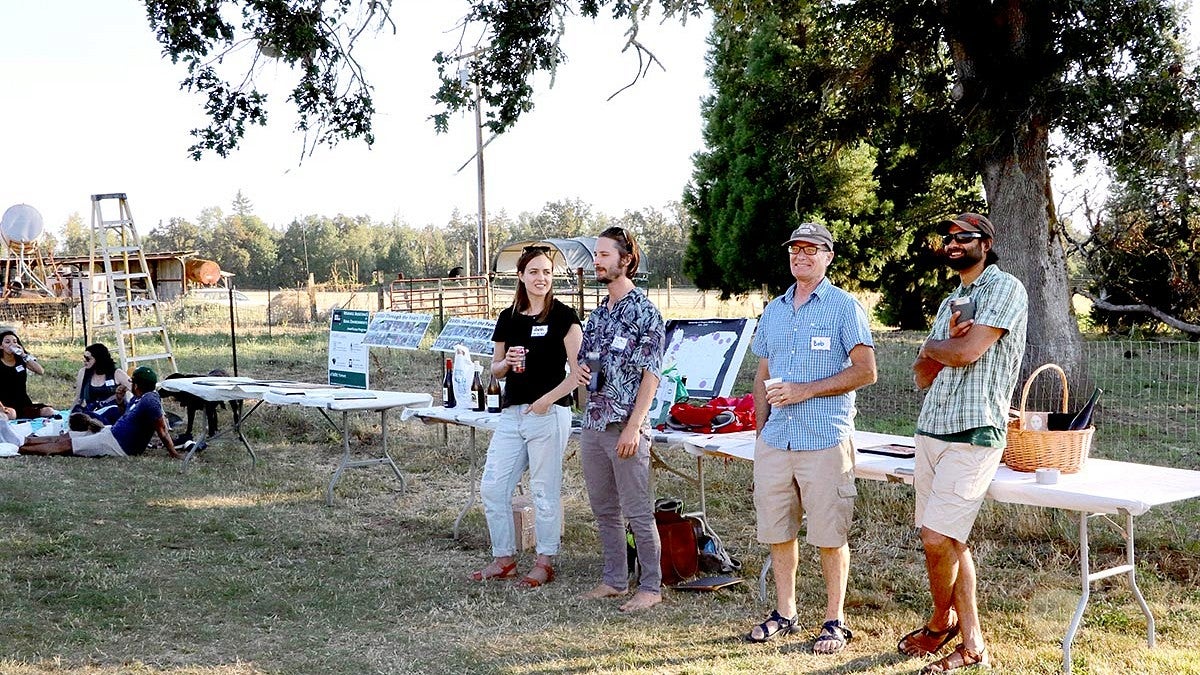 Robert Parker (second from right) with RARE alumni at the RARE 25th anniversary celebration in 2019
"Our core mission was engaging graduate students in applied work for paying clients throughout the state. It was a bold model at that point, and still is," Parker said.
"The CSC/IPRE that Bob helped shape is a unique one in the United States," added Rich Margerum, professor and director of the School of PPPM. "We are working on a research article evaluating its impact, and there are only a few other institutes that integrate community service, research, and graduate training in this way—and they were based on the CSC model."
Margerum, Parker, and IPRE faculty Bethany Steiner and Aniko Drlik-Muehleck are surveying and interviewing past students and clients. "What is clear from our findings is that these projects not only had a big impact on the students, they also had a big impact on Oregon communities."
In the decades since its founding, IPRE's footprint has grown vast, especially after receiving a grant in 2009 from the U.S. Department of Commerce's University Center Economic Development Program. The institute's portfolio includes work around water quality and assisting the Eugene Water and Electric Board and others to create Pure Water Partners, a voluntary collaboration focused on maintaining and enhancing water quality in the McKenzie River; developing the applied research program Oregon Partnership for Disaster Resilience to help create a disaster-resilient state; and establishing the Oregon Policy Lab under Clark in partnership with Lane County and the US Forest Service.
Parker's final CPW project is a disaster-resilience plan for the heritage resources in Cottage Grove, Oregon, which has provided professional development for graduate student groups and team members.
 
"We ensure that Bob's wisdom and teaching continues to impact our work, our colleagues, and the communities we serve around the state, country, and world."
—Statement from 11 Master of Community and Regional Planning alumni 
In addition to his work at CPW and IPRE, Parker has also advised dozens of MCRP students on their final projects.
"Bob has thoughtfully mentored hundreds of community-serving planners in this state," said Kirstin Greene, a PPPM and CPW alum and acting deputy director at the Department of Land Conservation and Development. "While he leaves a significant and accomplished legacy at Hendricks Hall, his impact is really throughout Oregon, every day."
Nick LeLack, Deschutes County Community Development Director and
MCRP alum ('01), says the awards Parker has received are the "best-deserved ever."
"Bob has been my only mentor throughout my career, and I attribute my success to his courses, advice, and guidance for over two decades," LeLack said. "His consulting work and projects with students were always first-class. Bob's contributions to PPPM, students, the Oregon Planning Program, and clients across the state and overall legacy cannot ever be matched."
Parker's work at IPRE, of course, is not done. He will be assuming a new role that focuses on the community and economic recovery from COVID-19, as well as ongoing research projects, while Clark and Lewis hope to expand on his legacy at IPRE.
"The COVID-19 pandemic underscores the importance of our work. IPRE has worked in the space of planning, public policy, emergency management, and economic development for decades. This uniquely positions IPRE to assist with recovery from the ongoing health and economic crises due to the COVID-19 pandemic," said Parker. "This will be an ongoing effort for IPRE over the next two years that will involve multiple programs within the institute and the entire IPRE team."
Many say Parker is the perfect person to help tackle an urgent crisis like COVID-19.
"Bob is calm, unflappable, solution-oriented and the community thinks the world of him," said Cassandra Moseley, interim UO vice president for research and innovation. "I've known Bob for 18 years. He has impacted countess students who have gone on to do amazing things as planners and community organizers and as people changing the world in their own way."
"I would not let Bob retire if I did not think that his work to develop IPRE would not be sustainable," joked Margerum. "He may be moving away from his administrative role, but his expertise and the legacy of IPRE will continue."