Megan Patrignelli
Nonprofit All-Star. Accessibility Champion. All-American.
Megan Patrignelli
Nonprofit All-Star. Accessibility Champion. All-American.
The Path to Building Resilient Communities for All
A decade ago, four-time track and field All-American Megan Patrignelli came to the University of Oregon to run. Today, the Master of Nonprofit Management student (class of 2020) is helping other people reach their goals and gain confidence through nonprofits such as the Special Olympics, for which she coaches powerlifting, organizes events, and fundraises.
"I was super shy growing up, and if I hadn't had access to sports, even now as an adult, I would have never had the courage to do most of the things I've done in the last 10 years," Patrignelli said. "I'm passionate about this field because I see the way nonprofit programs fill the gaps in our community."
Before finding her passion for nonprofits, Patrignelli moved from her hometown of Monroe, New York, to run track and field for the UO and study human physiology as an undergraduate. After graduating, she worked and volunteered for local nonprofits including the Special Olympics, Team Run Eugene, and Healthy Moves. She was also running for Team Run Eugene and training for the Olympics and other running events.
"It was my dream to be an Olympian," Patrignelli said. "That didn't work out." She explains that her body could not endure the stress of training. But she found that she could combine her love for running and sport with her love of community engagement through the Master of Nonprofit Program. She could also take courses related to her area of interest—disability studies.
She says the program has given her practical skills like writing, speaking in front of large groups, and taking the lead on projects—the latter two skills she never thought she'd hone as a shy person. The program has also given Patrignelli the hands-on experience and community outreach she craved, including fundraising, networking, and serving on the board of the Oregon Supported Living Program, whose mission it is to empower adults with intellectual and developmental disabilities.
"It's been very empowering to see how much we, as students, can offer to existing nonprofits even before graduation," she said.
After graduation, Patrignelli hopes to work for a nonprofit that supports people with disabilities.
"Having that knowledge, no matter where I go, I'm going to be thinking about making things accessible for everyone."
Learn more about Patrignelli's journey by watching the video. Read more below about students, alumni, and faculty in the School of Planning, Public Policy and Management.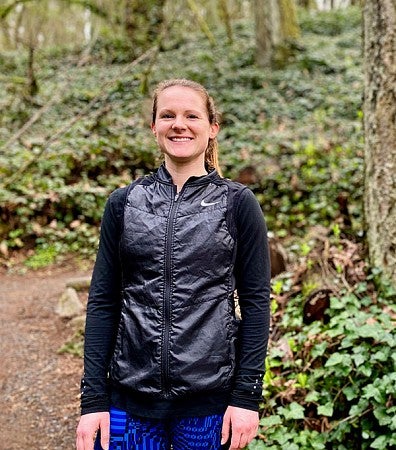 At Hendricks Park, one of Patrignelli's favorite running spots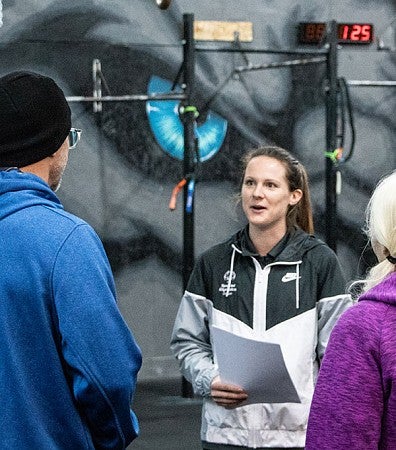 Patrignelli trains her Special Olympics team in power lifting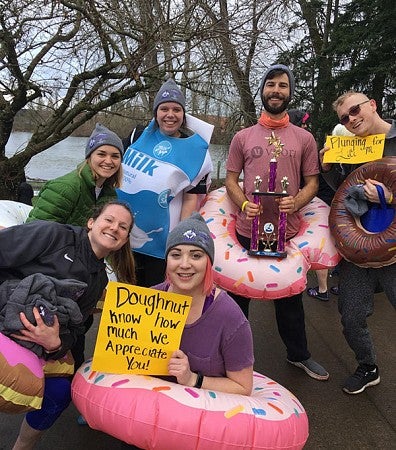 The 2020 Polar Plunge fundraiser for the Special Olympics