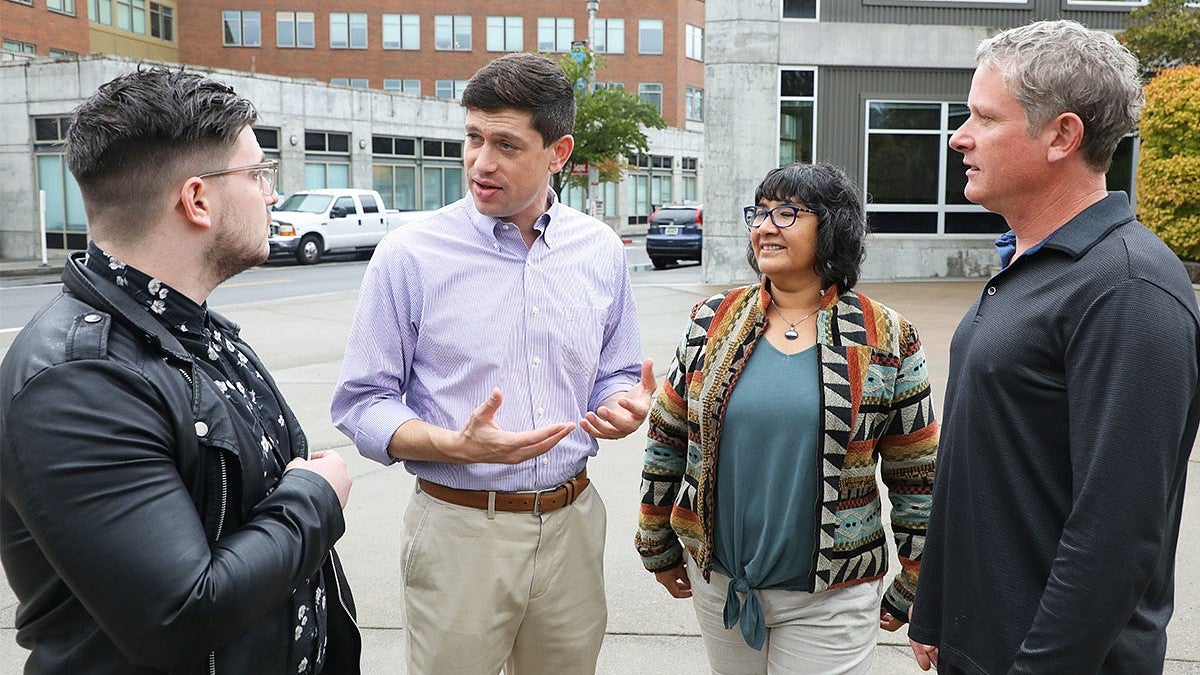 Dan Strauss (second from left) with constituents in Ballard
Dan Strauss, a graduate of the Master's of Public Administration program ('12), won an election that drew national attention this November for Seattle's District 6 City Council seat. 
In a race against candidate Heidi Wills, Strauss won 55.59 % of the vote in a district that represents Ballard, the neighborhood he grew up in. Not only were the 2019 city council elections the most expensive in Seattle's history, Strauss said, his race also broke records for the district's campaign funding with six-figure sums going to both Wills and Strauss.
Catching up with Strauss post-election, he says of his goals for council, "Let's move mountains," a sentiment he brought from his time as a graduate student in the School of Planning, Public Policy and Management. Strauss is referring to the UO motto "Mens Agitat Molem," meaning minds move mountains or mind moves the mass.
As a city councilor, which is his first public office position, Strauss wants to invest in city infrastructure, from transportation to affordable housing, and ensure that development is sustainable and equitable for all Seattleites. 
"This city has been a very large small city and now we are a small large city," Strauss explained. "In that transition, the way of doing business and addressing growth has not changed from the small-city mentality. The issues that we have to address today are at a different scale."

Dan Strauss with his parents; with constituents in Ballard; with an election canvasing group
The philosophy behind the UO motto is not the only part of his Oregon experience that Strauss brings to Seattle. 
"One of the best things to come out of the [MPA] program was the partnership with the planning program," Strauss said of the Community and Regional Planning Program. "It helped me understand how we use our built environment to reflect our public policy goals. I came away from the program having a deep understanding of how bike, pedestrian, and bus infrastructure works and how it could be applied to Seattle."
Strauss, who was a graduate teaching fellow for the Leadership and Change course (PPPM 494) and a videographer for LiveMove, said that another key component of his graduate education was the program's focus on economics through a public policy lens rather than a business perspective. "How you are able to create public value through public goods," he explained.
It was at the UO that Strauss also got his start in politics. Former PPPM Internship Director Rhonda Smith connected Strauss to State Representative Nancy Nathanson, for whom he became a policy intern for the rest of his time as a graduate student.
"I thought it was going to be a three-month experience and it turned out to be the rest of my life," Strauss said, laughing. He said that Nathanson set the example of how to be a steward of public process and policy. 
There are more PPPM graduates shaping Seattle, Strauss noted. He points to Bobby Lee, MPA '97, the executive director of the City of Seattle's Office of Economic Development. Lee was also the first Asian American to be elected as student body president, and he served as a Eugene City Councilor. 
And Strauss isn't alone at City Council; Greg Doss (MPA '97) is a senior analyst for the council.
"It was really important for me to have the MPA tied to planning and, furthermore, the design schools," Strauss said. "Even though people don't think of public policy as architecture, it is in many ways the architecture around us. If you don't design it well, it's not going to work well."
Read more about Strauss and the City Council District 6 race in KOMO News story "Seattle council candidate Heidi Wills to officially concede."