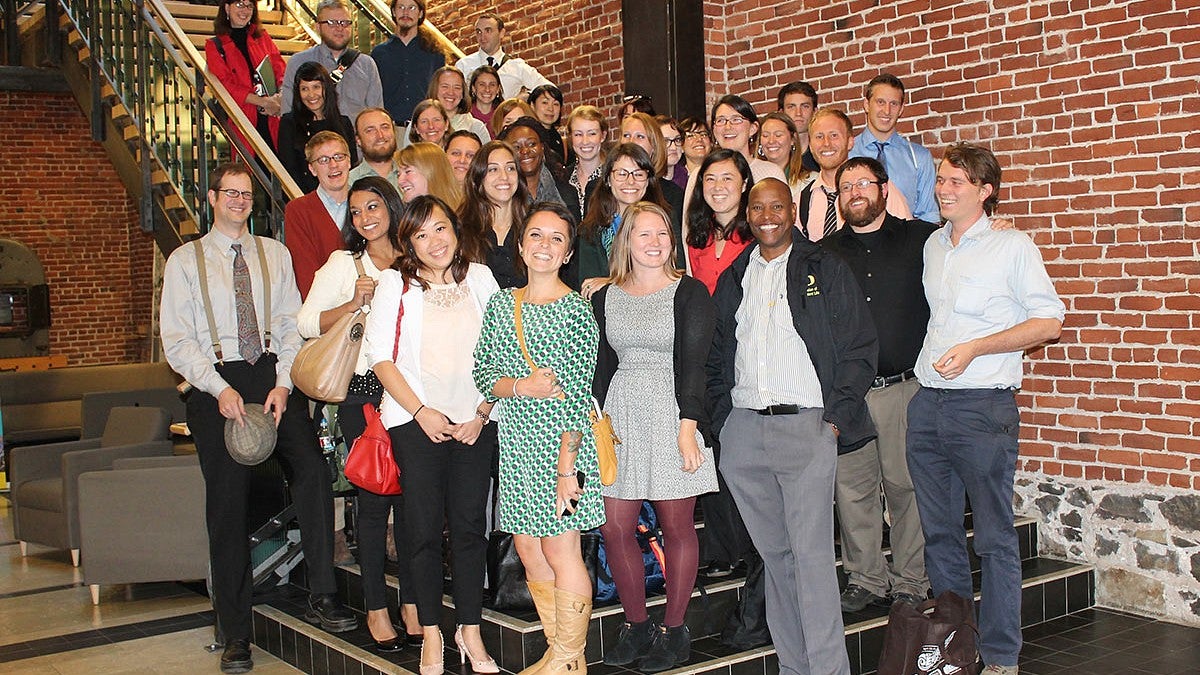 University of Oregon's Master of Nonprofit Management (MNM) program is the first of its kind to be accredited by the Nonprofit Academic Centers Council (NACC). Announced April 28 and effective today, July 1, 2019, the accreditation required a rigorous evaluation process that examines university degree programs training nonprofit professionals.
In the inaugural year of the accreditation system, NACC evaluated 10 programs internationally. The primary objective was to determine whether the curriculum has a "nonprofit-first" perspective (rather than being primarily aimed at government or for-profit sector professionals), with a robust curriculum focused on nonprofits and philanthropy, as well as faculty with professional expertise who are conducting nonprofit research.
MNM students in the School of Planning, Public Policy and Management at the UO typically enter the program after working in nonprofit programming for a few years. Graduates of the program serve in leadership positions all over the world, in roles ranging from foundation administrators to nonprofit development directors and executive directors.
Alumna Kala Haley-Clark (MNM '13), now development director for Loaves & Fishes in Sacramento, California, said, "Nearly every class ends with a project presented to an actual nonprofit organization. More than just teaching you the fundamentals of nonprofit management, UO's MNM program tests your abilities in the nonprofit sector before you ever graduate."
The NACC highlighted the program's unique focus on applied projects incorporating work with local nonprofits directly into the core curriculum. Core coursework includes fundraising, nonprofit financial management, board governance, and other topics critical to the nonprofit sector. The accreditation team awarded particular distinction to the MNM coursework in Nonprofit Finance and Financial Management, Fundraising, Governance, History and Theories of the Nonprofit Sector, and Nonprofit Management, and Innovation & Entrepreneurship. 
"The UO's MNM program stood out to me during my grad school search because it was the only program that really emphasized hands-on learning experiences," shared Emma Walls, MNM class of 2020. "From awarding a grant, to serving on a board, to applying real-world knowledge outside the classroom, students are consistently set up for nonprofit career success," she added.  
Denise Ghazal, regional commercial banking manager for Columbia Bank, expressed that it was an ongoing honor to support the program. "This accreditation signifies the incredible depth of the program and highlights the truly meaningful work conducted by the faculty and staff for the nonprofit industry," Ghazal said.
UO's MNM program launched in fall 2011 but was preceded by a Graduate Certificate in Nonprofit Management, which launched in 2002. Professor Renee Irvin, MNM director, notes that the prominence and size of UO's nonprofit program has reflected the extraordinary growth in nonprofit enterprise in the US and overseas over the past two decades. 
"Our graduates are all over the world and, of course, across Oregon in all sorts of nonprofit fields, from the Seattle Audubon Society to Mercy Corps and Boys & Girls Club to the National Wildlife Federation. Alumni often report how useful our curriculum was, so we're achieving what we set out to do when we launched our program. Accreditation of our strongly skills-based coursework puts an academic seal of approval on what we are doing here at the UO."