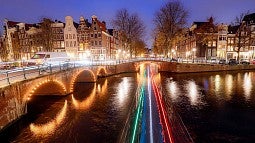 Imagining better streets, better neighborhoods, and better common spaces for communities has long been the purview of scholars and practitioners in the fields of planning, public policy, and management. During the pandemic, the need for these outdoor spaces—and research into how we can safely and equitably share them—has only become more urgent.
Rethinking Streets

PPPM Professor Marc Schlossberg will
host a free webinar on Rethinking Streets
During COVID-19 at 10:00 a.m. Tuesday,
April 6 with one of the project's funders, 
the National Institute for Transportation
and Communities.
The UO Sustainable Cities Initiative
provided additional support for 
Rethinking Streets During COVID-19.
Download the book PDF, as well as 
Rethinking Streets for Bikes and the
original book, Rethinking Streets.
A team based in the School of Planning, Public Policy and Management (PPPM) recently published the book Rethinking Streets During COVID-19: An Evidence-Based Guide to 25 Quick Redesigns for Physical Distancing, Public Use, and Spatial Equity, which joins two previous titles in the book series.
The team included PPPM Professor Marc Schlossberg, PPPM Associate Professor Rebecca Lewis, and students Clare Haley, Natalie Kataoka, John Larson-Friend, Danielle Lewis, and Aliza Whalen. 
"The best part of working on this book was working with an amazing group of students to put it together—they are a talented, motivated, fun bunch, and it is incredible that we produced this book in six months when the previous two versions took 18 months apiece," said Schlossberg. "What I appreciate most about the examples in this book is learning what cities were able to do quickly to re-design their streets to better meet diverse community needs."
"Working with an amazing team to document changes to streetscapes during COVID-19 was incredibly rewarding," said Associate Professor Lewis. "The book provides tangible, real-world examples for cities of various sizes around the country and the world. I hope that the product inspires cities to open up their streets to people."
In celebration of the publishing of Rethinking Streets During Covid-19, as well as healthy, safe streetscapes, the College of Design caught up with the team to ask: What is your favorite street? Read their responses below the map. Click on the map's flashing icons to see the location of the team's chosen streetscapes.

Click on the flashing yellow icons to see the streets chosen by faculty and students
Favorite Street: Chalidon in Chania, Crete, Greece
In 2018, my wife and I traveled to Chania, Crete, in Greece for our honeymoon. Chania is one of the oldest continuously occupied places in the world and the second oldest port city. As one walks through the city, hundreds of years of history intertwine, and the city's structure has remained largely unchanged throughout the centuries, including the shape of the streets and how they are used. Today, the main street through Chania to the waterfront is called Chalidon, and it is one of my favorite streets in the world. The street itself is humble in nature and allows just enough space for modern cars, though its primary purpose (as it's been since its creation centuries ago) is for pedestrians. Flanked on either side by shops, restaurants, eating space, and sidewalks, the street invites all into a communal living room designed for the people who have lived and visited there for thousands of years. The sense of community that streets like this bring to the world is something we hope to have captured in Rethinking Streets During COVID-19, and an awareness I hope to carry forward throughout my career.



---
Favorite Street: Weesperzijde Street in Amsterdam, the Netherlands
My favorite street for people is Weesperzijde along the Amstel River. On our 2019 study abroad trip to Europe ("Planning Cities for People on Bikes"—applications are now open summer 2021), this became my favorite route to get around from De Pijp, the neighborhood where we were staying, to the eastern part of the central city. I love cycling and people-watching on this street. On a bicycle, this was the first place I fell into a flow of riding without thinking (note: this is not natural in intimidating bike-centric Amsterdam). When you're off your bicycle, there are great sidewalk cafes that provide a perfect perch for watching joyous people moving by with interesting objects.

---
Favorite Street: Main Street in Moscow, Idaho, USA
My favorite street is Main Street in Moscow, Idaho, home to my undergraduate alma mater. It's where I'd go to study at a coffeeshop, go out dancing on a Friday night, or pick up veggies at the farmers' market. Although there are great placemaking features on the street, it's really the destinations and seeing familiar faces that make it so special. Right now, going out in public and seeing friends isn't so easy, and Main Street is very nostalgic for me because of that.

---
Favorite street: Historic Murphy Avenue in Sunnyvale, California, USA
One of my favorite streets is Historic Murphy Avenue in downtown Sunnyvale, California. (I am actually standing on this avenue in my picture.) During the first half of the pandemic, Murphy Avenue was opened to outdoor dining to encourage support of local eateries. When I was growing up, this street was quite different from much of the expansive highway that surrounded me. It included a farmers' market that happens on Saturdays, and in the summer live bands take over the avenue once a week. It's a street, but it's also a destination, and I appreciate the potential a street has to foster a sense of community.

---
Favorite Street: Aliyat Hano'ar in Hod Hasharon, Israel
My favorite street in the world is Aliyat Hano'ar in Hod Hasharon, Israel. I walked down this street hundreds of times during my semester abroad in high school. It lies between the youth village I stayed in and various open fields, one of which is a strawberry farm. Aliyat Hano'ar was also the path connecting us to the town center. Along that path, I would return with falafel from a little blue shack and countless iced coffees. Being from Los Angeles, a walkable street like this was new for me and gave me the childhood experience of strolling to town with my friends that I was missing until then.

---
Favorite Street: Torvegade in Copenhagen, Denmark
One of my favorite streets is Torvegade in Copenhagen because it is so utterly normal and yet amazing to travel through on bike. It is also just a great place observe the city or enjoy as a place itself. I appreciate that the bus has its own boarding and alighting space and does not cross a bike lane, people on bike have total protection from motorized vehicles, the sidewalk is sufficient, and ground floor retail makes a moderately dense urban area feel livable and properly scaled. There is an amazing bakery (Lagkagehuset), and it is home to Henrik and Eva, who hosted my family of five in their home during my first visit to Copenhagen.
---
Favorite Street: South 1st Avenue in Walla Walla, Washington, USA
My favorite street is South 1st Avenue in Walla Walla, which is included in Rethinking Streets During COVID-19, for several reasons. It is a prime example of a small city making big change! While large cities may make headlines, places of all sizes can improve community quality of life by reallocating street space for people. Walla Walla has a strong sense of community, which comes through in this redesign project to increase space for dining outside and creating a sense of place. The idea originated from a community member, was approved by city council, designed by a local architect, and implemented by the city's public works department. This community effort both supported local businesses and provided a safe community gathering space. I walked and biked through downtown Walla Walla frequently while attending Whitman College. I am proud to see that the city and community values creating intentional spaces for people, and I can't wait to see their future projects.