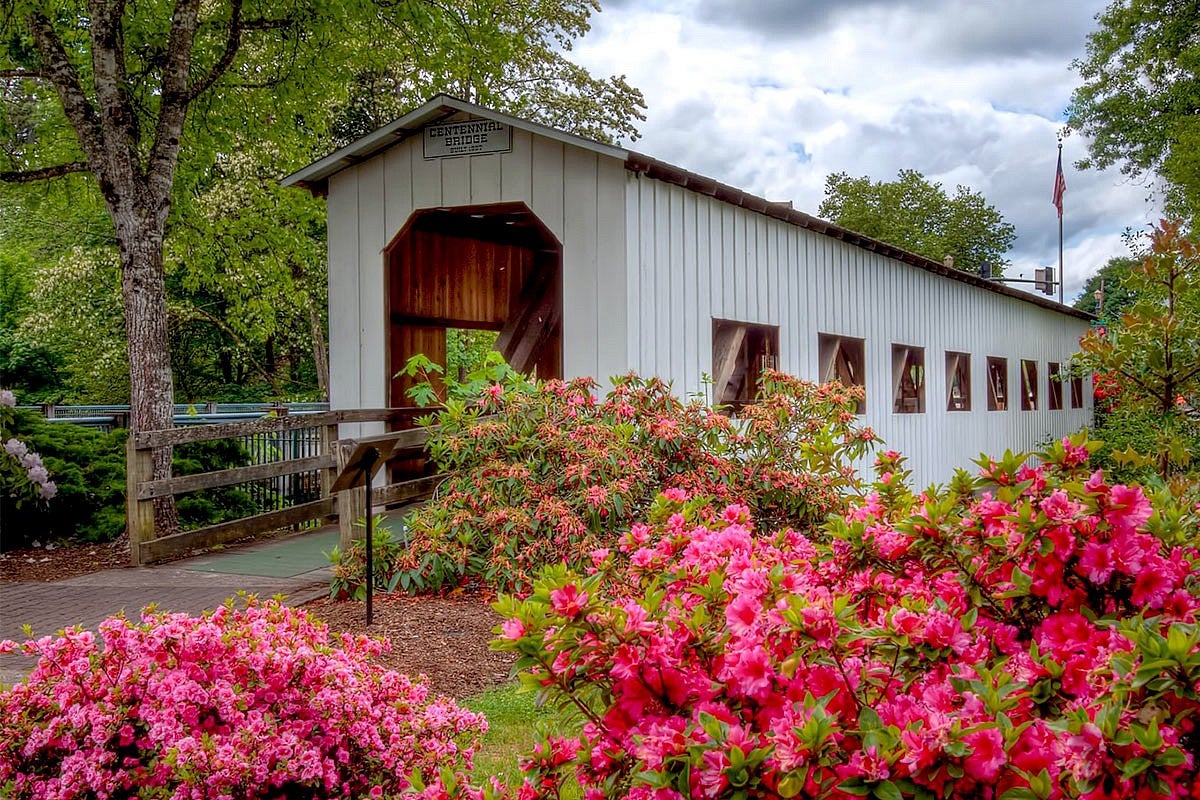 The American Association for State and Local History (AASLH) has named the Community Disaster Resilience Planning for Heritage Resources model and guidebook project a recipient of the AASLH Leadership in History Award, one of 39 awardees nationwide.
The winning project is a collaboration between the School of Planning, Public Policy and Management's Institute for Policy Research and Engagement (IPRE), Oregon Heritage (the state's historic preservation office), the City of Cottage Grove, and several local nonprofits. The award is considered one of the most prestigious recognitions for achievement in the preservation and interpretation of state and local history. This comes on the heels of the project winning the 2021 Oregon Heritage Excellence Award.
Robert Parker, the IPRE director of strategic and technical solutions, says the community resilience project shows the power of university–community partnerships, especially that of IPRE's Community Planning Workshop (CPW), an applied planning, public policy, and economic development research program for students.
"Oregon Heritage has long worked to support preservation of Oregon's heritage; the CPW provided needed capacity to bring the guidebook to completion," said Parker. "The project supported the mission of Oregon Heritage, of heritage organizations in Cottage Grove, and provided our graduate students a robust learning platform on emergency management and resiliency in the middle of a global pandemic."
In addition to Parker, the project was completed with the help of a team of Master of Community and Regional Planningstudents—now alumni Aimee Okotie-Oyekan, '21; Melissa Graciosa, '21; and Emily Conner, '20—and IPRE Director of the Oregon Partnership for Disaster Resilience Josh Bruce and College of Education Coordinator Stephanie Tabibian. Other community participants included the Cottage Grove heritage nonprofits Bohemia Gold Mining Museum, Cottage Grove Genealogical Society, Cottage Grove Historical Society, Cottage Grove Museum, and Downtown Cottage Grove Inc.
"The project provided our graduate students a robust learning platform on emergency management and resiliency in the middle of a global pandemic."
—Robert Parker
The Community Disaster Resilience Planning for Heritage Resources project includes a guidebook that outlines how to assess disaster readiness and how to create and implement a plan. Also included is the Disaster Resilience Plan for Heritage Resources in Cottage Grove, which is the first community-wide plan in Oregon to directly address the risks that confront heritage resources; in Cottage Grove these include historic buildings, sites, and artifacts such as the MacFarland Cemetery, the Centennial Covered Bridge, and the gold ore car at the Bohemia Gold Mining Museum. The plan also serves as a pilot project to model disaster resilience planning for other communities in Oregon.
"I am so pleased that Cottage Grove was chosen to participate in this disaster planning process. Our Heritage Partners learned so much about disaster resilience and are now much better prepared to respond to small and large issues within their organizations and as part of a greater heritage community," said City of Cottage Grove Planner Amanda Ferguson. "This plan will give the city a path forward to help guide community resilience efforts while positioning us to better preserve our own resources."
Learn more about the award and project in the Oregon Heritage press release.